San Francisco and Napa Valley
4 Days / 3 Nights
San Francisco & Napa
Fisherman's Wharf, Napa Valley, Muir Woods, Angel Island


San Francisco served as the inspiration for San Fransokyo, the fictional town set as the backdrop for Big Hero 6, the animated film from Walt Disney Pictures. Special enhancements have been added to these ABD itineraries to pay homage to that fact, including:
- Exclusive videos featuring interviews with the film's directors and producers
- A visit to the Angel Island military base
- A visit to Japantown in San Francisco
- Other surprises and activities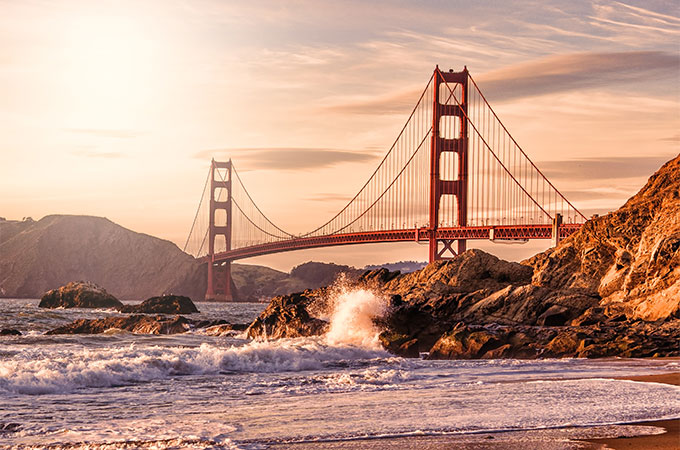 Trip Highlights Include:
Walt Disney Family Museum Private Tour
Get a behind-the-magic look as you enjoy an after-hours tour and of this amazing museum that celebrates the life and genius of Walt Disney and the Disney family.
A Trip to Lucasfilm
Feel the power of the Force with a trip to Lucasfilm in the Historic Presidio of San Francisco to see rare Star Wars memorabilia and an extensive collection of classic film posters.
Guided Tour of the Bay
Begin your adventure with a trolley ride from Nob Hill to San Francisco's historic Fisherman's Wharf. Then, enjoy a guided bike tour of the bay, which includes stops at the Palace of Fine Arts, Fort Point and the Golden Gate Bridge.
Silverado Vineyards in Napa
Spend a delightful morning at this award-winning vineyard where adults will learn the fine art of wine blending while Junior Adventurers take part in an engaging olive oil flavoring activity.
Ferry to Angel Island State Park
Ferry from Tiburon to this historic military fort turned state park that is three times the size of Alcatraz.
Visit Muir Woods
Marvel at the sheer majesty and size of Coastal Redwoods—the tallest trees on Earth—as you walk through Muir Woods National Monument.
Adventure Dates
2016

May 19-May 22, 2016
June 9-June 12, 2016
June 16-June 19, 2016*
June 30-July 3, 2016
July 14-July 17, 2016
July 21-July 24, 2016
July 28-July 31, 2016
Aug 4-Aug 7, 2016
Aug 11-Aug 14, 2016
Aug 18-Aug 21, 2016
Sep 8-Sept 11, 2016: Adult Exclusive (18 and older)
Oct 6-Oct 9, 2016: Adult Exclusive (18 and older)

2017

March 30-April 2, 2017
April 13-April 16, 2017
May 11-May 14, 2017: Adult Exclusive (18 and older)
May 25-May 28, 2017
June 8-June 11, 2017
June 15-June 18, 2017
June 22-June 25, 2017
July 13-July 16, 2017
July 20-July 23, 2017
July 27-July 30, 2017
August 10-August 20, 2017
August 17-August 20, 2017
August 31-September 3, 2017: Adult Exclusive (18 and older)
September 7-September 10, 2017: Adult Exclusive (18 and older)
September 21-September 24, 2017: Adult Exclusive (18 and older)
*= Guaranteed departure
Adventure Daily Itinerary
Day One

Breakfast at The Fairmont Hotel San Francisco
Meet your fellow Adventurers in a beautiful signature room at the Fairmont for a hearty breakfast before setting off on your first day of adventures in San Francisco.
Guided Tour of the Bay
Board a motorized trolley car and head from Nob Hill to historic Fisherman's Wharf where you'll saddle up for a bike tour along the edge of the bay and into the Presidio. On the way you'll stop at the Palace of Fine Arts and then peddle on to Fort Point.

Lunch at M.Y. China
After working up an appetite, enjoy the very best in modern Chinese cuisine with a delicious multi-course, family style lunch at M.Y. China, along with a noodle pulling demonstration by the restaurant's celebrity chef.

Afternoon On Your Own
Stroll through the vibrant historic districts, famed museums and world-class shops of San Francisco that await your attention.

Dinner at Waterbar
Savor the flavors of some of San Francisco's freshest seafood and other regional fare at this stunning restaurant that features gorgeous panoramic views of Treasure Island and the Oakland Bay Bridge.
Meals included: Breakfast, Lunch and Dinner
---
Day Two
Napa Valley
Enjoy breakfast on your own before you set out across the Bay Bridge and travel into the vineyard-draped scenery of breathtaking Napa Valley.

Silverado Vineyards in Napa Valley
Visit one of Napa Valley's finest vineyards, home to some of the region's award-winning wines and co-founded by Diane Disney Miller. Tour the winery and the beautiful barrel room, a magnificent wooden structure resembling an inverted boat hull. Adults will learn to blend their own vintage with a seasoned vintner who will share his or her expertise with Guests. Guests will be able to take home their custom blend. Junior Adventurers will take part in a hands-on olive oil infusion experience.

Lunch at the Vineyard
Sit down for a mouthwatering catered lunch served family platter style and featuring gourmet Napa influences. You'll eat at the winery overlooking the scenic valley.

Muir Woods National Monument
Take a stroll amongst the tallest living creatures on Earth on the boardwalk built through the magnificent redwood trees at Muir Woods National Monument. Escorted by your Adventure Guides, you'll experience the natural beauty and wonder of the giant redwoods.

Dinner On Your Own in San Francisco
Fog City and all its local fare is yours to savor as you explore San Francisco and its amazing culinary flavors. Be sure to ask your Adventure Guides for their restaurant recommendations as well.
---
Day Three

Angel Island State Park and Guided Tour
Start your day with a ferry ride to Angel Island where you'll enjoy a guided tour of this state park on the largest island in the San Francisco Bay. You'll learn about its past as a U.S. immigration station, which earned it the nickname of the "Ellis Island of the West." You'll enjoy expansive views of the San Francisco skyline, Alcatraz and the United States Immigration Station from the comfort of an open-air tram.

Picnic Lunch on Angel Island
Catch up with your fellow Adventurers and enjoy a catered picnic lunch under the shade of eucalyptus trees, sipping local wines and microbrews, surrounded by the beauty of the island.

Walt Disney Family Museum
Privately Guided Tour Cherish a privately guided behind-the-magic tour of the Walt Disney Family Museum, where you'll learn about the life and genius of the man-behind-the-mouse, Walt Disney, through interactive exhibits.

Visit Lucasfilm's Campus Located in the Historic Presidio District of San Francisco
Visit the Letterman Digital Arts Center, stroll through Lucasfilm's 23-acre campus and take photos in front of the iconic Yoda Fountain. You will be welcomed in Lucasfilm's lobby by life size replicas of Darth Vader and Boba Fett in addition to other artifacts from the Star Wars Saga. You will also have the chance to see a sampling of George Lucas's extensive collection of vintage movie posters from around the world. To cap it off you'll enjoy a private screening at the Premier Theater.

Farewell Dinner in San Francisco
Relive your adventures over dinner and drinks at San Francisco's award-winning ONE Market.

Meals included: Lunch and Dinner
---
Day Four

Breakfast on Your Own
Enjoy breakfast on your own before bidding a fond farewell to your fellow Adventurers.

Transfer to Airport
Depart for San Francisco International Airport or Oakland International Airport.