When you experience a Disney Cruise, you embark on a voyage filled with fantasy, fun and excitement. No matter what your age or vacation style, you'll create long lasting memories aboard the magnificent Disney Magic and Wonder Cruise ships.
The Disney Cruise ships feature spacious staterooms, themed dining, Internet access and unique areas of the ship designed for specific age groups to enjoy. For youngsters the Children's Programs provide activities and facilities with that magical Disney touch. The Adult Activities include exclusive 18 and older venues, a luxury full service spa and entertainment district.
There are a number of cruise choices. The Disney Wonder sails to Nassau in the Bahamas on a 3 and 4 schedule. To enhance your voyage, you can add on a pre-stay at a Walt Disney World Resort.
The Disney Magic also offers varied itineraries. You can choose the Eastern Caribbean or the Western Caribbean as well as exciting alternate itineraries such as the Mediterranean or Mexican Riviera. For a complete list of itineraries, click here.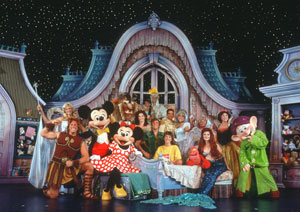 Nightly entertainment is hosted in the Walt Disney Theatre. Here you'll enjoy Broadway caliber productions, Variety Acts, and on some voyages a "Prem-EAR" of a new Disney blockbuster movie.
Onboard you'll find a basketball court, shuffleboard, ping pong, shopping, arcade, themed deck parties, Buena Vista movie theater, the Promenade Lounge, Studio Sea and for those of you wish to stay in touch, internet service is offered.
Outstanding service, fabulous dining, beautiful facilities combined with the ever present Disney characters will make this a voyage filled with magic.
So what are you waiting for? Almost everything is inclusive. Let Disney Cruise Line take you away on a unforgettable vacation. Click Here for a no obligation quote
Disney Cruise Ship Layout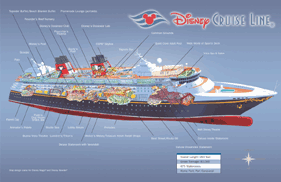 ---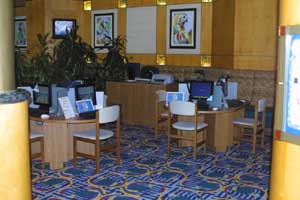 Internet Cafe
Located on Deck 3 (near the Promenade Lounge) is the Internet Cafe. This group of computer terminals provides high-speed access to the internet. The cafe is open 24 hours a day.
The Cove Cafe (guests 18 and over) also has computer terminals. Computer access is available according to the cafe's schedule. The Teen Clubs have computer terminals as well.
WIRELESS INTERNET:
If you have a wireless ready laptop, you can bring it onboard and use it at a number of locations on the ship. Wireless access is available at the Cadillac Lounge (Wonder), Sessions (Magic), Wavebands (Wonder), Rockin' Bar D (Magic), Promenade Lounge, Studio Sea, Cove Cafe, Open Decks 9 & 10 and in the Atrium on decks 3, 4 and 5 Mid-ship.
The rates vary depending on the ship and apply to both the onboard computers and your personal laptop:
Disney Wonder
$0.75 per minute
$27.50 - 50 minutes
$40 - 100 minutes
$75 - 250 minutes
Disney Magic
$0.75 - per minute
$55 - 100 minutes
$100 - 250 minutes
$150 - 500 minutes
---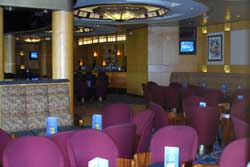 The Promenade Lounge
The Promenade Lounge (pictured) is found on both the Disney Magic and Wonder on deck 3 Mid-ship. This open and spacious lounge features evening entertainment.
---
Studio Sea can be found on both ships and is situated on deck 4 mid-ship. You'll often find games and activites scheduled here.
---

-
back to top
-