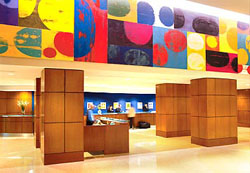 The Renaissance Hollywood Hotel California is as vibrant as its location in the heart of Hollywood.
Sleek, modern, sophisticated yet playful, the energy is infectious from the moment that you enter the spacious lobby. Fantastic, brightly colored artwork is displayed throughout the interior.

The guest rooms are contemporary and upscale. Rich golds and greens bring warmth to the décor. Internet access is available, with a great two section desk to work from. A comfy club chair is the perfect place to sit back and enjoy the fantastic city views. The floor to ceiling window has an ingenious system for blocking light. Combined with the soundproofing, a good night's sleep is assured.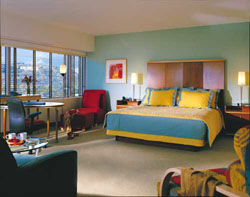 The bathroom is fully enclosed. The spacious granite vanity has a convenient lighted makeup mirror and non-slip "stars" provide sure footing in the tub.
You can slip into the provided guest robes as you sip your freshly brewed cup of java from the coffeemaker. There's a mini-bar and Playstation which can be accessed for a fee.
It's not often that you'll find a swimming pool at a city hotel, but step out on the fifth floor terrace and you'll find a fantastic spot to cool off. The heated pool is surrounded by comfortable lounge chairs and cozy cabanas. The glass fence provides unobstructed views of the surroundings. The retro archway of the Kodak theatre looms large over this outdoor oasis.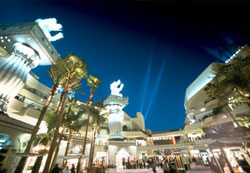 Virtually everything that you want to see and experience is right at your doorstep. The Hollywood sign greets you as you arrive. Hotel guests have direct access to the attached, spectacular Hollywood & Highland Center. Imagine stepping out of the door and into Tinsel town. Grauman's Chinese Theatre, the Kodak Theatre and the Hollywood Walk of Fame are literally right there. Directly across the street is the El Capitan Theatre and Disney's Soda Fountain and Studio Store.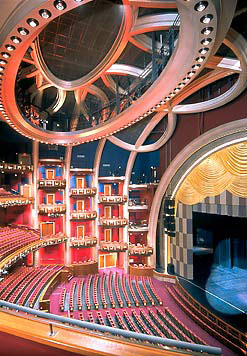 The Hollywood & Highland Center is the perfect way to "be a star" without the hassle of driving in the city. The mix of restaurants and shops in a secure environment will appeal to both families and adults. Designed around a courtyard, you can shop till you drop under the fantastic Kodak Theater icons. From Louis Vuitton to the Gap and Build-A-Bear, there's something for all budgets.
Your choice of restaurants is just as varied. You can dine at either Vert- A Brassiere or Loggia at the Highlands, both owned by renowned chef Wolfgang Puck. Then there are the familiar family favorites, California Pizza Kitchen and Johnny Rocket's. If you crave Sushi, Italian or American fare, it's all within steps of the hotel. Snack choices are endless with Mrs. Field's, Cold Stone Creamery and Starbucks to name just a few.
Located in the Renaissance Hollywood Hotel is Twist. This stylish restaurant serves breakfast, lunch and dinner. The lounge offers cocktails and appetizers.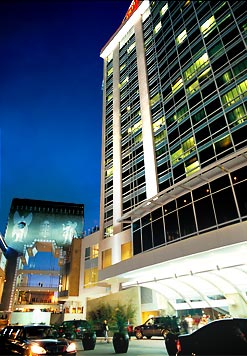 Also at your doorstep is Disney's Soda Fountain and Studio Store. Part ice cream parlor, part retail shop, you'll want your camera handy as the entry is marked by the Disneyland 50 th Anniversary Walk of Fame star. Featuring Dewar's Ice Cream and Candies, there's nothing that compares to having a sweet treat in a fun Disney themed setting. Yummy cones, sundaes, splits, shakes, floats, freezes and old fashioned phosphates are offered in a variety of mouthwatering flavors. If you want something a bit more substantial, hot dogs, grilled cheese and a Mickey shaped peanut butter & jelly sandwich are on the menu.
The retail side of Disney's Soda Fountain and Studio Store connects with the legendary El Capitan Theater. This beautiful theater was built in 1926 and featured live stage shows. Over time, it was modernized. In 1989, the Walt Disney Company joined with Pacific Theaters to restore it to its former glory and it now is the first run home for Disney feature films.
While there's plenty to do and see within a block of the Renaissance Hollywood Hotel, there's so much more that LA offers. You can visit the historic Farmer's Market, or mingle with Hollywood's elite on Rodeo Drive. The Universal Theme Park is a quick subway ride away from the hotel.
The Renaissance Hollywood Hotel has it all. Incredible location, inviting upscale and comfortable accommodations and easy access to Hollywood's most sought after destinations. Light's, Camera, Action, it's a wrap!
---