Hyatt Regency Huntington Beach Resort & Spa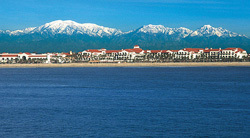 The Hyatt Regency Huntington Beach Resort & Spa is in a word, magnificent.
The Spanish architecture is accented by the meticulously manicured grounds. Its location on the Pacific Coast Highway offers incomparable views of Huntington Beach.
Upon your arrival at the porte cochere, you'll be greeted by a friendly staff member. Entering the massive lobby, the Venetian glass chandeliers, beautiful mosaic tiles, and rich woven tapestry carpets await you.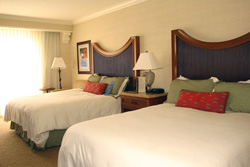 The spacious guestrooms begin with a large foyer with mirror and console table. A niche houses a refrigerator under a granite countertop where the coffeemaker is located.
Soft shades of cream tile are used throughout the spacious bathroom which features a large granite vanity, lighted makeup mirror and tasteful nautical touches. There's ample space to store your personal items on the shelving.
The bedroom is decorated in shades of sage green and beige, a serene and relaxing setting. The beds are covered in crisp white linens and boast pillow top mattresses with decadent down duvets to snuggle under.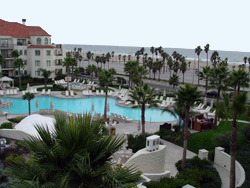 You can slip into the provided guest robe, sip your freshly brewed coffee and check your emails while sitting in upholstered comfort at the executive desk. Just bring your laptop, connect to the internet, and you're on your way.
It will be hard to focus on the real world with the balcony/patio views from most of the guestrooms. This sprawling resort has a reflecting pool, fountains, courtyards and grottos, all of which are works of art. Many rooms provide ocean views with the most stunning sunsets you'll envision.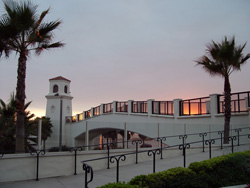 There's a lot to explore and discover at the Hyatt Regency Huntington Beach. This resort has the only footbridge which crosses over the Pacific Coast Highway. There's a no more hassle free way to enjoy a swim in the Pacific Ocean. Simply stroll over the highway and you're there.
The Hyatt Regency is home to "Toes on the Nose" where you can rent bicycles, surfboards, body boards, wetsuits, chairs, toys, umbrellas and all of the paraphernalia for your day at the beach. If you want to try your hand at surfing, you can schedule lessons here.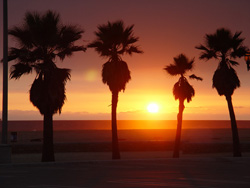 As the sun sets over the Pacific, with views of Catalina Island in the distance, your beach experience doesn't have to end. At Surf City Grocers located at your resort, you can purchase firewood and enjoy a unique nightly ritual in Huntington. Fires are allowed on the beach! Add the S'more's kit and you'll create a lifelong memory.
If fresh water is more to your liking, the glistening free formed lagoon pool will beckon you. Ringed by lounge chairs and umbrella shaded tables, prepare to relax while helpful attendants meet your needs. During the summer, "Dive In" movies are shown poolside.
Should you crave a bit of privacy, the Palm Grotto has secluded spas amidst topical landscaping and rock outcroppings. Once you're enveloped by the warmth of the soothing Jacuzzi, your cares will melt away.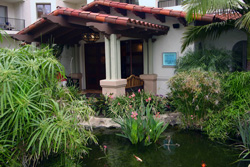 The Pacific Waters Spa offers the ultimate in pampering. This 20,000 square foot facility is state of the art. You'll first cross over a Koi pond as you enter this tranquil venue. Within you'll find richly appointed men's and ladies areas with paneled lockers, walls of mirrors, waterfall showers, saunas, steam rooms and private whirlpools. In addition to 17 treatment rooms, there's a full service salon, fitness center and private outdoor relaxation area.
The menu of spa treatments is endless. There are specialized massages, facials, skin therapies, baths, wraps, scrubs, body treatments and the full gamut of salon services. A convenient snack bar offers healthful smoothies, salads and sandwiches.
After your invigorating treatment, you may choose to play a round of tennis at one of the lighted courts or shoot some hoops.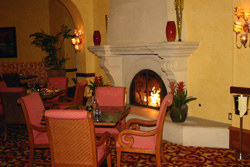 Your choice of elegant or casual dining is easily met at the Hyatt Regency Huntington Resort and Spa. The Californian is a four Diamond rated restaurant featuring the latest California cuisine in an upscale setting. The Red Chair Lounge is a great spot for adults looking for fine wine, and premium drinks. The Red Chair Martini is outstanding.
Casual diners will find what they're looking for at Pete Mallory's Surf City Sunset Grille. Named after a legendary surfer, there's surfing memorabilia and gear throughout. The menu features generous portions of American fare.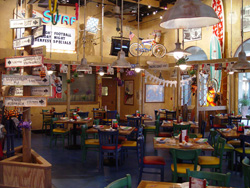 Poolside, the Mankota Grill offers a tantalizing selection of food and drinks. The Surf City Grocers brews Starbucks coffee and deli delights. Hula Scoops is not to be missed for a frosty treat.
The kids will love Camp Hyatt. Camp is divided into two age groups, 3-7 and 8-12. For a fee you can sign up your child for the fun programs scheduled during your stay. While the little ones are under the watchful eye of trained counselors, Mom and Dad can enjoy some Spa time. ( Camp Hyatt is on a weekend only schedule during the off-season.)
The best part, this slice of paradise is an easy drive from Disneyland. In a half an hour, with no time spent on the freeways, you'll arrive at this spectacular resort. There's no better way to enhance your Disney experience than with a stay at the Hyatt Regency Huntington Beach Resort & Spa.
---