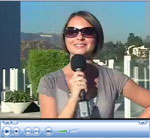 The Renaissance Hollywood Hotel California is as vibrant as its location in the heart of Hollywood. Virtually everything that you want to see and experience is right at your doorstep. Hotel guests have direct access to the attached, spectacular Hollywood & Highland Center. Imagine stepping out of the door and into Tinsel town. Grauman's Chinese Theatre, the Kodak Theatre and the Hollywood Walk of Fame are literally right there. Directly across the street is the El Capitan Theatre and Disney's Soda Fountain and Studio Store.
Watch Video
---
January 16, 2007 - Point Loma, San Diego


Point Loma overlooks the San Diego Bay and offers a spectacular 360-degree view of San Diego's harbor and skyline. The Cabrillo National Monument was erected in honor of Juan Rodríguez Cabrillo, the first European to set foot on the west coast. At the highest point of the park stands the Old Point Loma Lighthouse, which has been a San Diego icon since 1854. Watch Video
---
January 17, 2007 - Embarcadero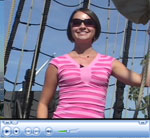 The Embarcadero is considered a must-see among San Diego's attractions. It runs along the San Diego harbor and is where you will find the world's oldest active ship, the Star of India, which was built in 1863. The Embarcadero Marina is a terrific place for leisure and contains restaurants, fish markets, and is a quarter mile long boardwalk that connects to the Seaport Village shopping and dining complex. Watch Video
---
January 18, 2007 - Hotel Del Coronado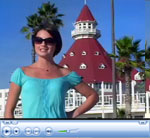 There's a distinct class of hotels that transcend all others. Such is the beautiful Hotel Del Coronado found on the Coronado island in San Diego. This majestic resort was built in 1888. Now a historic landmark, when built it was to be the "talk of the Western world." That it became with royalty and dignitaries among its guests. Ten U.S. presidents have stayed here as well as a host of celebrities. Watch Video
---
January 19, 2007 - Recap, Prize Giveaway



Today, we recap San Diego and award a $100 Disney Gift Card to 2 randomly chosen Dreams Unlimited Travel Video Trivia Challenge participants. Good Luck!!
---
January 22, 2007 - Tomorrowland
at the Disneyland® park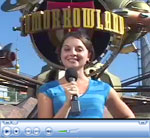 Tomorrowland represents the vision and fantasy of futurists such as H.G. Wells, Jules Verne and Leonardo da Vinci. Guests can zoom through Space Mountain, experience 3-D fun in "Honey I Shrunk the Audience", travel through the galaxy in Star Tours, and much more! Watch Video
---
January 23, 2007 - Rivers of America
at Disneyland® park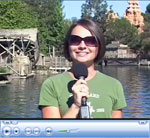 The Rivers of America is home to Fantasmic! Mickey battles evil and conjures good in a musical pyrotechnic spectacular with magnificent floating scenes and effects that will leave you breathless! Amazing special effects include film projected on water, fiber optics and lasers plus more than 50 live performers and a ferocious forty-five foot fire-breathing dragon. Watch Video
---
January 24, 2007 - The Twilight Zone Tower of Terror™ at Disney's California Adventure™ park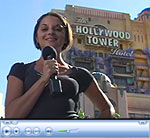 Explore the mysteries of what happened that fateful night lightning struck as you encounter the hotel's ghastly ghostly guests. Then plunge 13 stories into the most thrilling recesses of The Twilight Zone®* and drop faster than the speed of gravity. Experience the mysterious atmosphere from the classic television series as you confront awesome special effects and get an adrenaline rush from the view at the top of the abandoned elevator shaft before the delirious drop into the fifth dimension and beyond! Watch Video
---
January 25, 2007 - Paradise Pier at Disney's California Adventure™ park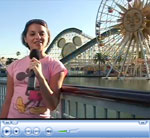 This colorful land, set alongside a beautiful lagoon, is Disney's tribute to the carnivals, amusement parks and boardwalks of old. Here you'll find thrill rides galore and plenty of old-fashioned fun. At night the whole area lights up and the sights and sounds are simply wonderful!
Watch Video
---
January 26, 2007 - The Golden Vine Winery
at Disney's California Adventure™ park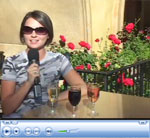 The Napa Valley, renowned for its wine making, is represented at the Golden Vine Winery. Sample gourmet food, and enjoy vintage wine at the daily wine tasting's. Stroll through a small vineyard, and get a taste of life in the wine country of California. Watch Video
---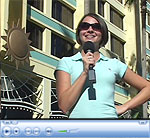 January 29, 2007 - Paradise Pier Hotel

Disney's Paradise Pier Hotel is like a contemporary seaside resort overlooking Disney's California Adventure park. In addition to the relaxing rooftop pool and spa and fabulous dining, Disney's Paradise Pier Hotel guests enjoy full access to the Disneyland® Resort amenities. Watch Video
---
January 30, 2007 - Disney's Grand Californian Hotel® & Spa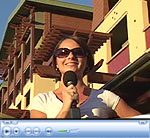 Disney's first resort to be located inside a theme park, this six-story, deluxe 750-room resort celebrates the turn-of-the-century romantic Craftsman movement of California. Designed to capture the artistic exploration of California's coastlines, with its Monterey pines and redwood forests, Disney's Grand Californian Hotel is layered with the memories of the arroyo craftsman, the mission pioneers, the Plein Air school of painters and daring architecture. Whimsical décor touches feature famous woodland friends, such as Bambi, Thumper and Owl. Watch Video
---
January 31, 2007 -Disneyland® Hotel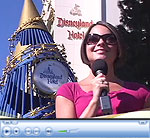 The Disneyland Hotel features award-winning restaurants, lounges, unique shops, entertainment, recreation, swimming pools, and fun Disney photo locations throughout the grounds. It's hard to tell where Disneyland® Park ends and the Disneyland Hotel begins!
Watch Video