Always a favorite of Disney cruisers, Castaway Cay is Disney Cruise Line's private bit of paradise in the Bahamas. The Disney ship docks right at the island, allowing Disney cruisers to simply walk off the ship directly onto this island with beautiful white sand beaches and clear turquoise waters.

As you leave the ship, you'll see the Castaway Cay post office. This is the place to purchase special Disney Cruise Line stamps and mail those postcards that will have the Castaway Cay postmark. NOTE: this is one place where you DO need cash, if you want to purchase postcards or stamps. Your Key to the World charge is not valid here. Also, be aware that it could take weeks or even months for your postcard to arrive at its destination.
You'll also be handed a beach towel as you leave the ship, so no need to bring any towels from your room. Ship's photographers will be on hand to take your picture if you'd like.

You then proceed down the path to the Tram Stop. Although you CAN walk to the Castaway Family Beach (it's about a 15-minute walk) it's much faster to take the trams waiting for you at the tram stop. If you want to go on to Serenity Bay Beach (adults 18 and over only) you must exit the tram at the Family Beach and take a separate tram to Serenity Bay Beach. There is also a Teen Beach located at the far west end of the Family Beach.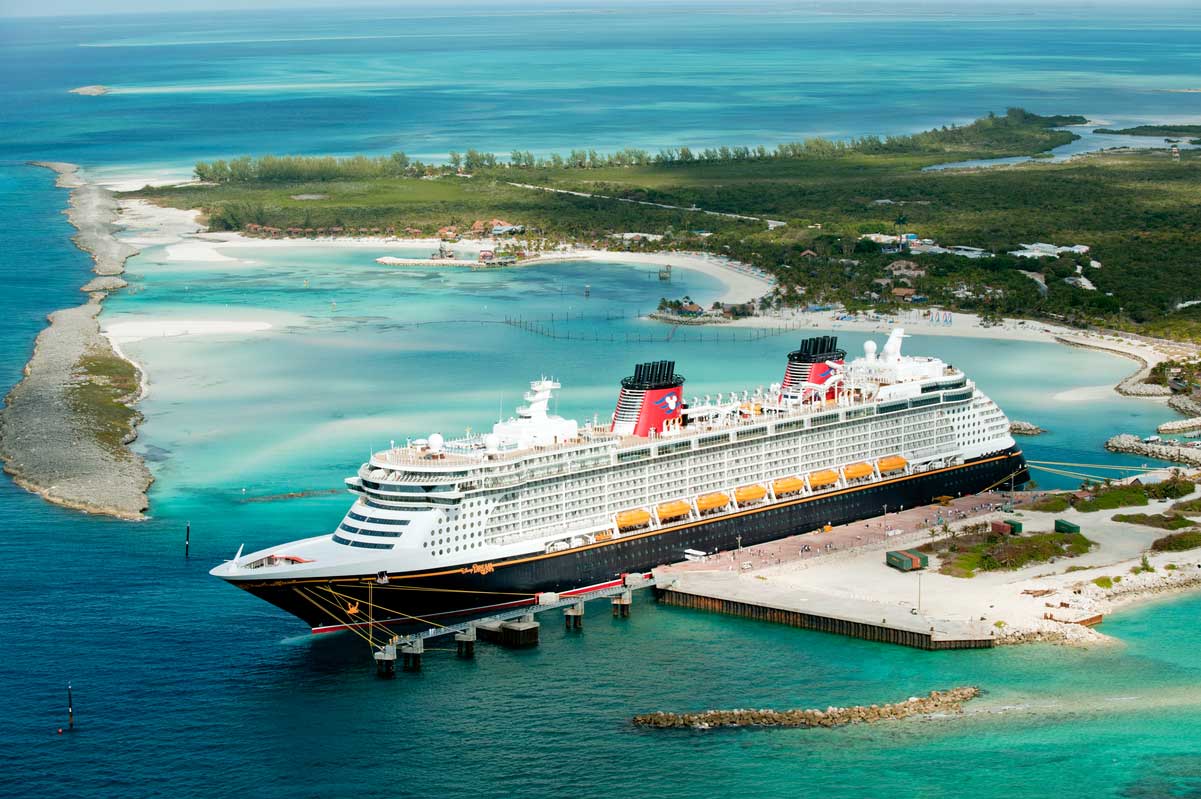 Castaway Cay Shore Excursions
Aqua Trike Rental (.5 hour)
Sail through the crystal clear waters on your own Aqua Trike and enjoy the sights. (up to 2 guests)
Adult/Child Price: $28 (ages 5 and up - 16 and up to rent)

Banana Boat Ride (.5 hour)
Take a thrilling ride on a Banana Boat through the waters of Castaway Cay.
Adult Price: $45 (ages 10 and up)
Child Price: $35 (ages 8 to 9)

Bicycle Rentals (1 hour and up)
Get some easy exercise, biking through nature and stopping for some grand views on Disney's private island!
Adult/Child Price: $13.00 (ages 3 and up)
2-Day Rental also available! Adult/Child Price: $16 total for 1 hour each day.

Castaway Cay Bottom Fishing (2.5 - 3 hours)
Try your hand at hooking and reeling in the exotic fish of the region, including yellowtail, grouper and snapper.
Adult/Child Price: $164 (ages 6 and up)

Castaway Cay Fishing Adventure (2.5 - 3 hours)
Fish for fun and learn different fishing techniques in this memorable fishing excursion.
Adult/Child Price: $219 (ages 8 and up)

Castaway Cay Getaway Package (all day)
Snorkel and swim amidst tropical fish, lounge away on a cozy float and discover the magic of Castaway Cay by bike.
Adult Price: $46 (ages 10 and up)
Child Price: $26 (ages 5 to 9)
2-Day Castaway Cay Getaway Package: $60 (ages 10 and up) $33 (ages 5 to 9)

Castaway Ray's Stingray Adventure (1 hour)
Feel the rush as a stingray takes food right from the palm of your hand, and even pet them as they swim by!
Adult Price: $56 (ages 10 and up)
Child Price: $45 (ages 5 to 9)

Castaway Snorkeling with Stingray (1 hour)
Get ready for an underwater snorkeling adventure with the stingrays!
Adult Price: $36 (ages 10 and up)
Child Price: $25 (ages 5 to 9)

Chiliboats Waterbikes Rental (.5 hour)
Sail through the crystal clear waters on your own Chilliboats Waterbike and enjoy the sights.
Adult/Child Price: $29 (ages 14 and up)

Crazy Horse Jet Boat Tour (.5 - 1 hour)
The Crazy Horse Jet Boat is built for speed, spinning and adventure!
Adult Price: $85 (ages 10 and up)
Child Price: $75 (ages 5 to 9)

Extreme Getaway Package (all day)
Have a blast 4 different ways with this fun and exciting adventure package that includes snorkel equipment, bicycle rental, float or tube rental, and stingray adventure.
Adult Price: $88 (ages 10 and up)
Child Price: $67 (ages 5 to 9)

Float & Tube Rentals (all day)
Make your day at the beach even more fun—or more relaxing—with floats and tubes for rent.
Adult/Child Price: $13 (ages 5 and up)
2-Day Float/Tube Rentals - Castaway: $16 (ages 5 and up)

Fly Fishing Adventure (2.5 - 3 hours)
Take time out to experience an intimate fly fishing adventure.
Adult/Child Price: $259 (ages 8 and up)

Fun Cat Rental (.5 hour)
Sail through the crystal clear waters on your own Fun Cat and enjoy the sights. (up to 2 guests)
Adult/Child Price: $31 (ages 5 and up - 18 and up to rent)

Getaway Package and Snorkel with Stingrays (1 hour)
Have a blast Castaway Cay style with this fun and exciting adventure package that includes snorkel equipment, bicycle rental, float or tube rental, and Snorkeling with Stingrays.
Adult Price: $66 (ages 10 and up)
Child Price: $51 (ages 5 to 9)

Glass Bottom Boat Scenic Voyage (1 hour)
Relax and enjoy this one-hour guided sea tour—perfect for the entire family.
$59.00 (ages 10 and up)
$39.00 (ages 3 to 9)
$39.00 (ages 0 to 2)

Hobie Cat Rental (.5 hour)
Sail through the crystal clear waters on your own Hobie Cat and enjoy the sights. (up to 4 guests)
Adult/Child Price: $32 (ages 5 and up - 18 and up to rent)

Paddle Boat - 2-Seater Rental (.5 hour)
Spend some time on the water with the island and your ship in the distance. (up to 2 guests)
Adult/Child Price: $18 (ages 5 and up - 16 and up to rent)
Paddle Boat - 4-Seater Rental: $23 (ages 5 and up - 16 and up to rent)

Parasailing (1 hour)
Soar above Castaway Cay for an incredible thrill you'll never forget.
Adult/Child Price: $129 (ages 8 and up)

Sea Kayak - Double Rental (.5 hour)
Spend some time on the water with the island and your ship in the distance. (up to 2 guests)
Adult/Child Price: $23 (ages 5 and up - 16 and up to rent)
Sea Kayak - Single Rental: $18 (ages 14 and up)

Snorkel Lagoon Equipment Rental (all day)
Enjoy all-day access to a beautiful lagoon brimming with exotic sea life and sunken treasures waiting to be discovered.
Adult Price: $34 (ages 10 and up)
Child Price $18 (ages 5 to 9)
2-Day Snorkel Lagoon Equipment Rental - Adults $45 (ages 10 and up) Child $23 (ages 5 to 9)

Stand Up Paddle Board Rental (.5 hour)
Sail through the crystal clear waters on your own Stand Up Paddle Board and enjoy the sights.
Adult/Child Price: $19 (ages 14 and up)

Walking and Kayak Nature Adventure (3 - 3.5 hours)
Hike, kayak and enjoy time at an exclusive beach area accessible only to Guests of this tour.
Adult/Child Price: $73.00 (ages 10 and up)