Disney Resorts | Aulani Main
Rooms | DVC Rooms/Villas | Pools/Recreation | Map
Dining | Service/Amenities | Excursions | Photos | Discounts

Aulani Articles
General Public
Receive One Aulani Refillable Drink Mug Per Person!

Book your Aulani Resort and Spa reservation through Dreams Unlimited Travel and receive one Aulani refillable drink mug per person of your party. This is regardless of length of stay or cost of reservation booked.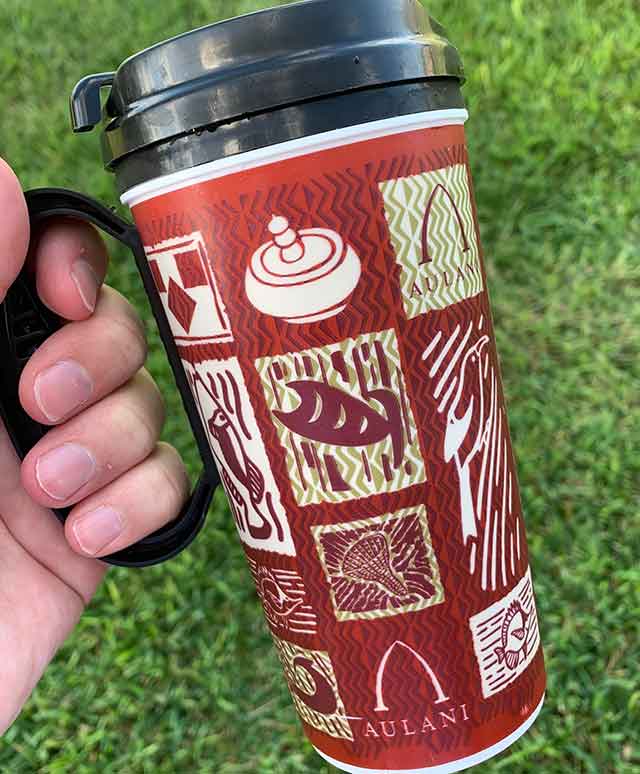 Refillable mugs can be used for hot and cold drinks, including coffee and soda, at all drink stations at Aulani Resort and Spa for the entire length of your stay.
Refillable mugs will be mailed directly to you approximately 4 weeks prior to your vacation start date. Please contact your Dreams Unlimited Travel agent with questions or write to
Reservations@DreamsUnlimitedTravel.com
.
---
Visit Aulani, A Disney Resort & Spa this spring or fall and save up to 30% on your stay!
This offer is good March 22-June 7, 2019 OR August 19-December 21, 2019.
Save up to 25% on a 4-night stay or up to 30% on a stay 5-nights or longer.
Savings based on the non-discounted rate for the same room. Stays must be for consecutive nights. The number of rooms allocated for this offer may be limited. Resort credits may not be redeemed for cash in whole or in part, sold separately, transferred or refunded, and expire at 11:59 p.m. on departure date. Limit 2 rooms per reservation. Excludes suites and 3-bedroom Grand Villas. Additional charges may apply if more than 2 adults per room. Cannot be combined with other discounts or promotions. Advance reservations required.
There are currently no discounts being offered at Aulani for Disney Visa Cardholders.
Theme park annual passholders (Walt Disney World, Disneyland, Disneyland Resort Paris, Hong Kong Disneyland, Tokyo Disney Resort) can save 10% on room reservations at Aulani. There may be greater discounts available at other times as well.


Military Discounts
Aulani offers 25% off room reservations for active duty military. This offer is subject to availability.

Aulani Resort Overview

A premier oceanfront resort on the island of O`ahu, Hawai`i, the Aulani, A Disney Resort & Spa in Ko Olina is a place for families to gather, reconnect and immerse themselves in the stories of Hawai`i. Storytelling vividly brings to life Hawaii's culture and connection to nature, so each member of the family gains from a deeper understanding, appreciation, and ultimately, enjoyment of Hawai`i. The design of the Resort honors Hawaiian tradition in its village concept, including hotel rooms, Disney Vacation Club Villas, meeting rooms and wedding facilities-spread over 21 wondrous acres. Disney's world-class service caters to your family's needs in ways unique to this destination. In a breathtaking setting-sweeping ocean views, glistening white sandy beaches, a pristine cove, lush tropical foliage, a water garden and salt-water lagoons perfect for swimming and snorkeling-this Resort & Spa is a premier vacation destination.
On the Wai`anae Coast of O`ahu, sheltered by mountains to the north, Ko Olina is a secluded paradise in a beautiful island setting, yet close enough to Waikiki to enjoy the shopping and activity there. The location for Aulani, right on the oceanfront in beautiful Ko Olina, about 17 miles north of the Honolulu Airport, is spectacular. Ko Olina is legendary as a source of inspiration to travelers. A place of breathtaking natural beauty where it's said that the goddess Pele visited to re-energize after traveling, Ko Olina was also a sacred place of renewal for Kamehameha the Great and his wife, Ka`ahumanu. Known for its sandy beaches, majestic seascapes and snorkeling, Ko Olina is home to many islanders who make their living from the rich agricultural tradition and fishing in the area.

Aulani features 359 traditional hotel rooms, decorated with wood and Hawaiian elements. These rooms have several views available: Standard View, Ocean View, Partial Ocean View, Poolside Gardens View, Island Gardens View. All of these rooms sleep 4 and have either 2 queen-size bed or 1 king-size bed with queen-size sleeper sofa. The 382 square-foot rooms have 1 bathroom. There are also handicap accessible rooms available for all views and on most floors.
Many of the contemporary custom furnishings pay homage to ancient culture. Fabrics in earth tones were inspired by kappa, or bark cloth, known for its subtle intricacy and embossed patterns. The headboards reflect outrigger canoe shapes and butterfly joints that were used to mend precious wooden bowls. Fabrics from the 1940's and 1950"s have been reinvented in the room's pillow and bedding. Being a true Disney resort, you will find "hidden Mickey's" in the pineapple-patterned Hawaiian quilts on the bed and Ukulele playing Mickey Mouse lamp on the desk.
Standard Room Amenities
Ceiling fan
Clock radio with mp3 capability
Coffee maker
DVD player
Fully interactive flat panel television in each bedroom and living room with guest services, weather, and the ability to see your own "PhotoPass" photos
Graco Pack 'N Play Playard
Hair dryer
Ice bucket
Iron and ironing board
Luggage rack
Make-up mirror
Small refrigerator
Shampoo, conditioner, bath gel, bath soap, facial soap, lotion
Tea kettle (electric) with tea supplies
Wall safe in closet (laptop size)
Wireless high-speed Internet access
Full Room Service Menu
The pools and some dining locations at Aulani, A Disney Resort & Spa will be the subject of some renovations in 2019, with work on the areas spanning four months.

August 19th – October 11th: Waikolohe Stream lazy river, Waikolohe Stream whirlpool spa, Menehune Bridge and Tubestone Curl water slide, and Kawele Korner I (pool towel distribution) will be unavailable. One Paddle, Two Paddle (refillable drink station) will be closed during construction hours (weekdays, 7 a.m. to 5 p.m.) KA WA'A Luau will alter the start time to 6 p.m.

October 2nd – December 17th: Waikolohe Pool, Waikolohe Pool whirlpool spa, Volcanic Vertical water slide, 'Alohi Point whirlpool spa, Rainbow Reef, and Lava Shack and Mama's Snack Stop will be unavailable. Pāpālua Shave Ice will be temporarily relocated. Off the Hook and 'AMA'AMA restaurant will alter service hours to open at 5 p.m. Makahiki Restaurant will offer a table service lunch option. One Paddle, Two Paddle (refillable drink station) will be closed during construction hours (weekdays, 7 a.m. to 5 p.m.) KA WA'A Luau will alter the start time to 6 p.m.
Money Saving Tip:
There is a grocery store across the street from Aulani. It's called Island Country Markets (by ABC Stores) and it's literally across the street within walking distance. Picking up a few snacks to keep in your room might be a good idea. They also have hot food items available for less than what you would pay at Aulani. I considered breakfast at Aulani somewhat limited, so check out the selection at the store. They even have seating outside. - Corey Martin
This signature dining restaurant serves local favorites while you dine alongside the Pacific Ocean. Ama Ama offers both lunch and dinner and should begin to offer breakfast in November. Lunch is served from 11:30 am - 3:00 pm. Dinner is served from 5:30 pm - 10:30 pm. There is live music from 7:00 - 9:00 pm.
A buffet of fresh, international foods are served in this open-air dining room. There is a breakfast and dinner buffet with a large selection of items on both. Makahiki is the season of the harvest and celebrated during the rainy season usually occurring from late fall to early spring. This buffet restaurant was created to honor this season of renewal and celebrated as a feast with gifts from the land. Traditional Makahiki ceremonies are held throughout Hawaii.
Breakfast Buffet: Breakfast is served from 7:00 am - 11:00 am. Price for adults is $37.00 and $18.00 for children 9 and under.
Example of items on the breakfast buffet include: Fresh fruits, assorted yogurt, cereals, pastries, Oatmeal with fresh Berries, Scrambled Eggs, Vegetable Frittata Omelets, Eggs Benedict, Pork Sausage, Turkey Bacon, Bacon, Portuguese Sausage, Aulani Potatoes, Loco Moco, Pancakes, Waffles, French Toast, Dim Sum, Seared Island fish, Miso Soup, Farm Greens, Tamango, Steamed Rice, Pickled Vegetables, Carving Station
Dinner Buffet: Dinner is served from 5:00 pm to 10:00 pm. Price for adults is $47.00 and $21.00 for children 9 and under.
Example of items on the dinner buffet include: Curried Mussels, Braised Lamb with Goat Cheese Polenta, Grilled Teriyaki Eggplant with Asparagus, Sautéed Bok Choy, Assorted Tempura: (Shrimp, Sweet Potato, Carrots, Breen Beans, and Onions), Port and Vegetable Lumpia Spring Roll, Sauté Green Beans with Onions, Huli Huli style chicken, Roasted Strip loin of Beef with Spiced Hawaiian Salt Crust, Roasted Purple Sweet Potatoes, Traditional Pork & Butterfish Lau Lau, Assorted Vegetable Lau Lau, Chinese-style Steamed Fish, Beef Chow Fun Noodles, Assorted Dim Sum, Guava Barbecued Ribs, Sautéed Yellow Squash Zucchini and Peppers, Roasted Garlic Mashed Potatoes, Assorted Sushi, Charcuterie Platter, Poached Shrimp, Fresh Sashimi, Mixed Island Greens, Macaroni Salad, Buckwheat Soba Noodle Salad, Poke, Lomi Lomi Salmon, Poi, Edamame Salad, Fruit Salad, Mango Cheesecake, Brownies, Banana Cream Puffs. Kids Dinner items include: Bacon-cheeseburger Macaroni, Pepperoni Pizza, and Grilled Chicken Strips with steamed vegetables.
*Menus item are subject to change without notice based on seasonal local ingredients.


- On Sundays, Tuesday, and Thursdays, a "Menehune Mischief" Character Dinner will take place. "Uncle" will be there to help tell the stories of the Menehune (magical little people that live in Hawaii's valleys and forests) through music and interactive adventures. The dinner is from 5:15-6:00pm, but seating starts at 4:30pm and photo ops with the Disney characters begins at 4:45pm. Cost is $49 for adults and $24 for children (ages 3-9).  Call (808) 674-6200 for reservations. 
KA WA'A, a luau at Aulani, a Disney Resort & Spa, will featurea a buffet of island specialties, live music, and traditional Hawaiian dance. Guests can learn the hula kahiko and the modern hula 'auana.

Before the luau begins, families can do activities, crafts, and enjoy pre-show entertainment. There will be lei making, ku'i kalo (taro pounding), and kapala (printing). Guests will meet Noa, a local storyteller who takes them on a journey through time with "ka wa'a" (the canoe). Lively music and traditional Hawaiian dance is used to bring everything to life.
This experience honors Hawaii's deep cultural roots in canoe exploration-a voyage which brought Hawaiian ancestors to the shores of Ko Olina.
The luau begins at 5:00pm. For reservations, call (808) 674-6850 between 12:00 and 8:00pm HST. Reservations can be made up to 60 days in advance of arrival. Seating packages include VIP Seating for $159 for adults and $109 for children ages 3-9. General admission seating is $119 for adults and $79 for children ages 3-9. Kids under 3 are free.
---
'Olelo is the Hawaiian word for "language". This as an "interactive language lounge" that many sculptures labeled in 'Olelo Hawaii so that guests will increase their Hawaiian vocabulary. In 1896 English was made the main language of Hawaii schools and speaking it in class was punished, so parents discouraged theirs children from speaking it at home. As a result the Hawaiian language was nearly lost forever.


Continental breakfast is available from 6:00 am - 10:00 am. The lounge is open from 5:00 pm - 11:00 pm serving traditional food and drinks.




There is live music in the 'Olelo room each evening beginning at the sunset hour until 9:00 p.m. featuring a variety of renowned local Hawaiian musicians and vocalists such as:
Hale and Nick share their Hawaiian language prowess through songs and a soothing brand of Hawaiian music not often heard.
Hoku Zuttermeister, one of Hawai'i's premier falsetto singers, artfully performs the music of Hawai'i with a contemporary feel.
Teresa Bright plays traditional island songs, weaving in the sounds of jazz and blues.
Ben Vegas and Maila Gibson are a contemporary duo who have been entertaining audiences with their sensational vocals for more than 15 years.
Jerry Santos, accompanied by the exceptional guitar stylings of Kamuela Kimokeo, blends traditional and contemporary Hawaiian music.
Be sure to check the Daily 'Iwa located throughout the resort for a list of the week's events and activities.
---
Off the Hook is the sports lounge located poolside. Off the Hook is open 11:00 am - 12:00 am. This is the only place you can get an adult beverage at Aulani after 11:00 pm. An appetizer menu is served from 5 - 10 pm.
---
This quick-service restaurant is beachside.  Grab-and-go options include sandwiches, salads, California rolls, ice cream and fresh fruit.  A children's menu is available as well.
The Lava Shack has snacks and pool/beach apparel and accessories including sun essentials. Hours are 10:00am - 5:00pm.
Pool-side venue serving breakfast, lunch and dinner – and featuring an outdoor patio with beautiful ocean view. A self-serve Dole Whip station is here, offering pineapple, vanilla or swirl soft serve. Open from 6:00-9:00pm.
Pool-side stand that serves fruity shaved ice treats.  Open 11:00am - 6:00pm.
Attached to Papalua Shave Ice, this location offers hot dogs, chicken tenders, fries, cupcakes and fruit.  An interesting twist on the sandwiches is that guests can choose the type of bread, sauce and meat they want. The options include all-beef hot dogs, Hawaiian Winner dogs, Portuguese sausages and even a buffalo ranch chicken tender dog. Open 10:00am - 7:00pm.
---
Available from 6:00 am to 11:00 pm daily.
---
If you're lounging around the pool, you can take advantage of being served food and beverages without having to get up.
Money Saving Tip:
You're paying for convenience when you order from this menu. Take a look at the Ulu Café menu and you will find similar items for less. It might be worth it to send dad over and have him walk the food back. Give him the tip! - Corey Martin
Here's an example of the lunch menu that is served around the pool and pool bars: Kalua-Roasted Pulled Pork Sandwich ($19), Soy-Marinated Tofu Wraps ($17), Today's Hawaiian Sustainable Catch Fish Tacos ($19), Crispy Marinated Check Lettuce Wraps ($18), Char-Grilled Vegetable Wrap ($17), Turkey Wrap ($18), Angus Chuck Burger with Bacon and Cheddar Cheese ($21) *All of the above are served with chips and Chocolate Cake.

Kids menu (choice of... Turkey wrap, Mac & cheese, Peanut butter & jam, burger, chicken strips, tuna salad): $8.50
---
Self-parking and valet is $37 per night and is assessed at check-in. For self-parking, the first 30 minutes are free, then up to one hour is $12. $5 for each additional 30 minutes, with a maximum daily rate of $37.
Hele Hele Transportation now provides reservation-based transportation directly to and from the Honolulu International Airport to Aulani. Hele Hele, which translates to "quick quick" or "go go," is a brand-new transportation provider that will service the resort with 14-passenger shared shuttles. Private shuttles will also be available. Car seats will be available for an additional $10 and should be requested at the time of booking.
Platinum Limousine, operated by the same company as Hele Hele, will offer private sedan, SUV, or limousine service from the Honolulu International Airport to Aulani. Car seats will be provided at no additional fee. Please note shared rates are per person for all passengers. Private rates are per vehicle. All rates listed are one-way transfers only.
Car rental is available at the Holoholo Desk.

Disney resorts are known for their recreational opportunities and Aulani is no exception. For families seeking fun, relaxation and entertainment, Aulani, Disney Vacation Club Villas, Ko Olina, Hawai`i includes a large selection of nearby amenities and recreational opportunities. Discover a nearby feature pool and water play area that blends into the beautiful surrounding topography, with family-friendly tube and body slides that weave through volcanic rock. Adventurous family members can explore the nearby saltwater snorkel lagoon, teeming with tropical fish and other marine life.
The pools and some dining locations at Aulani, A Disney Resort & Spa will be the subject of some renovations in 2019, with work on the areas spanning four months.

August 19th – October 11th: Waikolohe Stream lazy river, Waikolohe Stream whirlpool spa, Menehune Bridge and Tubestone Curl water slide, and Kawele Korner I (pool towel distribution) will be unavailable. One Paddle, Two Paddle (refillable drink station) will be closed during construction hours (weekdays, 7 a.m. to 5 p.m.) KA WA'A Luau will alter the start time to 6 p.m.

October 2nd – December 17th: Waikolohe Pool, Waikolohe Pool whirlpool spa, Volcanic Vertical water slide, 'Alohi Point whirlpool spa, Rainbow Reef, and Lava Shack and Mama's Snack Stop will be unavailable. Pāpālua Shave Ice will be temporarily relocated. Off the Hook and 'AMA'AMA restaurant will alter service hours to open at 5 p.m. Makahiki Restaurant will offer a table service lunch option. One Paddle, Two Paddle (refillable drink station) will be closed during construction hours (weekdays, 7 a.m. to 5 p.m.) KA WA'A Luau will alter the start time to 6 p.m.
TIP: Look at main pool at night and you'll see that the pool lights form the shapes of various Hawaiian constellations. It might help to go up to a higher floor in the building and look down. - Corey Martin
Pool Hours:
All Pools - 7:00 am - 11:00 pm
Wailana Pool - 9:00 am - 11:00 pm
Lifeguards on duty - 8:00 am - 8:00 pm
Rainbow Reef
The Rainbow Reef saltwater snorkel lagoon is filled with tropical fish for you to explore. The Rainbow Reef experience is $20 for adults and $15 for children, or you can purchase an length-of-stay pass at $39 for adults and $29 for children. This is open from 9:00 am to 5:00 pm.
Tip:
The water in the Reef is COLD, but it's definitely worth it. Snorkeling in the lagoon was not that enjoyable for us, but there's plenty to look at in the Reef. If you're trying to decide whether to spend you're money on renting snorkeling equipment in the lagoon or doing this, I would say do this. I only saw a bunch of rocks in the lagoon. - Corey Martin
Aulani Beach and Lagoon
Guests of Aulani have access to an exclusive beach and lagoon area that is only shared by one other resort. Relax on a beach chair or take advantage of the rentals from Makiki Joe's.
Makiki Joe's Beach Rentals

Makiki Joe's is located on the beach and is where you will rent snorkel sets, stand up paddle boards, beach umbrellas, canoe adventures, and paddle board lessons. Makiki Joe's is open from 8:00 am - 5:00 pm. Boogie boards, sand toys, and life jackets are complimentary for Aulani Resort guests.

Rental Prices:
Snorkel Set: $20 full day
Stand up Paddle Board: $39 hourly
"Casabella" Beach Premium Seating: $75 full day
Adventure Prices:
Poolside Cabanas:

Poolside cabanas (3 near Ka Maka Landing; 2 near Menehune Bridge) cost $425 for a full day. Amenities include fruit bowl and complimentary water. These are available from 9:00 am - 6:00 pm.
Cabanas at the adult-only Wailana Pool (there are 3) cost is $325 for the full day. Amenities include fruit bowl and complimentary water.
There are also "Casabellas" (2-seat lounger with awning) available for rent:
'AMA'AMA Upper Veranda: $150 full day
'AMA'AMA Lower Veranda: $225 full day
Executive 'AMA'AMA Lanai
 (2 casabellas, 2 lounge chaises, 1 table, 2 chairs, 2 umbrellas, a locking cabinet, a fruit platter, towels and 8 bottles of water) $325 full day
Tip: Cabana No. 1 has the best view, but it books fast and is often reserved. When booking your cabana, also ask if it's near the kids play area. Depening on your situation, having a cabana in the kids area can be a good or bad thing. - Corey Martin
Pau Hana Room
Enjoy board games arts and crafts, book and Disney Family Movies together. DVD rentals also available.
Ko Olina Resort Golf
Reserve tee times at an 18-hole championship golf course created by legendary course designer Ted Robinson.
Waikolohe Valley
The Waikolohe Valley is the main pool area of the resort where the pools and water play area blend seamlessly into the beautiful surrounding scenery. There are two pools, both of which offer zero-entry as well as traditional steps. There are also two slides in Waikolole Valley, a tube (Tuberstone Curl) and a body slide (Volcanic Vertical) that takes you on a ride through volcanic rock, or you can float along in the lazy river that circles the entire valley (900 linear feet). There are also four Jacuzzis, two of which feature "infinity" edges that let you sit and soak in the beautiful Hawaiian sunsets.
Mo'olelo Fire Pit Storytelling
Join Uncle, a master storyteller, as he shares Hawaiian legends and lore. To enhance his stories, he'll also use puppetry, music, props and magical effects. Fireside Mo'olelo is held at a fire pit located between the Waikolohe Valley pool area and AMA'AMA restaurant, overlooking the beach on select nights, weather permitting. Check your Daily 'Iwa for schedule details.
Disney 'Ohana Movie Nights
Watch a complimentary Disney movie on the big screen under a starry sky. This show activity is held on select nights on Hālāwai Lawn at 7:30pm, weather permitting. Check your Daily 'Iwa for schedule details.
Fitness Classes
Choose from a variety of energizing and enjoyable classes led by members of the Aulani fitness team, including Beach Boot Camp and Sunrise Tai Chi. Many classes are complimentary.
Māka'ika'i, the Art and Culture of Aulani
Aulani features one of the largest collections of contemporary Hawaiian art in the country. Explore the art of Aulani on this complimentary, in-depth walking tour. This activity is held on select days, weather permitting. Check your daily 'Iwa for schedule details.
Māka'ika'i, the Nature and Wildlife of Aulani
On this guided walking tour, learn about the landscaping, nature and beauty of Aulani—and see what inspired the Disney Imagineers who designed this Resort. This activity is held on select days, weather permitting. Check your daily 'Iwa for schedule details.
Aunty's Beach House - Kids' Club

Aunty's Beach House is designed just for kids ages 3 to 12 and it offers secured programming where all children will be within sight or sound of the Youth Activities Counselors. Base activities (covered by the Resort room charge) and premium experiences (offered for a fee) will surprise and delight guests at Aulani by encouraging and promoting physical, intellectual, emotional, social and cultural development. The counselors are trained in basic first aid, CPR and AED. Also, each one goes through a basic ASL class, as well as a basic Japanese language class. There are three certified teachers on staff and one teacher is always working on Aunty's side of the house.


Drop them off while you go have a little adult time and know that they will be having the time of their lives. The Beach House is divided into two sides, Aunty's and Uncle's, and features traditional Disney music in Hawaiian. The keiki (children) will learn about Hawaiian culture in Aunty's living room where she gathers the children for Once Upon an Island storytelling, Make Believe Magic, lei making, hula lessons and ukulele playing. An enchanted fireplace and a magical ceiling window make this area extra special. Meals and snacks are served in Aunty's Kitchen. Snacks are provided free of charge every two hours and lunch and/or dinner are provided at an additional cost. Kids can also watch movies here and participate in Eruption Disruption! (a Volcanic experiment) as well as Stitch's Space Goo.


The interactive touch table games located in Uncle's Den will keep even the most tech-savvy kid entertained. Kids can "make it rain" to start movie time in Uncle's T.V. room or watch their favorite Disney show. Nap mats are available here for those keiki that need daytime rest. There are computers and gaming consoles in Uncle's Surfboard Workshop. Uncle's Garage is where your child can participate in arts and crafts, face painting, and the Fish Are Friends program (this is a premium experience at an additional charge and reservations are required). Kids will get an inside look at how the Aulani Animal Programs train, feed and care for the resort marine life. Not only will they see the animals first hand, but they will make fish food and feed it to them.

Surf's Up – A Surfin', Fishin' and Dancin' Party! is another program that your kids can experience at Aunty's Beach House for an additional charge. During this experience, kids will have interactive activities that showcase the wonders of Hawai'i. They will be divided into two groups and take turns alternating between the original surfing-themed program with Chip and Dale, and a fishing-themed program with Goofy. Plus, they'll join together for a fun-filled dance party. The cost per child is $59. Please note meals are not included with this experience. Advance reservations are recommended.

With all these experiences available, you may have to bribe them to leave!




If you are the parent of a child under the age of 3, there is the Disney Aloha Junior program. This allows the parent and child to use Aunty's Beach House during the earlier part of the day. Parental supervision is required for all children under 3.

Aunty's Beach House is open 7 days a week, 12 months a year, but operating hours vary by day. Sunday, Wednesday and Friday from 9am until 11pm. Monday and Saturday from 8am until 9pm. Tuesday and Thursday from 7:30am until 9pm. All children participating in secured youth activities must have a completed Youth Registration Form on file and they must wear a Mickey Band while checked-into the beach house. The primary cell phone number for the child's family will be used as the point of contact between Aunty's Beach House and the child's family. Children are encouraged to leave all personal toys and gaming equipment with their families. Any items brought in will be labeled and stored until the child's check out from Aunty's Beach House. Kids are required to be potty trained, but potty accident clothing is provided by Aunty's Beach House just in case. Cast Members will not provide medication to guests in Youth Activities. The only medications allowed are prescribed asthma inhalers and EpiPen.

Aunty's Beach House accommodates all children, including those with disabilities, and the cast will work with each family to ensure the needs are met for each child to the best of the staff's abilities.
Pre-registration is available and highly recommended for guests. To get started, submit the online pre-registration form at least 2 days (but no more than 90 days) prior to your arrival date. Upon arrival at the Resort, please stop by Aunty's Beach House with your child(ren) to complete your registration.


The Hawaiian legend of the menehune, or mischievous and playful little people, will inspire visiting children of all ages. The menehune (May-nay-hoo-nay) were believed to inhabit Hawaii long before the Polynesians settled into the islands. They are a mischievous race of hard workers and traces of their work and culture still remain on many of the islands, including the Fish Pond on Kauai.
Imagineers have hidden menehune statues all over the resort for keiki (the Hawaiian word for children) to discover. Players are given a handheld device and there will be audible and visual clues that will help guide them on their adventure to find the menehune.