Norwegian Cruise Line - Pride of America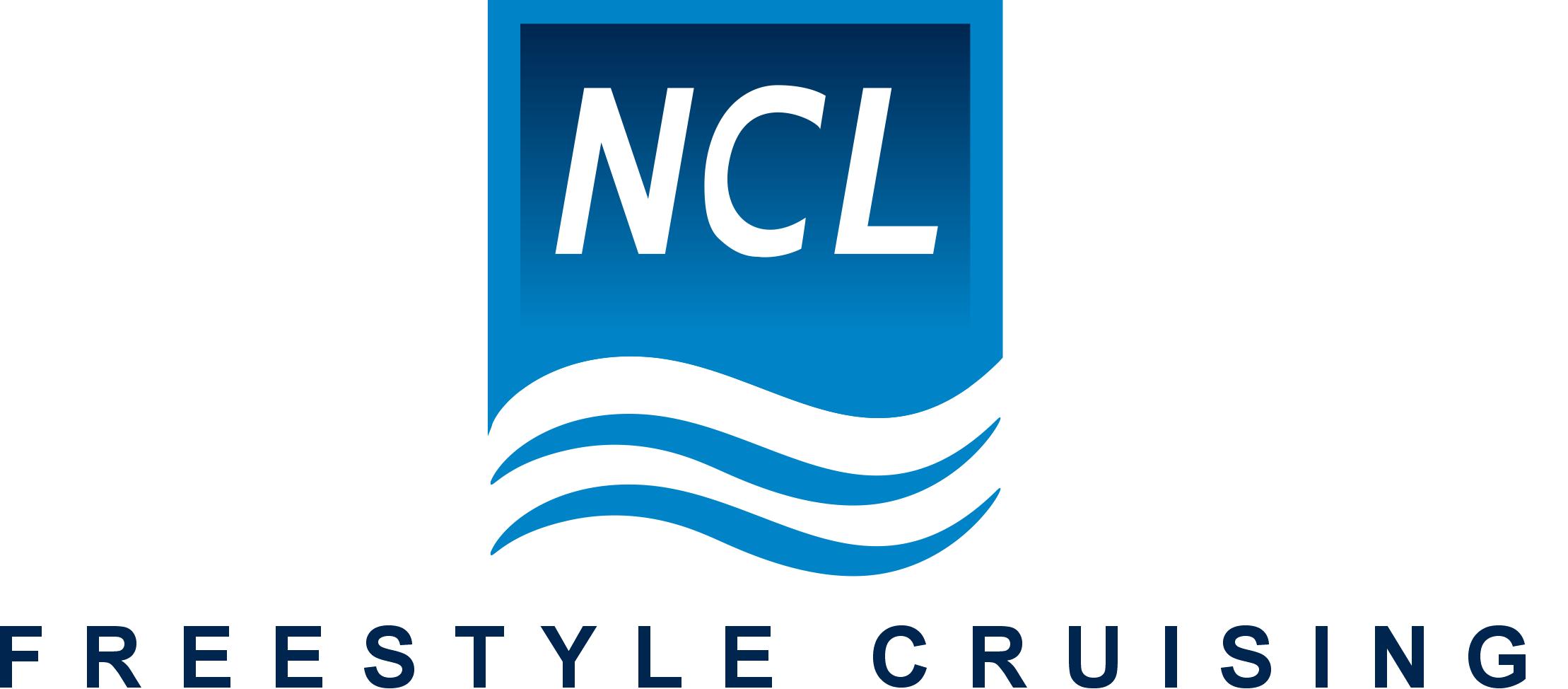 Aloha! Come aboard Pride of America for the best way to island hop Hawaii. From the moment you step into the Capitol Atrium, with its soaring Tiffany-glass dome and grand staircase, you'll know this is a spectacular cruise ship. Cruise America's paradise in style, with 14 restaurants and 9 bars and lounges, excellent family accommodations, spacious suites and lots of balconies – perfect for whale watching, witnessing Kilauea Volcano or taking in the dramatic views of the Napali Coast.
Inaugural Date: 2005
Max Beam: 119.8 feet
Draft: 26.2 feet
Overall Length: 920.3 feet
Remodeled Date: 2013-03
Cruise Speed: 22 knots
Crew: 917
Gross Register Tonnage: 80,439
Passenger Capacity: 2,186 (double occupancy)


Jefferson's Bistro (French)
Welcome to Thomas Jefferson's Georgian residence. This upscale French restaurant offers modern and classic gourmet cuisine against a traditional Jeffersonian backdrop.
Cuisine: French | Price per Guest: $20 Adult | $10 Child
Cagney's Steakhouse (Upper Suite Breakfast & Lunch)
Steak is the standard at our American-style steakhouse. Sip your favorite cocktail as you select from choice cuts of Certified Angus Beef® perfectly prepared. And don't forget to order our famous truffle fries.
Cuisine: Upper Suite Breakfast & Lunch | Price per Guest: $30 Adult | $15 Child
Teppanyaki
Flying shrimp. Onion volcanoes. Twirling knives. The sizzles and surprises never cease at our authentic Japanese Hibachi restaurant. Sit around a lively shared table as a skillful chef slices, chops and grills steak, seafood and chicken on a large steel grill right before your eyes. Our chilled, sake-infused Wasabi Cocktail will have you flipping too.
Cuisine: Teppanyaki | Price per Guest: $25 Adult | $12.5 Child
---
East Meets West
For a taste of the exotic, you'll find a unique array of Pan Asian cuisine as well as many authentic Asian dishes. East Meets West Asian Restaurant also has a Sushi and Sashimi Bar where you can enjoy the very best sushi and sashimi expertly prepared as you watch. The menu is priced a la carte.
Cuisine: Asian | Price per Guest: $15 Adult | $7.5 Child
La Cucina Italian
You won't need cab fare to experience delicious, contemporary Italian food. Sit back and relax in this fun, bright restaurant with the kind of menu you would expect to find in Little Italy, New York.
Cuisine: Italian | Price per Guest: $15 Adult | $7.5 Child
Moderno
If you're looking for a unique experience, our authentic Brazilian steakhouse is a must. Start with an impressive salad bar of imported cheeses, olives, cured meats, ceviche and specialty salads. Be sure to save room for the delicious skewers of slow-roasted meats including beef, pork, lamb and chicken – all carved tableside by our Pasadores.
Cuisine: Churrascaria | Price per Guest: $20 Adult | $10 Child
---
Lanai
A full bar offering an extensive wine and beer selection and cocktails including Mai Tai's, Surf Rider's and Polynesian's.

Liberty
Dining at the Liberty is guaranteed to be a traditional experience as you step back into America's Colonial days. The decor features paintings of the Founding Fathers and important moments in American History.
Cuisine: More Traditional

Key West Bar & Grill
Full bar & grill in a Key West setting.
Cuisine: Alternate Pool Bar & Grill
John Adams Coffee Bar
For that double, vanilla, soy, extra hot latte with extra foam, the John Adam's Coffee Bar is at your service with a wide variety of specialty coffees, teas, pastries and cookies.
Skyline
Inspired by the architecture and skyscrapers of 1930's Manhattan, this Art Deco style restaurant offers a delicious, traditional dining experience.
Cuisine: More Traditional
Aloha Café
This indoor/outdoor buffet-style eatery features food stations where you can order omelets, waffles, fruit, soups, ethnic specialties and pasta. Set against a Hawaiian theme with outrigger canoes, Polynesian carvings and even a kid-sized buffet.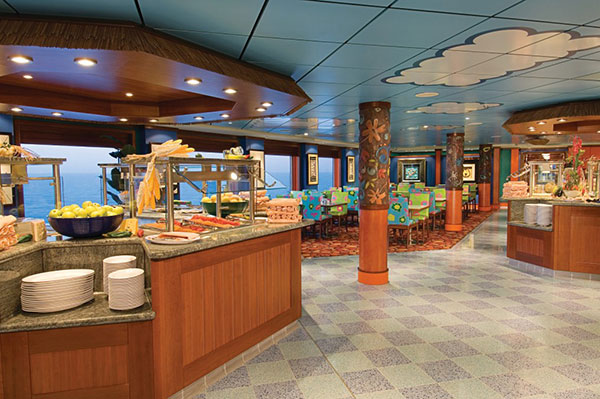 Cadillac Diner
This totally retro 1950's diner has Cadillac seats, plays 50's Rock 'n Roll and offers up a classic menu of burgers, fish 'n chips, potpies and wok-fast dishes. Open 22-hours a day.
---
Comedy Variety
When's the last time you guffawed? From standup comedy to unicycle-riding jugglers, you're invited for an evening of laughter in the Hollywood Theater

White Hot Party
Ice ice baby. Don your white attire and get to the pool deck for the most invigorating, black light glowing, electrifying party beneath the stars. Dance with our white-winged angels and be sure to purchase a souvenir t-shirt.

Magicians
How'd they do that? We may never know but it sure is fun to witness things appearing and disappearing right before your eyes. Add a dash of comedy and you've got one magical evening.

Presumed Murdered Luncheon
The Second City has teamed up with best-selling crime novelist Scott Turow to create a hilarious who-done-it called Presumed Murdered. You are immediately brought into the action to find the killer and bring them to justice.

The Second City
Chicago's legendary comedy theatre, The Second City, celebrates its 50th Anniversary with a hilarious revue of sketches, songs and improvisation. Watch the brightest young comic talent in North America puts its comic spin on current events and life on the cruise ship.
Oh What A Night
Big Girls Don't Cry, Can't Take My Eyes Off Of You, Walk Like A Man...You really will be saying, Oh What A Night - after you witness these four talented performers sing popular songs from Frankie Valli & the Four Seasons.

Lights, Camera, Music!
In this elegant tribute to the greatest moments of the Hollywood Musical, see your favorite cinematic classics come to life from the romantic glamour of the 1940's to the high-kicking can-can of the Moulin Rouge! So curtain up…light the lights… as Norwegian proudly presents our newest production show… Lights, Camera, Music!

Rock-A-Hula
Tonight, you can't help falling in love with Norwegian's very first original Musical Comedy, Rock-a-Hula L?'au! Think the fun of 'Glee' meeting the campy comedy of Frankie and Annette, all set to the re-imagined music of Elvis Presley! One for the Money, Two for the Show, Three to get ready…now Rock-a-Hula Go!
---
Aloha Lanai Bar
A full bar offering an extensive wine and beer selection and cocktails including Mai Tai's, Surf Rider's and Polynesian's.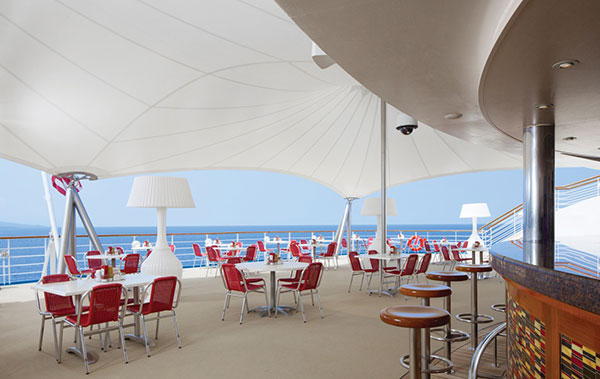 Gold Rush Saloon
Sidle up and wet your whistle at the Gold Rush Saloon, a full bar offering an extensive wine and beer selection and cocktails.

John Adam's Coffee Bar
For that double, vanilla, soy, extra hot latte with extra foam, the John Adam's Coffee Bar is at your service with a wide variety of specialty coffees, teas, pastries and cookies.

Key West Bar & Grill
Full bar & grill in a Key West setting.

Mardi Gras Cabaret Lounge & Nightclub
Every night is Mardi Gras here. The famous New Orleans Mardi Gras is the inspiration behind this fun, lively lounge.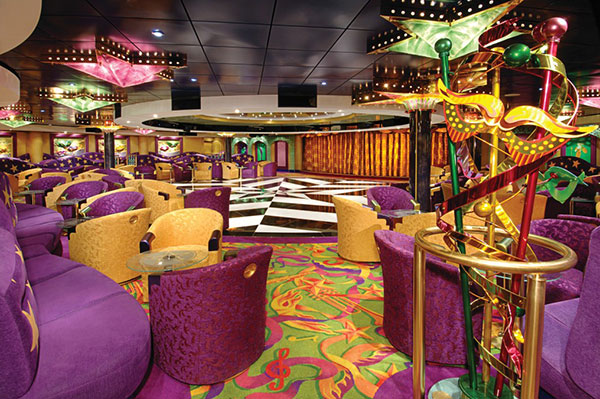 Napa Wine Bar
Enjoy different wines by the glass at the Napa Wine Bar. You can also order cocktails and beer in this full bar.

Ocean Drive Bar
Enjoy cocktails, wines and beer in a full bar that overlooks the South Beach Pool.

Pink's Champagne Bar
Inspired by Hawaii's Royal Palace Hotel, often referred to as the "Pink Palace", on Waikiki Beach. Toast to your good health and good luck with champagne.

Waikiki Bar
Hang loose brother at the Waikiki Bar. You'll think you're on Waikiki Beach after you order a Mai Tai or Polynesian. Full bar includes wine, beer and cocktails. Sand optional.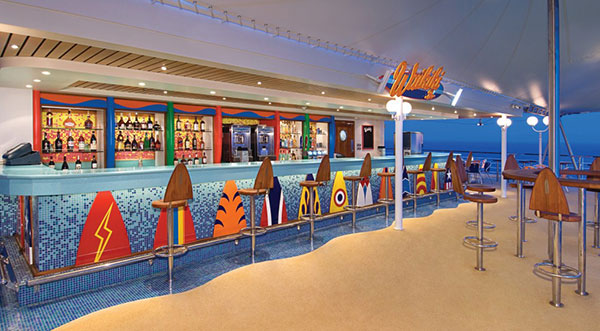 ---
Basketball/Volleyball
Shoot hoops, join a pick up game, play beach volleyball at the outdoor Basketball/Volleyball court, where we will be happy to accommodate you.

Blast Off Video Arcade
Stop by the video arcade and shoot a few aliens, win a car race, play pinball and fly a jet fighter. Let your imagination run wild at Blast Off Video Arcade

Connections Teen Club
A hip place for teens to hang out, complete with dance floor, bar, video, jukebox, table football and air hockey.

Deck Games
Deck Games include Outdoor Chess. It's a great way to meet some of the other passengers.

Golf Driving Net
Fore! Take your clubs out for a drive at Golf Driving Net, where there's no such thing as a lost ball or a bad drive.

Hollywood Theater
You deserve the red carpet treatment. Enjoy Broadway- and Vegas-style shows in a Hollywood theater.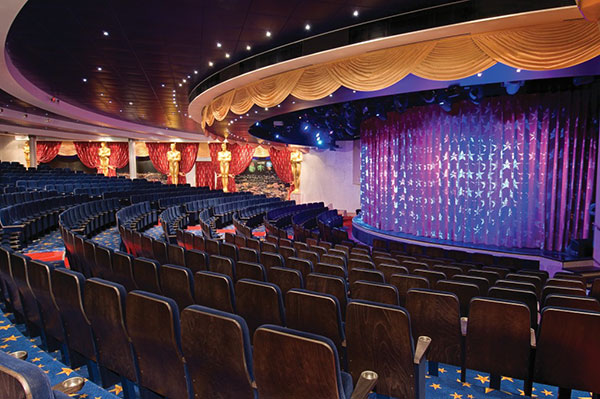 Hot Tubs
There are four outdoor hot tubs located in close proximity to the South Beach Pool.

Internet Center
Want to send an update to family and friends back home? This is the place to be when you need to get online. Computer and Internet facilities, plus a computer lecture and training area is available.

Jogging/Walking Track
Run circles around the other guests or get in your daily walk while you're at sea. Breakfast always tastes better after a good walk or run, right?

Kumu Cultural Center
The Kumu Cultural Center takes guests through the history of Hawaii. In addition our onboard Hawaiian Duo local entertainers and the Hawaiian Ambassadors onboard bring the Hawaii culture to light with art & crafts classes, and lectures for our guests.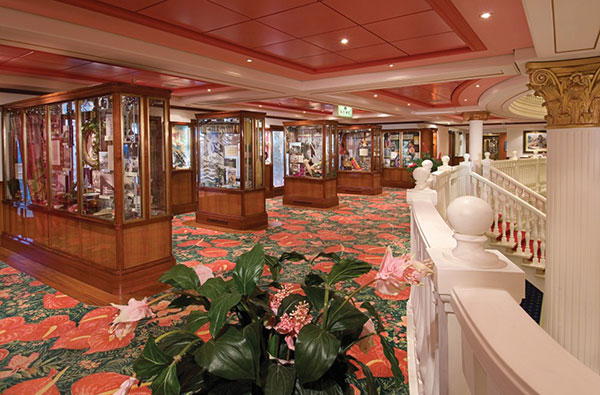 Newbury Street Shops
Need a new bathing suit? How about a surprise gift for your sweetheart? Newbury Street Shops offer a wide selection of brand name and specialty goodies.

Oasis Pool
Located on the aft part of Pride of America is the smaller Oasis outdoor pool.

Photo Gallery
Our selection of beautiful photographic prints is worthy of any wall. Photos on display are available for purchase.

Rascals Kid's Club
Kid's rule here. There's a paddling pool, soft play area, computers, movie room and jungle gym.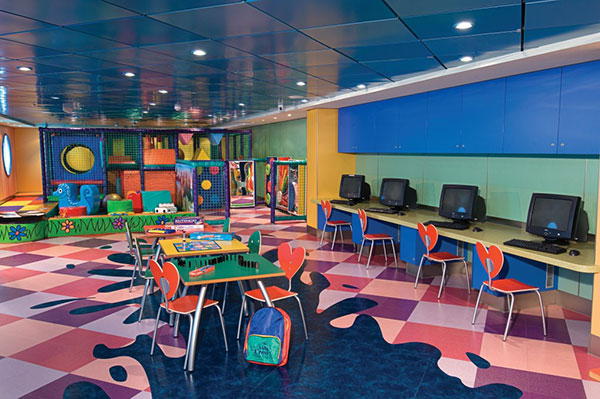 Santa Fe Fitness Center
There are numerous ways to stay in shape while on board Pride of America. The Santa Fe Fitness Center is open from 6am to 11pm with a full gym and aerobics/fitness classes offered daily.

Shuffles Card Room
Here is one room where playing games is not just encouraged, it's expected. Find another couple and play bridge or test your skill with board games, checkers, and Scrabble®.

SoHo Art Gallery
Stroll through Pride of America's Art Gallery of original paintings for sale by a wide range of well-known artists.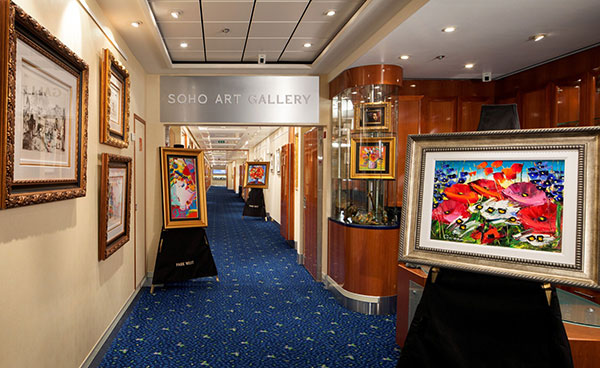 South Beach Pool
Pride of America's ode to Miami's South Beach, includes two glimmering outdoor pools and four hot tubs.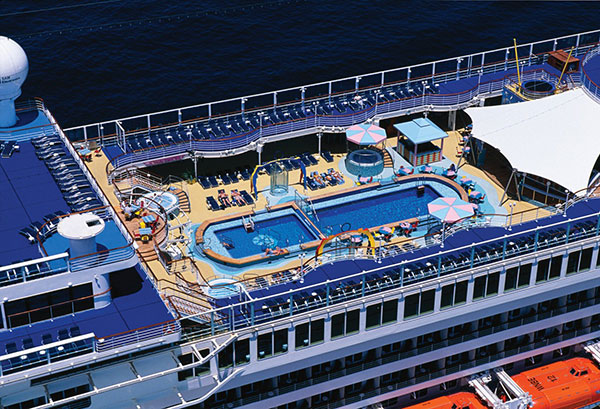 SS America Library
You'll find a well-stocked selection of reading materials against the backdrop of the historic SS America Ship with memorabilia and artifacts from the ship itself.
The Conservatory
This quiet area in a tropical setting has glass walls. Read, make conversation or do nothing at all.
---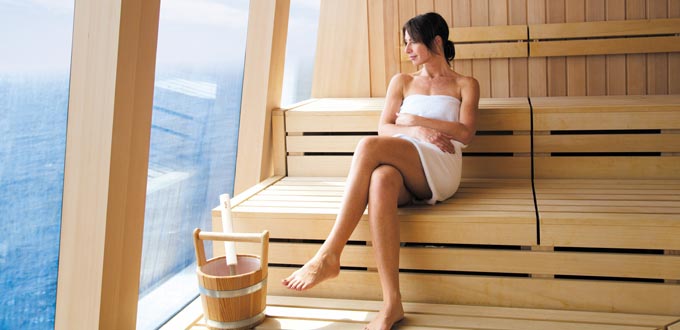 MANDARA SPA
All services can be reserved when you board the ship. Read your Freestyle Daily to find exclusive treatments and special offers. Some of these treatments may not be available on every ship.
2-Bedroom Deluxe Family Suite with Large Balcony
njoy the amazing views together on your large, private balcony. Have your butler arrange a culinary feast in your dining area. Or relish a quiet moment after the kids retreat to their room.
Accommodates: 5
Approx. Size: 607-650 sq. ft. (including balcony)
Deluxe Owner's Suite with Large Balcony
alk about luxury. Open your floor-to-ceiling glass doors to your private balcony to reveal stunning, panoramic views. Butler and concierge service assures you'll never lift a finger.
Accommodates: 4
Approx. Size: 1382 sq. ft. (including balcony)
Owner's Suite with Large Balcony
So much room, you can have your butler serve dinner al fresco on your private balcony. And after a full day of seeing the sights, retreat to your whirlpool tub.
Accommodates: 4
Approx. Size: 766 - 957 sq. ft. (including balcony)
Deluxe Penthouse with Large Balcony
A dream vacation come true. Relax as you lounge on your private balcony, all while taking in the spectacular seascape. And call on butler and concierge service any time you like.
Accommodates: 6
Approx. Size: 880 sq. ft. (including balcony)
Penthouse with Large Balcony
Enjoy the show. Just open your floor-to-ceiling glass doors and marvel at ocean views from your large private balcony. And let butler and concierge service take care of all your needs.
Accommodates: up to 6
Approx. Size: 494 - 688 sq. ft. (including balcony)
2-Bedroom Family Suite with Large Balcony
So many ways to make your stay comfortable. Retreat to your own private space or connect with a connecting balcony stateroom. And butler and concierge service assures your every need is met.
Accommodates: 5
Approx. Size: 335 sq. ft. (including balcony)
Family Suite with Obstructed View
Centrally located to access all of the restaurants and action onboard the ship. Plenty of bedding to sleep the entire family!
Accommodates: 8
Approx. Size: 356 sq. ft. (including balcony)
---
Aft-Facing Large Balcony
Facing aft gives you exclusive access to the most exhilarating — and unforgettable — views. Open your floor-to-ceiling glass doors and enjoy ocean breeze from your large private balcony.
Accommodates: 3
Approx. Size: 227 - 233 sq. ft. (including balcony)
Family Balcony
Share spectacular views with those you love, all from your private balcony. Some of these staterooms connect making it easy to spread out yet stay together.
Accommodates: 3 - 4
Approx. Size: 178 sq. ft. (including balcony)
Large Balcony
Floor-to-ceiling glass doors open to incredible ocean views, with plenty of room for taking in the seascape together.
Accommodates: 2-3
Approx. Size: 238 sq. ft. (including balcony)
Mid-Ship Balcony
Stay mid-ship and stay closer to the excitement. When it's time to retreat, open floor-to-ceiling glass doors onto your private balcony. Now that's a vacation that runs on your speed.
Accommodates: 2-3
Approx. Size: 178 sq. ft. (including balcony)
Balcony
Floor-to-ceiling glass doors open to a private balcony with sweeping views. So enjoy beautiful sunrises, breathtaking sunsets and a cozy and comfortable room designed with you in mind.
Accommodates: 2-3
Approx. Size: 178 sq. ft. (including balcony)
---
Family Oceanview Picture Window
Wake up to a fabulous view of the latest port from your big picture window. Plus enjoy enough space for you and family to spread out.
Accommodates: 4
Approx. Size: 144 sq. ft. (including balcony)
Mid-Ship Oceanview Picture Window
Keep all your options open. When you stay mid-ship, you're close to all the onboard action, so you won't miss a minute of the fun. Plus catch the gorgeous view from your big picture window.
Accommodates: 4
Approx. Size: 144 sq. ft. (including balcony)
Oceanview Picture Window
Awesome views are yours. With a picture window, you'll be one of the first to see the latest port. When you want some onboard fun, the nightclub, theater and shops are close by.
Accommodates: 3
Approx. Size: 144 sq. ft. (including balcony)
Obstructed Oceanview
Enjoy plenty of natural light throughout your room. Plus you're located mid-ship, which means you're close to tons of great onboard amenities, including a variety of dining options.
Accommodates: 3 - 4
Approx. Size: 144 sq. ft. (including balcony)
---
Family Inside
There's room for everyone. And you're in a great spot, close to all the kids' areas and activities — a real plus — as well as so many more onboard amenities, activities and attractions.
Accommodates: 4
Approx. Size: 132 sq. ft. (including balcony)
Mid-Ship Inside
Staying mid-ship means you're near all the exciting activities and delicious dining options. And at the end of your busy day, or night, up to four of you can sleep in complete comfort.
Accommodates: 4
Approx. Size: 132 sq. ft. (including balcony)
Inside
A great stateroom priced just right. Enjoy amenities similar to an Oceanview, just what you need to relax, recharge and get going again. Many rooms are close by popular onboard attractions.
Accommodates: 4
Approx. Size: 132 sq. ft. (including balcony)
---
Studio Inside
Cool and hip, right down to the funky lighting and flat-screen TV. Our studios have just what you need, plus access to the private Studio Lounge, a great place for a pre-dinner drink.
Accommodates: 1
Approx. Size: 107 sq. ft. (including balcony)

7-DAY HAWAII, ROUND-TRIP HONOLULU
EMBARK: Honolulu, Hawaii
PORTS OF CALL: Kahului, Maui, Hilo, Hawaii, Kona, Hawaii, Nawiliwili, Kauai
DISEMBARK: Honolulu, Hawaii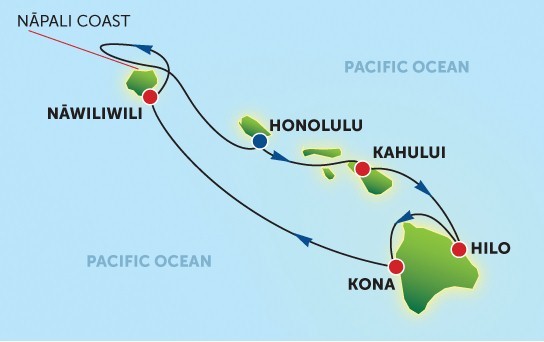 PEARL HARBOR & USS MISSOURI
INFO: Celebrate the honor, valor and courage of the World War II US servicemen on this special tour. This nostalgic journey takes you to the two places that marked the beginning and the end of the war for the United States - Pearl Harbor and the USS Missouri.

PEARL HARBOR & HONOLULU CITY
Explore Honolulu's highlights – from Pearl Harbor and the National Memorial Cemetery of the Pacific to Hawaii's first Christian church, and Iolani Palace and Washington Place, both former residences of the Hawaiian monarchy.
---
VOLCANO & RAINBOW FALLS
Enjoy a day of scenic splendor and natural beauty, from the lush surroundings of sparkling Rainbow Falls to the dramatic landscape of Volcanoes National Park, and an astonishing variety of tropical orchids.


THE LAND OF FROZEN FIRE
Visit the off-the-beaten-path town of Pahoa, discover Lava Tree State Park – a once lush rainforest – and walk on "frozen fire" in historic Kalapana.


CIRCLE OF FIRE HELICOPTER
Join this thrilling helicopter ride for a bird's eye view of Earth's most geologically active environment – the Kilauea volcano. This flight-seeing adventure allows you to view current volcanic activity that can't be seen from the ground.
---
ROAD TO HANA
Experience the magnificent scenery along the famed Road to Hana and beyond. Travel over bridges and around hairpin turns while taking in the rugged coastline, lush hillsides and tumbling waterfalls of this pristine landscape.


MOLOKINI CRATER & TURTLE SNORKEL
Hop aboard a catamaran for a day on the water. Snorkel at Molokini – one of the top ten snorkel sites in the world and Turtle Arches, where you may encounter Hawaiian green sea turtles.


HALEAKALA CRATER
Check out Maui's massive Haleakala volcano from bottom to top, as you journey from sea level to 10,000 feet. From the summit you'll view spectacular island scenery and the immense crater of volcanic rock.


BEST OF MAUI
Experience Maui's lush tropical beauty in the Iao Valley, learn about the cultivation of luscious fruits at the Tropical Plantation and look closely at the creatures of Hawaiian seas at the Maui Ocean Center.
---
HISTORIC KONA
Explore historic Kona, stop at St. Benedict's painted church, and step back in time at Puuhonua O Honaunau, once a political and religious sanctuary. Stop for a taste of local Kona coffee and maybe bring some home.


KONA MOCHA
Sample Kona Joe's award winning trellised coffee, and melt-in-your-mouth chocolate from the Original Hawaiian Chocolate Factory. Visit the sites and learn about the growth and processing of these two fabulous beans.


KONA BY LAND & SEA
Explore Kona by land and sea. Sip Kona coffee, visit St. Benedict's painted church and Puuhonua, a sacred place of refuge. View historic temples and battlefields from a catamaran, while keeping an eye out for dolphins.


OCEAN KAYAK & SNORKEL
Kayak along the scenic Kona coastline, past great sea caves and giant lava tubes. Then snorkel in a protected cove amidst coral gardens and hundreds of exotic fish.


CAPTAIN ZODIAC RAFT, SNORKEL & DOLPHIN ADVENTURE
Head to Kealakekua Bay in a 24-foot Zodiac on this fast-paced adventure tour. Swim and snorkel in the bay's protected waters, then explore sea caves and lava tubes and learn more about the geology of the island.


SECRET WATERFALLS OF KOHALA
Come along and visit the fertile heart of Kohala and explore its rich natural and cultural heritage. Along with an abundance of waterfalls, the short mile and a half trail has three bridges, two idyllic streams and traditional Hawaiian taro terraces. By exclusive access, treat yourself to a swim under a private waterfall.

BIG ISLAND SPECTACULAR
Soar above the beauty and volcanic fury of the Big Island of Hawaii on this complete aerial tour of the island via helicopter. It's the best way to get a birds eye view of Kilauea Volcano's active areas, lush rainforest, the Hamakua coastline and the deep, immense tropical valleys of the Kohala Mountains with cascading waterfalls and lush greenery.


GLASS-BOTTOM REEF TOUR
Enjoy Kona's underwater paradise without getting wet! Cruise aboard a 36 foot glass-bottom boat specially designed to cruise within inches of the reef. Have your camera ready to capture the colorful fish, corals and other sea creatures.


SNUBA BEACH DIVE
Enjoy the safest and easiest way to learn how to dive underwater, your SNUBA guide is with you every step of the way. You'll discover a beautiful reef teeming with a variety of colorful, tropical fish, beautiful coral gardens and other marine life on this easy introduction to diving and to Hawaii's underwater world.

---
PORT: Nawiliwili, Kauai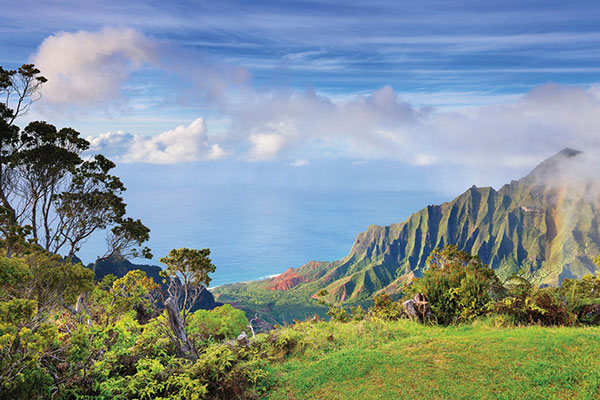 LUAU KALAMAKU
Don't miss this luau – it's a Hawaiian cultural extravaganza. You'll dine on a lavish buffet of local delicacies, feast your eyes on graceful hulas and traditional fire dances.


BEST OF KAUAI
On this introduction to the "Garden Isle," you'll explore two of Kauai's most dramatic natural attractions - the 3,000-foot-deep Waimea Canyon and the lush landscapes lining the Wailua River, including the famed Fern Grotto.


JOURNEY TO WAIMEA CANYON
Discover Waimea Canyon, the breathtaking gorge in the heart of Kauai that is one of the island's most dramatic natural attractions.

---