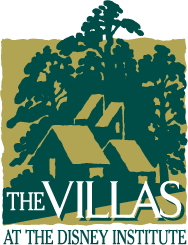 THE VILLAS AT THE DISNEY INSTITUTE
1960 Magnolia Way
Lake Buena Vista, FL 32830-1000
Phone: (407) 827-1100
Maximum persons per room: 4 (plus child in crib)
Total Number of rooms: 584
Price per night: $209 - $1,750
Room size: 500 sq. ft (bungalow), 800-1500 sq. ft (one and two bedroom townhouses), 1520 sq. ft. (two bedroom fairway villas), 1724-2884 sq. ft. (grand vista homes).
Credit Cards Accepted: American Express, Visa, MasterCard, and the Disney Credit Card.

Resort Description
Bordered by the Buena Vista Lagoon and the Sassagoula River, amidst 250 acres of wooded country, you'll find the Villas at the Disney Institute. The design of this tranquil getaway resembles a quaint American town complete with a Welcome Center. Most of the wooden buildings are colored with soft earth tones harmonious with the woodlands that surround them. Golf course fairways traverse the property. Unlike other Walt Disney World resorts, the Villas are not heavily themed, the major focus is on the peaceful feeling of the community spirit as is reflected by the layout of the resort. The Institute was created as a place for guests to expand their talents with a variety of educational and entertaining programs. Here, guests can try their hand at gourmet cooking, rock climbing, improving their golf or tennis game, creating topiaries, TV, video or radio production, animation, story arts, photography, aerobics and lifestyles, to name just a few. Celebrity guest speakers are often on hand to share their experience. Resort guests do not need to be enrolled in classes to stay at the Villas however.
TRANSPORTATION: Because of its close proximity to Downtown Disney Marketplace, guests who are located in the Townhouse buildings may choose to walk there. This resort is large and spread out, so to facilitate travelling around the resort, the Disney Institute has electric golf carts available to rent. Cart paths run throughout the resort and to the Downtown Disney Marketplace as well. Magic Kingdom: Take the Magic Kingdom bus Epcot: Take the Epcot bus MGM: Take the MGM bus Animal Kingdom/Blizzard Beach: Take the appropriately marked bus Downtown Disney Marketplace, Downtown Disney West Side, Pleasure Island and Typhoon Lagoon: Take the Downtown Disney bus TIP: Renting a car can be worth your while as the bus service can sometimes be somewhat erratic.
ROOMS: The all suite Villas at the Disney Institute offer a varied selection of accommodations. There are bungalows, One- and Two-Bedroom Townhouses, Three-Bedroom Treehouse Villas, Two-Bedroom Fairway Villas and Grand Vista Homes to suit just about any family size from 4 to 8 people. Bungalows: These woodsy themed, L-shaped suites average 500 square feet in size. The Bungalow includes a small sitting area with a sleeper sofa, chair, TV, armoire, table with 2 chairs, small sink, microwave, refrigerator and coffee maker. The comfortable bedrooms here have 2 queen-sized beds. There is a single sink in a vanity area separate from the tub and commode. Other "home away from home" touches include an iron and ironing board, hairdryer, coffee, tea, cream and sugar, paper plates and bowls, cups, glasses, plastic cutlery and a can opener. The bungalow suites lead out onto a patio or balcony area with a table and two chairs. Use of the washers and dryers in each bungalow cluster area is complimentary. Bungalows can sleep 5 plus a child under 3 in a crib. One- and Two-Bedroom Townhouses: There are 47 of the 884 square foot one-bedroom townhouses available. Cathedral ceilings top the living areas that include a queen size sleeper sofa, TV, 2 chairs and a dining table with 4 chairs. The Kitchen is fully equipped with all of the cooking utensils you could possibly need to prepare your meals, including a microwave and refrigerator. The only things missing are the food and the cook. The upper level has a loft-style bedroom with a queen-sized bed. There is a bathroom on each level, a full bathroom off of the bedroom and a 2-piece bathroom on the lower level. One-bedroom units sleep 4 adults with a child under 3 in a crib. Two-Bedroom Townhouses: There are 157 two-bedroom townhouses. These units have the same features as the one-bedroom units with the addition of another bedroom with 2 twin beds or one queen-sized bed in the loft area and another full bathroom. The 1,450 square foot two-bedroom units accommodate 6 adults and a child under the age of 3 in a crib. All townhouses have a patio and a balcony.

TIP: Townhouses closer to the pool area are 8-14, 39-41 and 455-460. If you prefer to be closer to the bus stop area, request 127-133.
Three-Bedroom Treehouse Villas: The octagon-shaped Treehouse Villas sit on stilts in a wooded area amongst small canals. A deck encircles the second story of the villa and the numerous windows provide a picturesque view. Inside the country themed villa, you'll find a fully equipped kitchen for all of your cooking needs, a dining area, a living area, two bedrooms each with a queen-sized bed, a study with a double bed, 2 bathrooms and a washer and dryer. Treehouse Villas can accommodate 6 adults with a child under the age of 3 in a crib. TIP: For a room close to the bus stop, request 410, 412, 448, 449 or 454. Secluded Treehouse Villas with a view of the Sassagoula River are perfect for quiet romantic getaways. Fairway Villas: Along the fairways of the Lake Buena Vista Golf Course, there are 68 Fairway Villas. Charming cathedral ceilings and rough hewn walls lend a rustic flavor to the villas. The split-level floor plan offers 2 bedrooms, an upstairs loft with a queen-sized bed, and 2 double beds in the second bedroom with a sleeper sofa in the spacious living room. A fully equipped kitchen and 2 full bathrooms and one 2-piece bathroom completes the accommodations. Fairway Villas provide the only handicap accessible accommodations at the Disney Institute. Fairway Villas can sleep 8 adults and a child under the age of 3 in a crib. Grand Vista Homes: The largest and most luxurious of the accommodations at Disney Institute are the Grand Vista Homes. The four Homes have either two or three bedrooms. Standard luxuries include free use of a golf cart, bicycles, a snack filled refrigerator, a barbecue grill, complimentary daily local newspaper delivery, a nightly turndown service and upscale furnishings. Each home consists of a master bedroom with a king-sized bed, and second and third bedrooms with either 2 queen-sized beds or 2 twin beds. Two-bedroom homes can sleep 6 adults with a child under the age of 3 in a crib. Three-bedroom homes can accommodate 8 adults with a child under the age of 3. Check-in time is 4 p.m. and check-out is 11 a.m.
DINING: The only sit-down restaurant available on site is the Seasons Dining Room. Featuring Floridian cuisine with a nouvelle flair, guests are often treated to the exquisite cuisine of visiting chefs teaching at the Institute. Seasons is open for breakfast, lunch and dinner. Breakfast offers standard fare such as cereals, baked goods, eggs, bacon and sausages, in addition to specialties such as quiche, breakfast pizza, pancakes and French Toast. The lunch menu offers fresh salads, pasta, beef, fish and specialty sandwiches. Freshness is the order of the day for the dinner menu choices. Entrees available may include catfish, rabbit, rack of lamb, beef and poultry. The themed menu varies according to the fresh offerings of each season. The proximity of Downtown Disney Marketplace and Downtown Disney West Side, offers Disney Institute guests a plethora of dining opportunities such as the Rainforest Café, Planet Hollywood, Wolfgang Puck's, Fulton's Crab House, House of Blues and Bongos Cuban Café, to name but a few. For a light breakfast or afternoon snack, Reflections coffee shop is located on Willow Lake and offers pastries, desserts and coffee to satisfy your hunger.
POOLS/RECREATION: There are 6 pools situated throughout the Disney Institute. None of these are themed pools and do not have lifeguards on site. Tennis lovers can enjoy the four hydrogrid clay courts on site. If you need some advice on fine tuning your serve, private or group lessons are offered. While there is no marina at the Institute, canoes can be rented for use throughout the canals. Those wishing to rent water mice, pontoon boats or canopy boats, may do so at the nearby marina at the Downtown Disney Marketplace. The Buena Vista Lagoon Fishing Excursion is available and fishing is on a catch and release basis. Physical exercise at the Disney Institute can be found by renting bicycles, playing volleyball, jogging along the 3.4 mile Fitness Trail or working out at the Health Club. The Health Club features the latest in Cybex cardiovascular and strength training equipment. Use of the facility is free to those enrolled in a Disney Institute program all other resort guests must pay a fee. The Lake Buena Vista Golf Course is a PGA course and has a driving range, putting green, locker rooms and a beverage cart on the course. Private and group lessons are available. Need some pampering after a busy day at the parks? At the Spa at the Disney Institute, you can get a massage, body wrap, facial, manicure and pedicure. Services are offered to both men and women. For more information, call (407)827-4455. For the children, playgrounds and an arcade are available.
SERVICES/AMENITIES:
Babysitting/Childcare Services
Valet Service
Cleaning
Express Check-out
Poolside bar
ATM machine
Voice Mail
Business Center
Meeting Space
Valet Parking
Shops: Dabblers (snacks, microwavable food, beverages and sundries) Daily Maid Service