Disneyland Hotel

The fun never has to stop at the Disneyland Hotel!
Be surrounded in the spirit and wonder of Disneyland past and present as you stay in the Adventure, Fantasy or Frontier Tower, each an homage in sight and sound to the park's original lands. Guests will delight in the hotel's sleek, ultra-modern design that surrounds you at every turn.
The Disneyland Hotel is located just steps from Downtown Disney and a short stroll to both Disneyland Park and Disney California Adventure.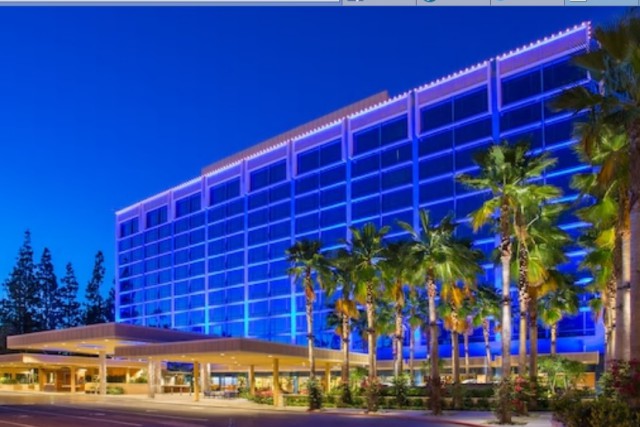 The Disneyland Hotel features a wide range of magical dining options where guests can indulge in a mouthwatering selection of classic yet contemporary creations for breakfast, lunch and dinner.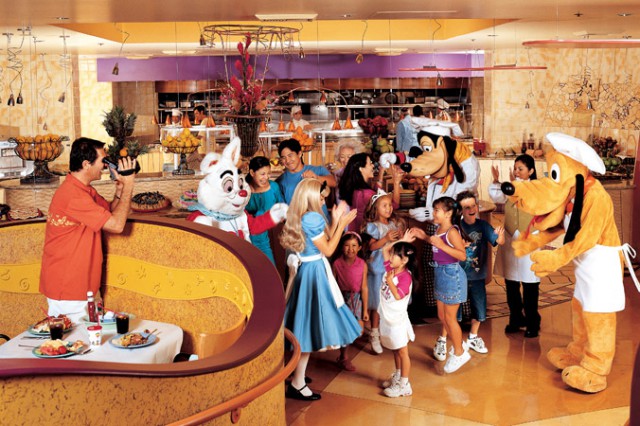 For character dining, visit Goofy's Kitchen, a whimsical buffet-service restaurant featuring brunch and dinner with some of your favorite Disney Characters.
If you're looking for something casual, try the Adventureland-inspired Tangaroa Terrace, with casual island dining accented with tiki torches and tropical music. For a quick morning bite, The Coffee House serves muffins, bagels, yogurt, coffee and more.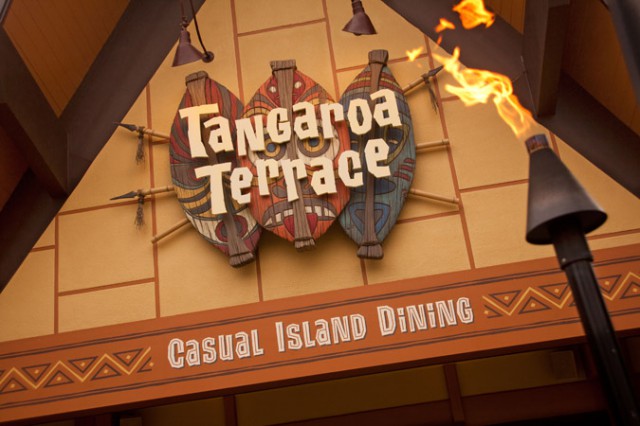 Trader Sam's Enchanted Tiki Bar is a Jungle Cruise-inspired hideaway offering tropical cocktails, juices and an ambrosial bar menu.
Disneyland Hotel's signature restaurant is Steakhouse 55, which is a fresh update on the classic steakhouse concept with an intimate ambiance and a renowned wine cellar. Steakhouse 55 serves breakfast and dinner.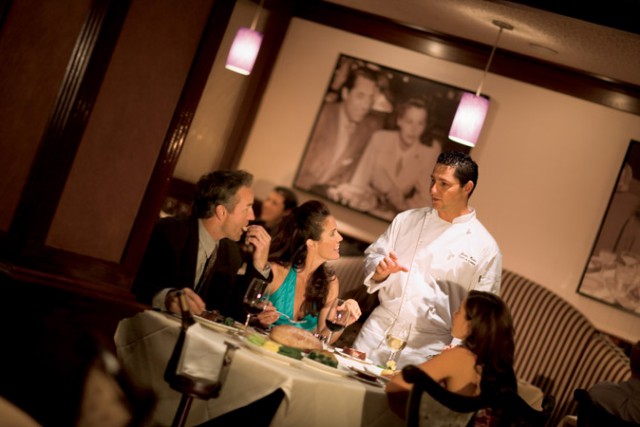 In-room dining is also available and nearby Downtown Disney offers numerous dining options.

Rooms at the Disneyland Hotel are both sophisticated and whisical, paying tribute to the classic years of Disneyland Park. Upscale styling, state-of-the-art amenities, and special Disney furnishings, including light-up Sleeping Beauty Castle headboards and timeless artwork, provide a stay your entire family will treasure.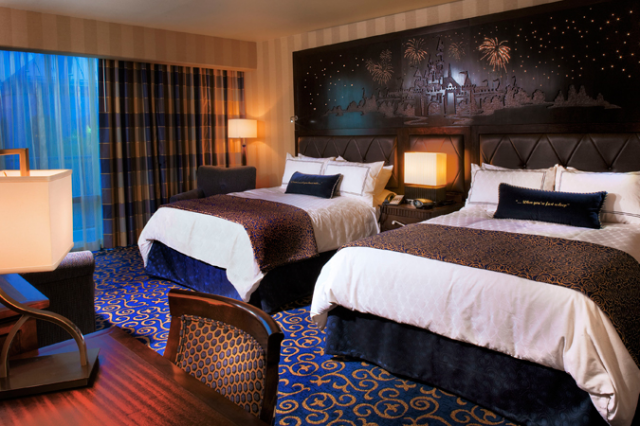 The Disneyland Hotel offers 973 guest rooms in 3 towers, including many that have a Downtown Disney or Partial Theme Park View. Standard rooms accomodate up to five guests, with sizes ranging from 425 to 475 square feet. In addition, there are 71 suites with 1, 2 and 3 bedrooms.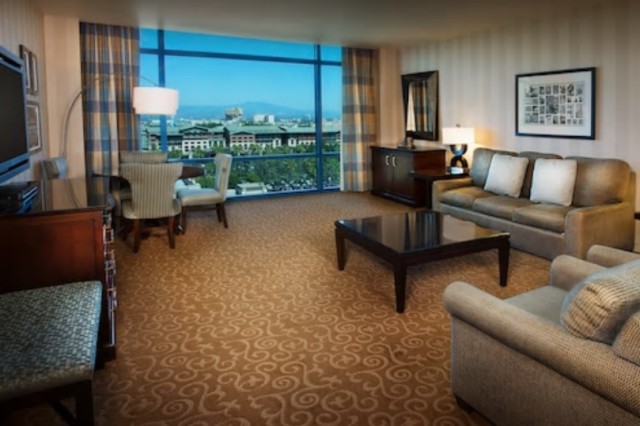 For an enchanted, first-rate celebration, the Disneyland Hotel also offers 5 different Signature Suites with special Disneyland Park themes and decor. Stay and play as a pirate, a princess, a miner or an explorer; or experience the ultimate VIP vacation experience in the grand Mickey Mouse Penthouse.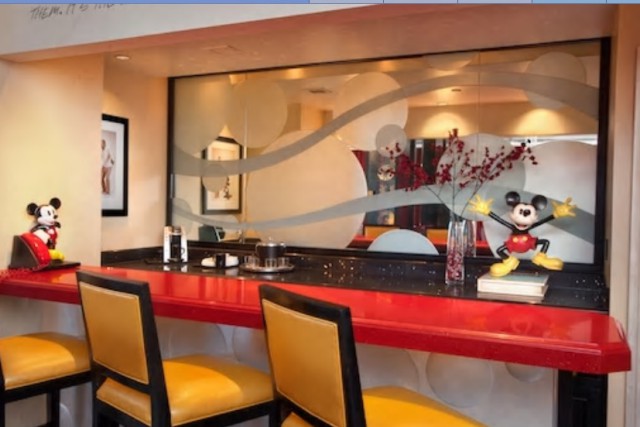 Most rooms include a desk, high-speed internet, ice bucket, satellite television, hair dryer, dual line phone with voice mail, alarm clock, interior corridor access, vanity area, air conditioning & heater, iron & ironing board, shower & bathtub combo, coffee maker, shampoo & conditioner, hand & body lotion, triple sheets, mini-refrigerator, and in-room safe.
All Disneyland Hotel guest rooms are non-smoking and there are 31 rooms that accommodate guests with disabilities, including 2 suites and 1 Signature Suite.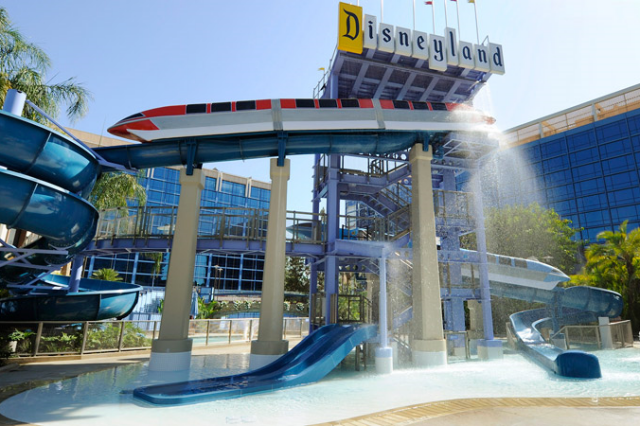 Guests can make a splash at the Disneyland Hotel's 2 towering monorail waterslides, themed after the classic park attraction and featuring a fun water play area. For a more tranquil swim, cool off in the E-Ticket and D-Ticket pools and then stretch out on a nearby plush chaise lounge. Soak up the sun in the Mickey Spa and Minnie Spa whirlpools and enjoy an even more soothing experience. Poolside cabanas are available for an additional fee if you'd like to lounge the day away in private.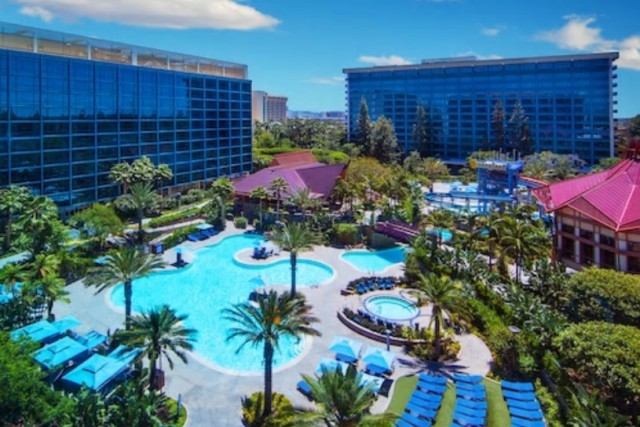 On select evenings, guests can curl up under the stars on the Magic Kingdom Lawn for special screenings of popular Disney films. The viewing areas open 30 minutes before the show and guests are encouraged to bring refreshments (no glass containers).
Each morning, guests of the Disneyland Resort Hotels can take a 2-mile Power Walk Through Disney California Adventure before it opens to the public. The power walk begins at 6:00am and guests should sign up in advance at the Guest Services desk. The minimum age to participate is 14 and guests under 17 must be accompanied by a guardian. Athletic shoes are required and stroller & cameras are prohibited.
Guests can also work out and stay fit while on vacation at the Goofy About Health Club Fitness Center located near the Magic Kingdom Lawn. Treadmills, bicycles, ellipcticals, stair climbers, free weights and weight machines are all available.
To learn more about how the Disneyland Hotel was part of Walt Disney's dream, guests can take the "Happiest Place on Earth" Walking Tour. The one-hour tour is recommended for guests 14 yours of age and older. This fascinating journey through the history and design of the Disneyland Hotel is complimentary, but guests should reserve a spot at the Guest Services desk.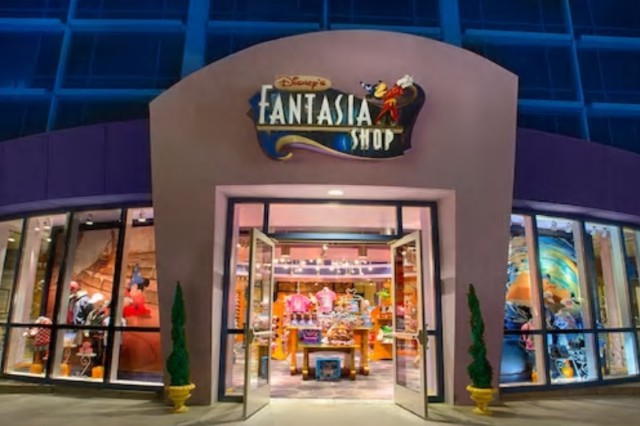 Two retail stores are located in the Fantasy Tower for your shopping convenience. Disney's Fantasia Shop offers special edition pins, toys, apparel, and collectibles. Small World Gifts & Sundries features snacks, bottled drinks, toys, sundries and items for the pool.
The Disneyland Hotel offers a 24-hour ATM in the Fantasy Tower across from Disney's Fantasia Shop. Other banking, such as exchanging foreign currencies, is available at the Front Desk in the main lobby.
Guests on a "working vacation" can get the job done with the 24-hour Business Center that includes self-service equipment. Located on the first floor of the Fantasy Tower, the Business Center offers computer, internet and printing services. Computers with internet are available for $0.50 per minute (10-minute minimum) and printing is $1.00 per page for black & white or $1.50 per page for color.
Keep your clothes clean with a conveniet, budget-friendly Laundry Room. The 24-hour facility is located next to the Goofy About Health Club fitness center. Only credit and debit cards are accepted as payment for washers, dryers and soap vending machines. Dry Cleaning is also available Monday through Saturday. Laundry bags and price lists are located on guests room closets. Items picked up from rooms by 8:00am are delivered the following day. Same day dry cleaning service is available at Bell Services.
The Guests Services Desk located in the Fantasy Tower can help make your Disneyland Resort vacation worry-free. The desk is open 7:00am to 9:00pm daily for assistance with: daily newsapers, reservations (dining, activities and child care), directions, group and meeting information, itinerary planning, lost children, lost and found, maps and park information, medical supplies (ECV, wheelchairs), printing of boarding passes, Southern California information (tours, shopping and dining), special amenities (flowers, gifts and more), and transporation information & booking.
Disneyland Hotel guests that are visiting Disneyland Park or Disney California Adventure are eligible for an Extra Magic Hour. Each day of your stay, visit one of the theme parks an hour before the park opens to the general public. A valid theme park ticket and active hotel room key is required. Typically Extra Magic Hour is availble at Disneyland Park on Tuesdays, Thursdays and Saturdays. Visit Disney California Adventure an hour early on Mondays, Wednesdays, Fridays and Sundays.
Guests of the Disneyland Hotel can leave their Disneyland Park or Disney California Adventure purchases at the store and pick them at later at the hotel. During the transaction, let the retail clerk know you'd like Merchandise Delivery and complimentary arrangements will be made. The merchandise can be picked up at the Bell Services desk after 7:00am the next day.
Parking is available for hotel guests for an additional fee. The cost for self-parking is $20 per night (per vehicle) and valet service is $30 per night (per vehicle).
Complimentary WiFi is available in guest rooms and many public areas, including the main lobby and pool deck.