Grand Californian Hotel & Spa Pictures
1600 S. Disneyland Drive
Anaheim, CA 92803
Phone: 714-635-2300
Dining | Rooms | Recreation | Amenities

Stay inside the magic at Disney's Grand Californian Hotel & Spa!
Premium accommodations and impeccable Disney service are combined with Craftsman-style elegance at this stunning hotel that has its own entrance to Disney California Adventure. Luxuriate in an impressive array of amenities, like rich dining experiences and a world-class spa, and see how Disney's Grand Californian Hotel & Spa defines grandeur in every way.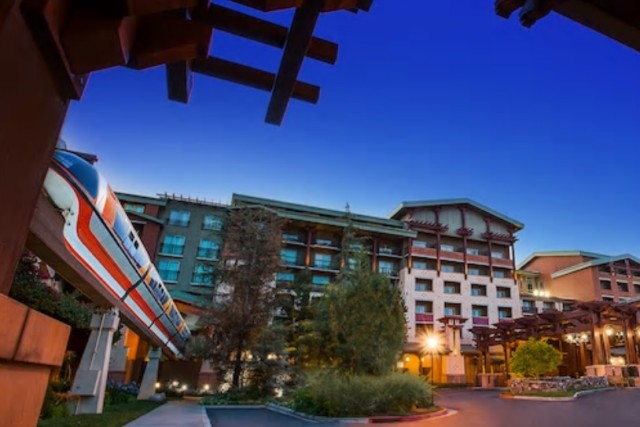 Grand Californian Hotel Dining
From poolside to hearthside, Disney's Grand Californian Hotel & Spa dining offers award-winning food and wine, cozy lounges, Character Dining and much more.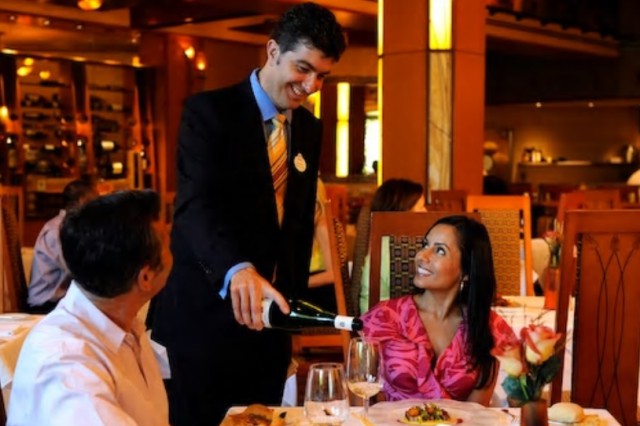 Dine on artfully presented California cuisine and sip on rare regional wines at the upscale Napa Rose. This award-winning restaurant is open for dinner serving gourmet meals that celebrate the bounty of California.
Hearty home-style favorites are on the menu at Storytellers Cafe. This buffet and a la carte restaurant celebrates California folklore. During breakfast, Chip 'n Dale and some of their critter friends join in the fun.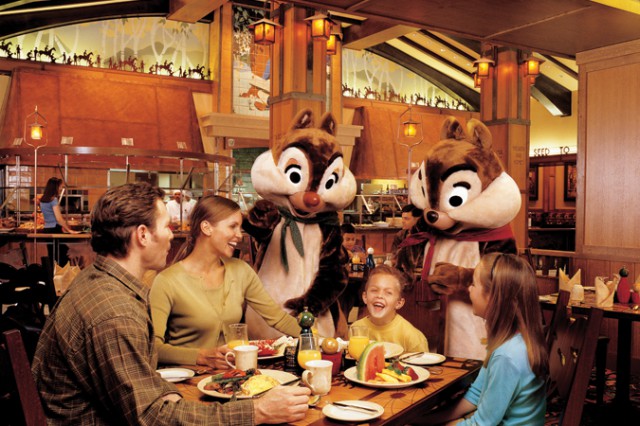 Gather 'round the fireside in the rustic Hearthstone Lounge for a cocktail, snack or continental breakfast.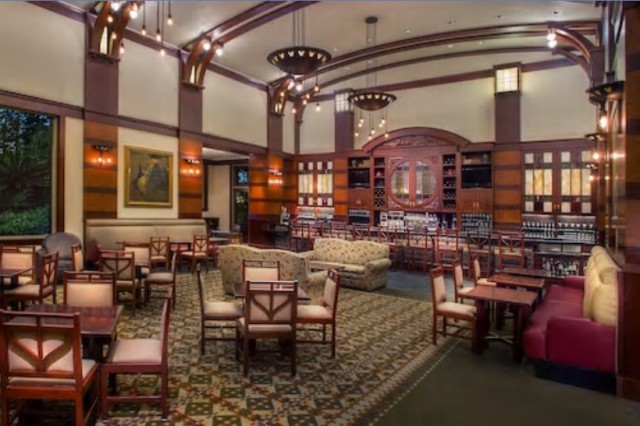 Recalling a campground, White Water Snacks is a grab-and-go eatery that serves everything from waffles and bagels to salads and burgers.
In-room dining is also available and nearby Downtown Disney offers numerous dining options.

Experience the reimagined rooms at Disney's Grand Californian Hotel & Spa. Discover delightful details like the mural about the headboards that depicts a blossoming orange tree, with Chip 'n Dale mischievously playing in the branches. In select rooms, when you open the sleeper bed, you'll find artwork of woodland creatures from Bambi to bid you goodnight.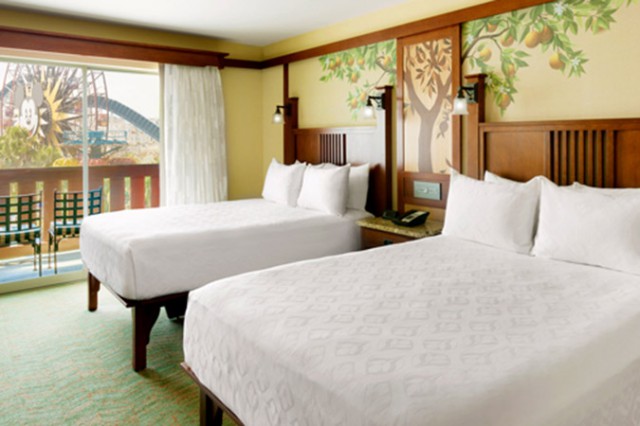 Examine the California-inspired artwork, textured-copper detailing and countertops incorporating pieces of green glass from wine bottles. All rooms are now powered with the latest technology and appointed with premium amenities, including 55-inch smart TVs, Keurig coffee makers and USB connections to charge your electronic devices.
Disney's Grand Californian Hotel & Spa offers 904 guest rooms, including many that have a Downtown Disney or Disney California Adventure View. Standard rooms accomodate up to five guests, with sizes ranging from 356 to 380 square feet. In addition, there are 44 suites and 71 villas.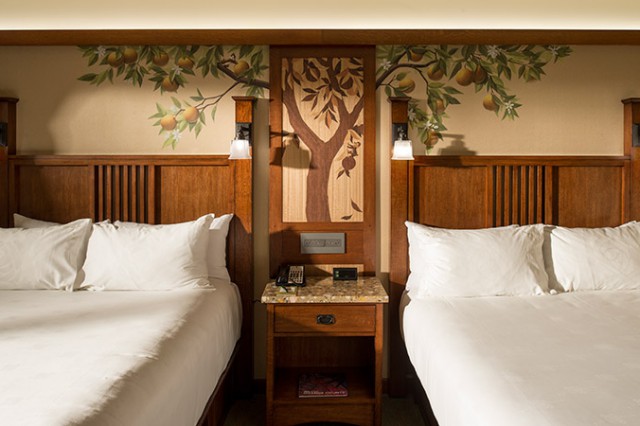 Most rooms include a desk, high-speed internet, robes, ice bucket, satellite television, DVD player, hair dryer, dual line phone with voice mail, alarm clock, interior corridor access, vanity area, air conditioning & heater, iron & ironing board, Keurig coffee maker, shampoo & conditioner, hand & body lotion, triple sheets, mini-refrigerator, in-room safe, and evening turndown.
All Disney's Grand Californian Hotel & Spa guest rooms are non-smoking and there are 48 rooms that accommodate guests with disabilities.

Grand Californian Hotel Recreation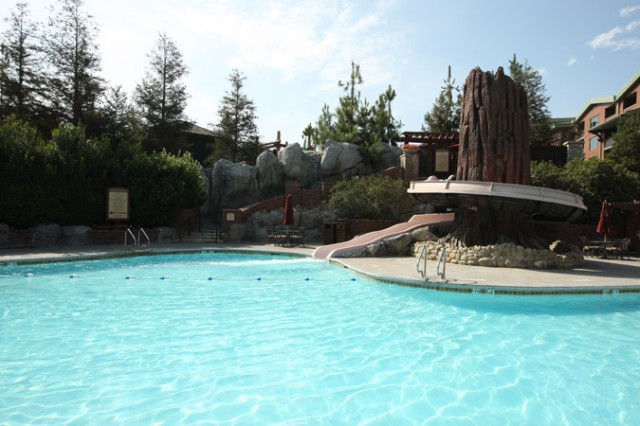 Go for a dip in the crystal-clear Redwood Pool, home to a 90-foot-long gurgling waterslide that curves around the stump of a giant redwood tree. Amid woodsy grounds, bricked walls and rugged boulders, retreat to the tranquil Fountain Pool or cool off in the Children's Pool. A third pool, the Mariposa Pool, includes a companion hot tub plus 4 private cabanas, available to rent throughout the day.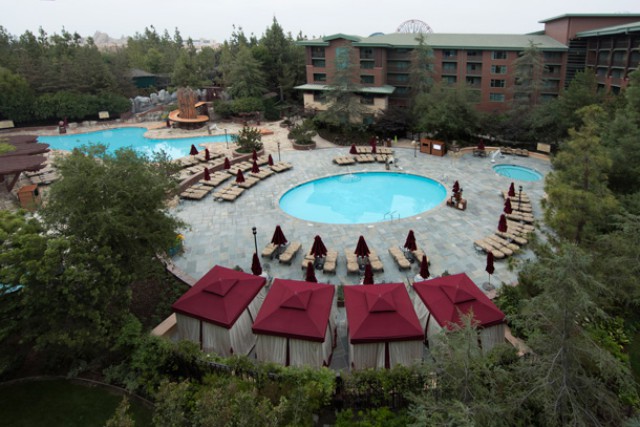 On select evenings, guests can enjoy special screenings of popular Disney films. The viewing areas open 30 minutes before the show and guests are encouraged to bring refreshments (no glass containers).
During the Art of the Craft Tour, learn about the Arts and Crafts movement and how it influenced the architecture and design of Disney's Grand Californian Hotel & Spa. Boasting a fascinating behind-the-scenes glimpse into many hand-crafted artifacts found in the lobby and dining locations, this approximate one-hour tour will open your eyes to the magic embedded everywhere you look. To reserve a spot, stop by the Guest Services Desk.
Each morning, guests of the Disneyland Resort Hotels can take a 2-mile Power Walk Through Disney California Adventure before it opens to the public. The power walk begins at 6:00am and guests should sign up in advance at the Guest Services desk. The minimum age to participate is 14 and guests under 17 must be accompanied by a guardian. Athletic shoes are required and stroller & cameras are prohibited.
Stay in shape at the newly renovated Eurkea Fitness Center! While on vacation, work out with our updated, high-tech machines, including treadmills, bicycles, ellipticals, stair climbers, free weights, and weight machines. This modern upscale setting provides the perfect way for guests to start their day, stay strong and feel great before heading to the parks.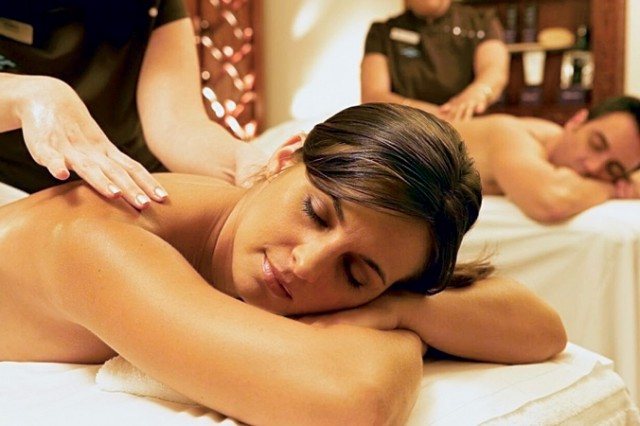 Imagine the mystery of the East meeting the science of the West with boundaries ceasing to exist. Relax and rejuvenate with therapeutic treatments and beautifying services, such as massages and facials, at Mandara Spa, conveniently located inside the hotel.

Grand Californian Hotel Amenities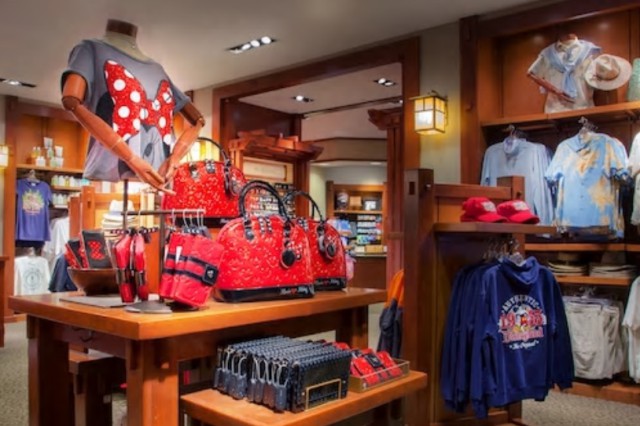 Hunt for special edition pins, toys, apparel, collectibles and snacks at Acorns Gifts & Goods, conveniently located in the main lobby.
Disney's Grand Californian Hotel & Spa offers a 24-hour ATM in the main lobby between the Great Hall and the Trillium Rooms. Other banking, such as exchanging foreign currencies, is available at the Front Desk in the main lobby.
Guests on a "working vacation" can get the job done with the 24-hour Business Center that includes self-service equipment. Located to the left of the main lobby next to the Sorrel Rooms, the Business Center offers computer, internet and printing services. Computers with internet are available for $0.50 per minute (10-minute minimum) and printing is $1.00 per page for black & white or $1.50 per page for color.
Keep your clothes clean with a conveniet, budget-friendly Laundry Room. The 24-hour facilities are located on the first floor by the Disney Vacation Club Wing and on the second floor about the Napa Rose elevators. Only credit and debit cards are accepted as payment for washers, dryers and soap vending machines. Dry Cleaning is also available Monday through Saturday. Laundry bags and price lists are located on guests room closets. Items picked up from rooms by 8:00am are delivered the following day. Same day dry cleaning service is available at Bell Services.
The Guests Services Desk located in the main lobby can help make your Disneyland Resort vacation worry-free. The desk is open 7:00am to 9:00pm daily for assistance with: daily newsapers, reservations (dining, activities and child care), directions, group and meeting information, itinerary planning, lost children, lost and found, maps and park information, medical supplies (ECV, wheelchairs), printing of boarding passes, Southern California information (tours, shopping and dining), special amenities (flowers, gifts and more), and transporation information & booking.
For your enjoyment, listen to live piano music fill the Great Hall in the hotel lobby at select times throughout the day.
Guests of Disney's Grand Californina Hotel & Spa with valid theme park admission and active hotel room key card may enter and re-enter Disney California Adventure using the special entrance theme park entrance near the Mandara Spa.
Disney's Grand Californian Hotel & Spa guests that are visiting Disneyland Park or Disney California Adventure are eligible for an Extra Magic Hour. Each day of your stay, visit one of the theme parks an hour before the park opens to the general public. A valid theme park ticket and active hotel room key is required. Typically Extra Magic Hour is availble at Disneyland Park on Tuesdays, Thursdays and Saturdays. Visit Disney California Adventure an hour early on Mondays, Wednesdays, Fridays and Sundays.
Guests of the Disney's Grand Californian Hotel & Spa can leave their Disneyland Park or Disney California Adventure purchases at the store and pick them at later at the hotel. During the transaction, let the retail clerk know you'd like Merchandise Delivery and complimentary arrangements will be made. The merchandise can be picked up at the Bell Services desk after 7:00am the next day.
Parking is available for hotel guests for an additional fee. The cost for self-parking is $20 per night (per vehicle) and valet service is $30 per night (per vehicle).
Complimentary WiFi is available in guest rooms and many public areas, including the main lobby and pool deck.