Alaskan Wonders Family Cruise Vacation
This add-on will not be available in 2013. There is no word yet on if it will return in the future.
7-Night Alaskan Cruise


Seattle, Skagway, Juneau and Ketchikan
Adventures by Disney® and Disney Cruise Line® present an extraordinary new way to experience Alaska. Disney Cruise Line Guests can now enhance a 7-Night Alaskan Cruise with the extra magic of an Adventures by Disney vacation! Combining the personal service and expertise in guided travel across the world with the enchantment of a Disney cruise, the Alaskan Wonders vacation brings you an exquisite selection of unique onboard activities and premium shore experiences designed to immerse you and your family in the history and sights of Alaska.
$2,499/adult (ages 12 and up)
$2,369/child (ages 6-11)
This experience includes all shore excursions and meals, onboard and onshore photos and gratuities as well as private receptions and special activities on board the Disney Wonder!

---
The Alaska family vacations from Adventures by Disney offer a land tour package that begins in the "Golden Heart City" of Fairbanks. The adventure continues with a majestic Denali National Park tour. Feel the power and awe of the wilderness as you travel through the Kenai Peninsula and cruise along the Kenai Fjords where whales surface and glaciers dominate the horizon.

Alaskan Wonder Cruise Blogs

Pete Werner, the founder and CEO of Dreams Unlimited Travel, shares his experience of the Alaskan Wonders Family Cruise Vacation in a series of blogs.


Alaskan Wonders – Part 1
Posted on Wednesday, 24th August 2011 by Pete Werner
I wonder what my house looks like? Given that this is my 7th trip this year, it seems like I'm never home. Max the intern (who guards the homestead while I'm gone along with Max the Dog) has started replacing furniture and I hear he's picking out new drapes for the family room. After [...]


Alaskan Wonders – Part 2
Posted on Thursday, 25th August 2011 by Pete Werner
If I'm being honest, my favorite day on board a Disney ship is embarkation day. I'm not sure exactly why that is – if it's the excitement and anticipation of the upcoming cruise, the fact that the ship is all clean and neat after being turned over from the previous cruise, or if it's just [...]


Alaskan Wonders – Part 3
Posted on Friday, 26th August 2011 by Pete Werner
This cruise is unusual in that the first two days of the trip are technically sea days. Tomorrow is listed on the itinerary as Tracy Arm Fjord, but it's something we drive through, not someplace where we dock and leave the ship. I'm very used to sea days being about the spa, lounging about on [...]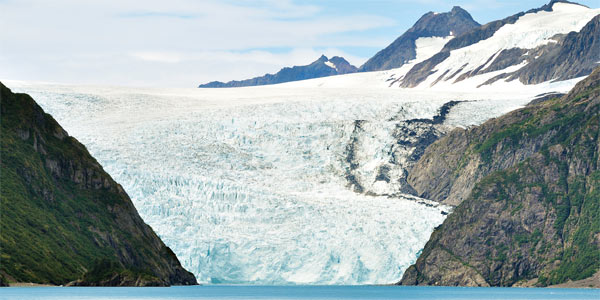 Trip Highlights Include:
Gold Panning in Skagway
Known as "Gateway to the Klondike," the historic port town of Skagway is home to unspoiled natural beauty and wilderness wonders. Whether you're panning for gold or braving the Yukon Suspension Bridge, feel the excitement of the pioneer spirit!


Helicopter and Dog Sledding in Juneau
Venture to Alaska's capital, home to the Mendenhall Glacier. Marvel at the North American frontier as you sweep over the land in a private helicopter, then experience guided dog sledding as the glacial beauty takes your breath away!


Ziplining and Totem Pole Carving in Ketchikan
Welcome to Alaska's first city! Feel the adrenaline as you soar over the rainforest canopy on a zipline. Then watch a Native master demonstrate the art of carving a totem pole.

Departure Dates
May 27, 2013
June 3, 2013
June 10, 2013
June 17, 2013
June 24, 2013
July 1, 2013
July 8, 2013
July 15, 2013
July 22, 2013
July 29, 2013
August 5, 2013
August 12, 2013
August 19, 2013
August 26, 2013
Septebmer 2, 2013
Adventure Daily Itinerary
Day One
Vancouver, Canada
Your unforgettable vacation begins in Vancouver, Canada—a sophisticated metropolitan center with awe-inspiring mountain and water views. The city offers both culture and history, with a definite British flavor your entire family is sure to love. Your Adventure Guides will be there to greet you at the port and welcome you aboard the Disney Wonder, where you'll enjoy lunch at your leisure.

Meals Included: Lunch and Dinner
---
Day Two
Time On Your Own at Sea
The Disney Wonder is a sophisticated ship with a splash of magic, meticulously designed to bring the golden age of ocean liners to life. Explore this extraordinary cruise ship and take advantage of its many amenities and activities.

Private Welcome Reception
Meet and mingle with your fellow adventurers at a private welcome reception and participate in a Q&A session with the Ship's Naturalist. Afterward, take a dip in one of the ship's pools, indulge in a revitalizing spa treatment*, or enjoy one of the many other shipboard activities.

* Additional charges apply.
Meals Included: Breakfast, Lunch and Dinner
---
Day Three
Tracy Arm
Travel past the awe-inspiring Tracy Arm, a long narrow fjord that boasts two glaciers—the twin Sawyer Glaciers. Many visitors to Alaska consider the Sawyer Glaciers to be the most dramatic glaciers in the 49th state of the United States of America. Named after Civil War general Benjamin Franklin Tracy, Tracy Arm Fjord is approximately 30 miles (48 km) long—a narrow inlet created by glacial activity—that weaves its way past 7,000-foot (2,133-meter) high snow-capped mountains and floating icebergs both large and small. Formed thousands of years ago, this calm waterway boasts towering granite walls that jet up from the fjord majestically, framed against a sweeping forest terrain.
Ask an Adventure Guide
During your time at sea, the Adventures by Disney Information Desk is open at certain hours during the day should you have any questions about your upcoming shore experiences or the places you are visiting.

Meals Included: Breakfast, Lunch and Dinner
---
Day Four
Skagway
Drop anchor on Friday in the historic port town of Skagway, a city renowned for unspoiled natural beauty and a storied history steeped in the Klondike Gold Rush of the late 1880s.

Skagway City Tour
Known as the "Gateway to the Klondike," Skagway is surrounded by spectacular wilderness. Feel the excitement as you tour this romantic city and then stop for a photo op before you reach the White Pass train depot.
White Pass Train Ride
Stroll to the White Pass train depot for a 2-hour scenic train ride in a private car. The imposing wilderness of the Yukon territory dazzles you during the light breakfast served on the train as you crest the dramatic White Pass Summit.

Yukon Suspension Bridge
Once you reach your destination in Canada, travel by coach to the Yukon Suspension Bridge. Stretching over the white water rapids, this modern wonder highlights the dramatic beauty of the Tutshi River Canyon.

Jewell Gardens and Lunch
After a private tour of this unique organic flower and produce garden, stop for a produce tasting and then join your fellow Adventurers at lunch in a private room.

Glassblowing
Be "blown away" by the exquisite craftsmanship of a glassblowing demonstration. A glass keepsake is yours to take away.

Junior Adventurer Scavenger Hunt
While adults enjoy the demonstration, Junior Adventurers embark on a special gold nugget scavenger hunt.

Gold Panning
Ride the coach to gold country for a demonstration of prospecting! Feel the gold "rush" as you try your hand at panning for the metal that made the West famous. Keep a little of the gold to take home!

Skagway On Your Own
Before you return to the ship, explore Skagway and its many charms, both natural and historical, as you discover its quaint shops and picturesque trails. There's plenty to see and do in this delightful place where the pioneering spirit lives on!
* Order of scheduled activities may vary.

Meals Included: Breakfast, Lunch and Dinner
---
Day Five
Juneau
Venture to Juneau, Alaska's capital, which is rich in frontier tradition. Nestled at the base of Mount Juneau amid a rainforest, Juneau is the largest capital in area in the United States and the only state capital accessible solely by air or ship.

Private Helicopter Ride
Whoosh up into the skies on an exciting helicopter ride high above the glittering glaciers.

Dog Sledding
Cool your tracks at a dog sledding camp for a privately guided dog sledding experience as the glacial beauty takes your breath away!

Salmon Bake Lunch
Savor a feast as grand as Alaska itself! Travel by coach to a restaurant where you'll sit down to a mouthwatering all-you-can-eat salmon bake and ice-cold drinks in a unique outdoor environment.

Mendenhall Glacier
A coach takes you to Mendenhall Glacier for a guided tour to learn about the glacier and its history. Afterward, trek into the terrain, snap some photos or just take it easy at the Visitor's Center nestled in the majestic Tongass National Forest.

* The order in which port activities occur is subject to change during the day.

Meals Included: Breakfast, Lunch and Dinner
---
Day Six
Ketchikan
Known as Alaska's first city, Ketchikan and its salmon-rich waters has attracted visitors for decades with its rich Native American culture, rainforest sanctuary and historic beauty. Soak up the sights in this town founded by the fascinating Tlingit tribe.

Alaska Rainforest Sanctuary and Ziplining
A coach brings you to this pristine nature reserve where spruce and cedars brush the sky, and mosses and wild flowers carpet the forest floor. Cross the breathtaking sky bridges amongst the treetops, and then watch a Native master demonstrate the art of carving a totem pole. Then feel the adrenaline as you soar over the rainforest canopy on a zipline**! Our guides help make this the thrill of a lifetime.

Dinner at George Inlet Lodge
Gather with your fellow Adventurers as you savor a fresh Dungeness crab feast at the George Inlet Lodge. Relax and enjoy the rustic charm of this premier restaurant as you dine Alaskan style.

* The order in which port activities occur is subject to change during the day.

**To use the zip line, you must be at least eight years old. Size restrictions also apply.

Meals Included: Breakfast, Lunch and Dinner
---
Day Seven
At Sea
Enjoy the many onboard activities available on the Disney Wonder® or spend time leisurely exploring this stately ship as you spend your last day at sea.
Meals Included: Breakfast, Lunch and Dinner
---
Day Eight
Disembarkation
Return to Vancouver, Canada, content in the vacation memories that can only be had on a Disney cruise, where exquisite dining, unique entertainment and recreation, and legendary service seamlessly come together to create a getaway unlike any other.
Meals Included: Breakfast
---