Ecuador and Galapagos Islands

Andean Highlands and Galapagos Islands
9 Days/8 Nights - Quito, Otavalo Valley & Galapagos Islands
As you travel through this equatorial nation, you'll see and experience things that cannot be found anywhere else. From the exotic creatures of the Galapagos Islands, to the indigenous culture and cuisine of Ecuador's Andean highlands, there are extraordinary treasures at every turn.
Ecuador and Galapagos Islands - Adventure Dates
Apr 10–Apr 18, 2012
Jun 19–Jun 27, 2012
Jul 3–Jul 11, 2012
Jul 17–Jul 25, 2012
Aug 14–Aug 22, 2012
Dec 18–Dec 26, 2012
Jan 29–Feb 6, 2013
Ecuador and Galapagos Islands - Daily Itinerary
Day 1

Arrive in Quito
Upon arrival at the Quito Airport, an Adventures by Disney representative meets you and escorts you to your transfer vehicle. Relax as the driver assists with your luggage and brings you to the JW Marriott Hotel.
JW Marriott Hotel
Welcome to Quito, also known as "The Middle of the World"! This luxury hotel in the capital of Ecuador is surrounded by spellbinding views of the magnificent, snow-capped mountains and volcanoes outside of the city. Sit back and stretch your legs while your Adventure Guides check you in. If your flight arrives earlier in the day, opt to have a family dinner in the hotel.

Meals Included: None
---
Day 2

Welcome Breakfast
Meet your fellow adventurers and Adventure Guides during an exclusive breakfast at the hotel. Say "Buenos días!" and fuel up for a day of excitement.

Quitsato Equator Sundial
Stand at the center of the world as you visit this enormous sundial. A local expert introduces you to the monument and its history. Sitting precisely on the equator, the sundial marks not just the location but the cultural identity of Ecuador.

Lunch at Molino San Juan
Begin lunch with a hands-on, biscuit-baking class as you whip up the golden brown bizcochos that Ecuadorians adore for dessert. Then gather for a story about Ecuadorian cuisine as you savor a traditional lunch featuring a special presentation of their famous quinoa, as well as aji "hot" sauce that's made with peppers, cilantro, garlic, onion and lime.

Arrive at Hacienda Cusín
Climb aboard a motor coach for a 30-minute drive as you head to Hacienda Cusín (elevation 8,500 feet above sea level), a 17th-century hacienda and estate brimming with Spanish colonial charm. Wander the vivid gardens and delight in the many bird species.

Welcome Greeting at the Hotel
The hacienda's staff greets you with a glass of juice before you head off on a tour of the grounds. Learn about the history of this grand estate in the Andean Highlands as your Adventure Guides check you in.

Folkloric Dance Show
Traditional dancers welcome you in the grassy courtyard as you sip hot canelazo, a delicious cinnamon and sugar cane liqueur—or enjoy the non-alcoholic version if you prefer! Join the jubilant show as the dancers in their brilliantly hued costumes draw you into the joyous swirl.

Welcome Dinner at the Hacienda
Meet in the private dining room of El Monasterio for an exclusive three-course meal of Ecuador's robust and piquant cuisine!

Evening Activities at the Hacienda
Enjoy this evening and head to the game room or relax and read by the fire in this one-of-a-kind retreat.

Meals Included: Breakfast, Lunch and Dinner
---
Day 3

Depart Cusín
Have a leisurely breakfast at the hacienda before you board the motor coach for an excursion to the indigenous village of Peguche.

Vegaflor Flower Plantation
Stop to smell the roses on this short visit to the rose plantation just minutes from the Hacienda.

Peguche Waterfalls Nature Walk
Head out on motor coach to the Peguche Waterfalls. Follow the path through a leafy forest as your Adventure Guides share the lore and legends of the misty waterfalls that cascade like white diamonds down the mountainside.

Hacienda Pinsaqui Tour and Wood Painting Activity
Discover this elegant hacienda awash with old-world charm on a guided tour. Keep an eye out for llamas, peacocks, horses and rabbits on the scenic grounds and gardens. Afterward, join artisans from San Antonio de Ibarra—a town renown for transforming wood into artistic masterpieces—for a wood painting demonstration.

Private Lunch at Hacienda Pinsaqui
Welcome to the warm and inviting restaurant of Hacienda Pinsaqui with its white stone walls and wide windows that reveal the charming grounds. Delight in a private lunch with your fellow Adventurers as you recall the captivating beauty of your morning's travels.

Parque Condor and Kite Flying
Hear all about the history and important work in progress at the Parque Condor, a refuge saving this regal bird from the threat of extinction. Next, join a local expert as you take a kite and fly it above the lush grasses that blanket the hillsides of Otavalo.

Cooking Lesson at Hacienda Cusín
Return to Cusín for an exclusive culinary demonstration to create a rich, homemade ice cream, crunchy empanadas and an unbelievably delicious banana fritter appetizer!

BBQ Dinner in the Courtyard
Join this private outdoor cookout in the winsome, old-world courtyard as the hacienda kitchen cooks up a variety of BBQ meats, especially succulent pork and veal sausages. Vegetarian options are also available.

Disney Movie Night
Time for adults to take a break at the hacienda from the day's activities while Junior Adventurers enjoy a Disney movie with snacks and soft drinks! If grownups prefer, they can join in on the fun.

Meals Included: Breakfast, Lunch and Dinner
---
Day 4
Fly to The Galapagos Islands
Eat early breakfast at Hacienda Cusin, then your Adventure Guides bring you to Quito for your flight to Baltra, where upon landing you and your fellow adventurers will unwind in the V.I.P. lounge before boarding your ship.

Welcome Aboard the Galapagos Explorer II Ship
Climb into the dinghy for a short ride to the ship. Then ascend the staircase to board this elegant vessel that's the best in both comfort and communication with scientists. The ship is 293 feet long and carries a total of 100 passengers, including several bilingual naturalist guides. Share your shipboard experiences with people from all walks of life as you sail into adventure!

Lunch on the Ship
Gather in the main dining room for your first meal—a luscious buffet lunch. Orientation and Drill Hit the deck for a lifeboat drill and ship orientation to make your sailing as smooth as possible.

Puerto Ayora and the Charles Darwin Station
Disembark to Santa Cruz Island for a bit of shopping in the charming port town of Puerto Ayora, with its ubiquitous boutiques offering attractive hand-crafted goods, jewelry, t-shirts and other souvenirs. Next, visit the Charles Darwin Station and learn about the fantastic conservation efforts and fascinating research projects, as well as educational programs about the ecosystem of the islands.

Giant Tortoise Hatchery and Corrals
Enjoy a private tour of the giant tortoise hatchery and corrals to discover the fascinating evolutionary differences between tortoise species as you witness the gentle pace of the endangered giant Galapagos tortoise.

Dinner Aboard the Ship
Unwind in the main dining room with a satisfying meal. You and your fellow adventurers are the first to be seated.

Private Stargazing
Gather on the ship's deck for a brilliant view of night's glittering tapestry as a guide describes the legends, lore and scientific marvels sewn into its star-strewn fabric.

Meals Included: Breakfast, Lunch and Dinner
---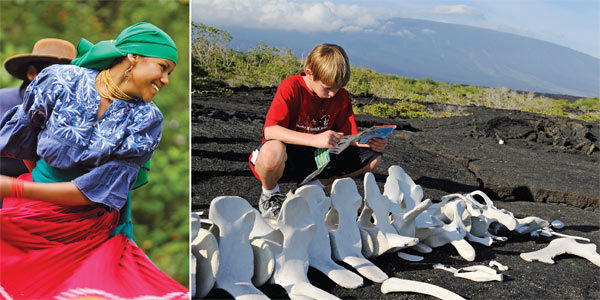 Day 5

Bachas Beach
Trek to tranquil Bachus Beach with your fellow Adventurers on this privately guided hike over the white sands. Explore the wonders of the island and discover delights such as the fiery shell of the Sally Lightfoot crab as it flits across the rocks, as well as WWII ruins from when the U.S. protected the Panama Canal.

Snorkeling in Paradise
Submerge yourself in an exotic underwater world where tropical fish swish through feathery floral tendrils and rocky crags as sea lions and penguins play in the waves. Then spend some time on the broad beach exploring the fascinating rock formations that crouch at the water's edge. Spot the slender legs of the pink flamingoes as they perch in lagoons, and the jagged comb of the marine iguana as they sun themselves on ragged rocks.

Lunch on the Ship
Gather in the main dining room to fuel up on a delicious buffet lunch.

Save the Ocean Seminar and Cocktail Lessons
Meet a naturalist with your fellow adventurers and other ship passengers for an informative talk about the efforts of Ecuador to save the ocean's many valuable resources. Then attend a cocktail-making lesson from the bartender where you learn how to prepare special island-themed concoctions.

Main Bridge Tour
Come for a private meet-and-greet on the main bridge with the Captain of this impressive ship and learn how he keeps everything even keel for the smoothest sailing possible.

Cocktail-Making Class
Join the onboard bartenders for an exclusive, step-by-step cocktail-making lesson where you learn how to prepare special island-themed concoctions.

Journey to Santiago Island
Hike across the fourth largest island of the Archipelago, and witness a spectacular array of wildlife across the terrain. The mottled Galapagos hawk, coppery lava lizards, smoky fur seals, blue heron and other creatures abundantly populate the shores and inland areas. Dive into the waters for an otherworldly snorkeling escapade that shows you even sweeter sea mysteries. Then stroll the dark sand beaches that make up this dramatic landscape.

Dinner Aboard the Ship
Be seated together with your fellow adventurers before everyone else on the ship for a fantastic family meal in the main dining room.

Optional Karaoke Night
Yearning to croon? Grab a mic and get onstage with the other ship's passengers for an evening of musical fun for the whole family!

Meals Included: Breakfast, Lunch and Dinner
---
Day 6

Genovesa Island
Today your Galapagos trek takes you to Genovesa Island—also known as Tower Island—one of the best birdwatching areas in the archipelago!

El Barranco and Prince Phillips Steps
After breakfast on the ship, take a privately guided hike up the steep face of El Barranco—known as Prince Phillips Steps—for sweeping views of Genovesa island. As you ascend, birdlife swells and swirls around you. Keep an eye out for the red-footed boobies perched in the trees and legions of storm-petrels fluttering over the shore and waters.

Lunch On Board
Gather with the other passengers for a delicious buffet lunch in the main dining room.

Darwin Bay
Created by the collapse of a great volcano, Darwin Bay is a caldera encircled by cliffs. The crater cradles playful sea lions lounging on the white sands while red-footed boobies flit from tree to tree and Great Frigatebirds proudly display their billowing scarlet throats. Dive in and immerse yourself in the mysteries of the deep as you come face to face with eagle rays and enigmatic hammerheads. It's a thrilling afternoon you will never forget!

Junior Adventurer Private Pizza
Party While adults enjoy dinner in the ship's dining room, Junior Adventurers savor their own pizzas.

Disney Movie Night
Adults can relax on the ship while Junior Adventurers enjoy a Disney movie with snacks and soft drinks. Grownups can always join in if they wish!

Meals Included: Breakfast, Lunch and Dinner
---
Day 7

Island
After breakfast, ride a dinghy boat from the ship to take a privately guided tour of this island. Although smaller than the others, this island is superabundant with wildlife—such as flocks of blue-footed boobies and the scarlet-throated frigate birds who swoop down to steal their food. Pelicans and penguins crowd the shores, along with barking sea lions and swallow-tailed gulls.

Deep Water Snorkeling
Escape into the waters one last time for an unforgettable glimpse of the amazing array of sea creatures and underwater flora.

Lunch Aboard the Galapagos Explorer II
Return to the ship in the main dining room to devour lunch as you exchange tales of the morning's exploration and sail to Santa Cruz Island.

Tour of Santa Cruz Island
Roam this island with a private guide and explore inside the rocky lava tubes left by the liquid magma of the volcanoes. Meanwhile the giant Galapagos tortoises show you the leisurely life as they ramble across the land. Follow their lead as you discover the powerful sights and sounds of Darwin's paradise.

Dinner on the Ship
Savor one last dinner prepared by the chefs on the ship in the main dining room with your fellow adventurers.

Exclusive Farewell Drink and Dessert
Gather with your fellow Adventurers for an exclusive farewell drink and dessert. Toast the times you've shared on this unforgettable journey into Darwin's paradise.

Meals Included: Breakfast, Lunch and Dinner
---
Day 8
Visit to San Cristóbal Island
Start the day with a hearty buffet breakfast onboard the ship, then disembark to visit the town, Puerto Baquerizo Moreno. Discover scientific history at this place where Charles Darwin first landed on his famous voyage on the "Beagle." At the Interpretation Educational Center of the Galapagos, learn about the cultural and geological history of the archipelago.

Shopping Time On Your Own
Indulge in a bit of souvenir seeking at the island shops before saying goodbye to the Galapagos and boarding the plane back to Quito.

Journey Back to Quito
Fly back to Quito and enjoy lunch on the plane. After you land, your Adventure Guides once again check you into the JW Marriott Hotel for the evening.

Farewell Dinner in Quito
Meet with your fellow Adventurers for this final feast in Ecuador. A surprise awaits as you relive together the highlights of your trip.

Traditional Ecuadorian Musical Entertainment
Sway with the rhythms that rock the Andean mountains at this exclusive musical show featuring Ecuadorian musicians. They even give music lessons to all who want to try playing the pipes!

Meals Included: Breakfast, Lunch and Dinner
---
Day 9

Breakfast at the JW Marriott
Hotel Enjoy one last meal in Ecuador before your departure.

Transfer to Airport
Board pre-arranged transportation to the airport and say "Adiós" until you return again!

Meals Included: Breakfast