Montana and Alberta, Canada
7 Days / 6 Nights
The Glacier and Banff National Park family vacation from Adventures by Disney offers a land tour package that ventures to Glacier National Park in the heart of Montana's Big Sky Country before it crosses the Continental Divide to the Canadian Rockies for a breath-taking tour of Banff National Park in Alberta, Canada.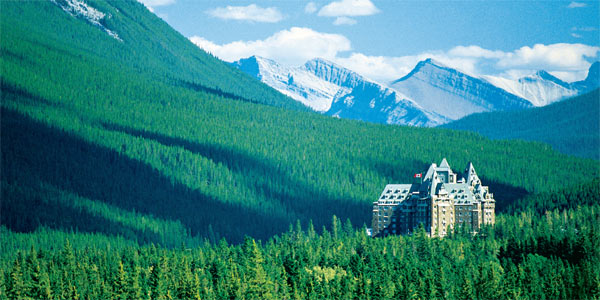 ---
Trip Highlights Include:
Columbia Icefield

Behold the greatest body of ice in North America! Board an ice explorer vehicle for a guided expedition over the vast, tranquil Columbia Icefield.


Canoeing at Emerald Lake

Glide in a canoe over the glittering waters of Emerald Lake, or choose from a variety of other exciting outdoor activities—all in the natural beauty of British Columbia!


Bike Along Bow River

Take a leisurely spin along the swirling waters of the Bow River.


Whitewater Rafting on the Flathead River

Grab a paddle and experience the thrill of the rapids (Class II-IV) as you bask in the majestic beauty that surrounds you.


Gondola Ride Up Sulphur Mountain

Climb into an enclosed gondola for a ride up to the summit of Sulphur Mountain as the vast Rocky Mountain landscape surrounds you!

Adventure Dates
2018
July 4-July 10, 2018
July 18-July 24, 2018
August 6-August 12, 2018
August 15-August 21, 2018
September 16-September 22, 2018: Adult Exclusive (18 and older)
*= Guaranteed departures
Adventure Daily Itinerary
Day One

Arrive at Glacier Park International Airport
Howdy! Upon arrival, an Adventures by Disney representative leads you to your transfer coach. Relax as the driver assists with your luggage and shuttles you for a two-hour ride to the historic Glacier Park Lodge.
Glacier Park Lodge
Welcome to Big Sky Country! It's time to kick back as your Adventure Guide checks you into this rustic yet comfortable* lodge located just minutes from Glacier National Park.
Welcome BBQ Dinner
Savor an authentic Western outdoor BBQ among the towering peaks of the magnificant Rocky Mountains. Join the welcome reception as a local guitarist and singer serenades you into the tranquil Montana night.
Meal Included: Dinner
* Due to the historic nature of the building, this establishment has no air conditioning.
---
Day Two
River Rafting
Experience the thrill of whitewater rafting as you ride the rapids on the Flathead River down the Middle Fork through John Stevens Canyon. For 8 miles (almost 13 km), your raft bobs and glides past the majestic peaks that rise to the sky on either side of you. Those seeking a more serene experience can float down the river's gentle North Fork to Blankenship Bridge for a scenic trip.
Picnic Lunch
Come ashore for a private picnic lunch of traditional BBQ fare with a fantastic view of crystal clear waters and the surrounding beauty of the Montana wilderness.
Red Bus Tour of Glacier National Park
Board this open-top vintage coach and climb up, up, up the Going-to-the-Sun Road as the stunning splendor of the Rockies unfolds before you. Gaze out over the incredible scenery as the vast canyons drop to dizzying depths below the roadside and glacial cliffs striped with snow tower over the verdant riverbanks. It's an unforgettable, 3-hour ride that will leave you breathless with wonder!
Native American Storytelling
Gather 'round to hear tales of old from a Native American storyteller in a private setting at the lodge. Learn the lore of how mankind has lived in the "Backbone of the World," where the mountain meets the sun.
Dinner at the Lodge
Dine at your leisure in The Great Northern Dining Room as you relay stories of the day's excitement in Big Sky Country.
Meals Included: Breakfast, Lunch and Dinner
---
Day Three
Scenic Drive to Canada
Following breakfast at the lodge, bid farewell to Glacier National Park. As you head north to Alberta, Canada, enjoy a scenic coach ride through the rolling hills of the Blackfoot Reservation and along the majestic Continental Divide.

Lunch at the Prince of Wales Hotel
Perched on a bluff overlooking Waterton Lake, this charming chalet named after Edward III is where you'll enjoy a delicious meal before continuing to beautiful Lake Louise.

Coach Ride to Lake Louise
Travel along Alberta's historic Cowboy Trail, which runs between the Rocky Mountains and the Canadian prairie. This is the real West up close! Then relax as your Adventure Guide checks you into The Fairmont Chateau Lake Louise, where scenic views of the mountains surround this elegant retreat.

Dinner at the Hotel
Relax and revel in the gorgeous lake views just beyond the windows of the hotel's charming main restaurant.
Meals Included: Breakfast, Lunch and Dinner
---
Day Four
Canoeing at Moraine Lake
Take a short excursion to nearby Moraine Lake, a gleaming gem nestled in a stunning mountain range. Canoe across the tranquil turquoise surface of the lake - an experience you won't soon forget!

Picnic Lunch at Lake Louise
Relax as the lake breezes cool you down during this scenic picnic lunch with your fellow Adventurers.

Lake Louise on Your Own
Spend the rest of the afternoon at your leisure, taking in the Canadian wonder that is Lake Louise, surrounded by astounding peaks that climb into the skies. Choose to join your Adventure Guides on a hike to Lake Agnes Teahouse or explore the area on your own by bike or on horseback, or just relax at the spa.*

Junior Adventurer Dinner & Movie Night at the Hotel
Adults can enjoy a nice dinner at their leisure, while Junior Adventurers have an exclusive meal with the Adventure Guides. Parents can join the kids as the evening concludes with a special Disney movie presentation.

*All other activities are available at an additional cost.
Meals Included: Breakfast, Lunch and Dinner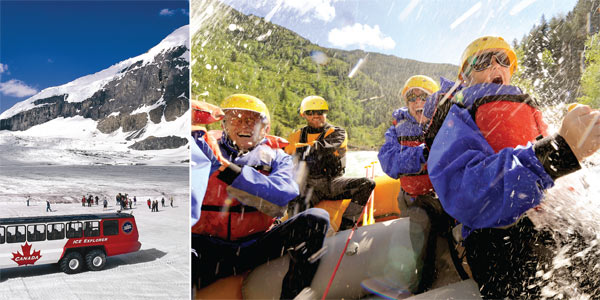 ---
Day Five
Columbia Icefield
Behold the greatest body of ice in North America! Board an ice explorer vehicle for a guided expedition that travels over the vast, tranquil Columbia Icefield, which straddles the North American Continental Divide. Discover the majesty of this incredible icefield that feeds 8 major glaciers beneath the peaks of towering mountains.
Lunch at Columbia Icefield Restaurant
Dine at a hearty buffet lunch with views of the Athabasca Glacier at this restaurant near the Icefield.
The Fairmont Banff Springs Hotel
Travel by coach to the magnificent Fairmont Banff Springs Hotel, located just steps away from Banff. Styled after a Scottish baronial castle, this hotel is your home away from home for the next 2 nights. Relax in the lobby as your Adventure Guides check you into the hotel.
Dinner On Your Own
Find a bevy of dining options at your fingertips in Banff. Step out for a well-earned bite at a host of local eateries that cover the gamut from causal family fare to incredible French cuisine. Your Adventure Guides can help you with dinner recommendations.
Meals Included: Breakfast and Lunch
---
Day Six
Bike Ride Along Bow River
Wake up to a full Canadian breakfast at the hotel before you take a leisurely spin along the swirling waters of the Bow River. Park your bike for a short hike to view enchanting Bow Falls before spending some time exploring the colorful gardens at historic Canada House, a Banff landmark.
Lunch On Your Own
Stroll through the delightful streets of laid-back Banff, where a variety of restaurants await you. Your Adventure Guides can help you with lunch recommendations.
Banff Gondola Visit
After lunch, a high-altitude adventure awaits in Banff National Park. Climb into your enclosed gondola for a ride up to the 7,500-foot (2286-meter) summit of Sulphur Mountain. The vast Rocky Mountain landscape can be seen for miles, including the view of 6 mountain ranges! Then relax in Banff's celebrated Upper Thermal Hot Springs as you soak in a swimming pool surrounded by fir forests and towering mountain peaks.
Farewell Dinner in Banff
As your mountain adventure comes to a ceremonious close, join your explorer friends for a farewell dinner in the heart of Banff. A fun surprise is in store when a special Canadian visitor makes an unforgettable appearance.
Meals Included: Breakfast and Dinner
---
Day Seven
Breakfast and Transfer to Airport
After your final breakfast in Canada, bid your fellow travelers "happy trails" as you board pre-arranged transportation for a two-hour coach ride to Calgary airport.
Meals Included: Breakfast
---