---
5-Night Mediterranean Disney Cruise
Ship: Disney Magic

7-Night Mediterranean Disney Cruises
Ship: Disney Magic
8-Night Mediterranean with Greek Isles Disney Cruises
Ship:

Disney Magic
2022 Sail Date: June 10
9-Night Mediterranean with Greek Isles Disney Cruises
Ship:

Disney Magic
2022 Sail Date: June 18

12-Night Mediterranean with Greek Isles Disney Cruises
Ship:

Disney Magic
2022 Sail Date: July 6
| | |
| --- | --- |
| Day | Port |
| Wednesday | Civitavecchia (Rome), Italy |
| Thursday | Palermo (Sicily), Italy |
| Friday | At Sea |
| Saturday | Santorini, Greece |
| Sunday | Piraeus (Athens), Greece |
| Monday | Mykonos, Greece |
| Tuesday | At Sea |
| Wednesday | Naples (Pompeii), Italy |
| Thursday | At Sea |
| Friday | Livorno (Florence, Pisa), Italy |
| Saturday | Villefranche (Monte Carlo, Nice), France |
| Sunday | Marseilles, France |
| Monday | Barcelona, Spain |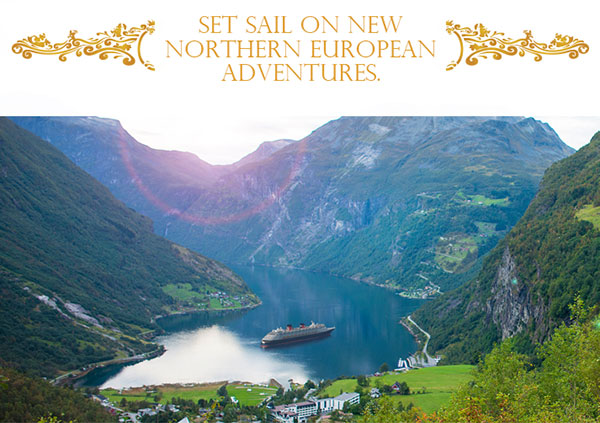 Disney Cruise Line is charting a magical new course for Northern Europe - exploring the Norwegian Fjords, Iceland and the Faroe Islands - steeped in Viking history. The Disney Magic is also returning to great destinations like St. Petersburg, Russia; Helsinki, Finland; the Mediterranean and more.
Northern and Western European Cruises
Visa information: When sailing on an itinerary that includes St. Petersburg, Russia, guests will not need a Visa if they are getting off the ship for an excursion booked through the ship. They will be covered by the cruise line's blanket policy. If getting off on their own, even just to walk around port, guests will need to arrange their own Visas.
Disney Cruise Line offers pre- and post-night stays at 2 different hotels in Copenhagen:
DCL transfers are offered between the airport, hotel and cruise when the hotel stay is booked through DCL. Guests may also use DCL transfers between the hotel and cruise and cruise to the airport at the end of the cruise.
Ship: Disney Magic
2022 Sail Date: August 10
| | |
| --- | --- |
| Day | Port |
| Tuesday | Copenhagen, Denmark |
| Wednesday | At Sea |
| Thursday | Tallinn, Estonia |
| Friday | St. Petersburg, Russia |
| Saturday | Helsinki, Finland |
| Sunday | Stockholm, Sweden |
| Monday | At Sea |
| Tuesday | Copenhagen, Denmark |
Ship: Disney Magic
2022 Sail Date: August 28
| | |
| --- | --- |
| Day | Port |
| Saturday | Dover, England |
| Sunday | Amsterdam, Netherlands |
| Monday | At Sea |
| Tuesday | Warnemunde (Berlin), Germany |
| Wednesday | Copenhagen, Denmark |
| Thursday | Oslo, Norway |
| Friday | At Sea |
| Saturday | Dover, England |
Ship: Disney Magic
Sail Dates: NONE SCHEDULED
| | |
| --- | --- |
| Day | Port |
| Tuesday | Copenhagen, Denmark |
| Wednesday | At Sea |
| Thursday | Helsinki, Finland |
| Friday | St. Petersburg, Russia |
| Saturday | Tallinn, Estonia |
| Sunday | Visby, Sweden |
| Monday | Stockholm, Sweden |
| Tuesday | At Sea |
| Wednesday | Copenhagen, Denmark |
Ship:

Disney Magic

Sail Dates:

NONE SCHEDULED
| | |
| --- | --- |
| Day | Port |
| Wednesday | Copenhagen, Demark |
| Thursday | At Sea |
| Friday | Tallinn, Estonia |
| Saturday | St. Petersburg, Russia |
| Sunday | St. Petersburg, Russia |
| Monday | Helsinki, Finland |
| Tuesday | Stockholm, Sweden |
| Wednesday | At Sea |
| Thursday | Fredericia, Denmark |
| Friday | At Sea |
| Saturday | Dover, England |
Ship:

Disney Magic

2022 Sail Dates:

July 30
| | |
| --- | --- |
| Day | Port |
| Friday | Dover, England |
| Saturday | Amsterdam, Netherlands |
| Sunday | At Sea |
| Monday | At Sea |
| Tuesday | Tallinn, Estonia |
| Wednesday | St. Petersburg, Russia |
| Thursday | St. Petersburg, Russia |
| Friday | Helsinki, Finland |
| Saturday | Nynashamn (Stockholm), Sweden |
| Sunday | Riga, Latvia |
| Tuesday | Copenhagen, Denmark |

Ship: Disney Magic
2022 Sail Date: July 23
| | |
| --- | --- |
| Day | Port |
| Saturday | Barcelona, Spain |
| Sunday | Cartagena, Spain |
| Monday | At Sea |
| Tuesday | Porto, Portugal |
| Wednesday | La Coruña, Spain |
| Thursday | Bilbao, Spain |
| Friday | At Sea |
| Saturday | Dover, England |
Ship: Disney Magic
Sail Dates: NONE SCHEDULED
| | |
| --- | --- |
| Day | Port |
| Saturday | Dover, England |
| Sunday | At Sea |
| Monday | Greenock, Scotland |
| Tuesday | Dublin, Ireland |
| Wednesday | Liverpool, England |
| Thursday | Cobh (Cork), Ireland |
| Friday | Portland (Stonehenge), England |
| Saturday | Dover, England |
Ship: Disney Magic
2022 Sail Date: September 11
| | |
| --- | --- |
| Day | Port |
| Saturday | Dover, England |
| Sunday | Portland (Stonehenge), England |
| Monday | Cobh (Cork), Ireland |
| Tuesday | Liverpool, England |
| Wednesday | Belfast, Northern Ireland |
| Thursday | Greenock, Scotland |
| Friday | At Sea |
| Saturday | Dover, England |
Ship: Disney Magic
Sail Dates: NONE SCHEDULED
| | |
| --- | --- |
| Day | Port |
| Saturday | Dover, England |
| Sunday | At Sea |
| Monday | Alesund, Norway |
| Tuesday | Stavanger, Norway |
| Wednesday | Eidfjord, Norway |
| Thursday | At Sea |
| Friday | Amsterdam, Netherlands |
| Saturday | Dover, England |
Ship: Disney Magic
2022 Sail Dates: September 4
| | |
| --- | --- |
| Day | Port |
| Saturday | Dover, England |
| Sunday | At Sea |
| Monday | Alesund, Norway |
| Tuesday | Nordfjordeid, Norway |
| Wednesday | Eidfjord, Norway |
| Thursday | Stavanger, Norway |
| Friday | At Sea |
| Saturday | Dover, England |
Ship: Disney Magic
2022 Sail Dates: August 17
| | |
| --- | --- |
| Day | Port |
| Tuesday | Copenhagen, Denmark |
| Wednesday | At Sea |
| Thursday | Olden, Norway |
| Friday | Maloy, Norway |
| Saturday | At Sea |
| Sunday | Reykjavik, Iceland |
| Monday | Reykjavik, Iceland |
| Tuesday | At Sea |
| Wednesday | Kirkwall (Orkney), Scotland |
| Thursday | Invergordon, Scotland |
| Friday | At Sea |
| Saturday | Dover, England |

Transatlantic Eastbound (out of Miami)
Ship:

Disney Magic
Sail Dates: NONE SCHEDULED
Westbound Transatlantic Cruises
Ship:

Disney Magic
Sail Dates: NONE SCHEDULED
| | |
| --- | --- |
| Day | Port |
| Saturday | Dover, England |
| Sunday | At Sea |
| Monday | Bilbao, Spain |
| Tuesday | La Coruna, Spain |
| Wednesday | At Sea |
| Thursday | At Sea |
| Friday | At Sea |
| Saturday | At Sea |
| Sunday | At Sea |
| Monday | King's Wharf, Bermuda |
| Tuesday | At Sea |
| Wednesday | New York, NY |