Eastern Caribbean Ports of Call
St. Maarten | St. Thomas | Castaway Cay
St. Thomas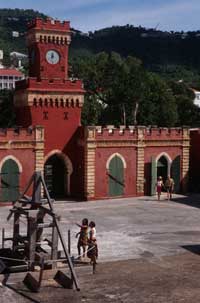 St. Thomas is just one of the many islands that make up Lesser Antilles in the U.S. Virgin Islands. Originally discovered by Christopher Columbus in 1493, the island has flown the flags of Spain, England, France, Holland, The United States and Denmark. The Dutch won out in the end and successfully colonized the island in 1666. It has always been a major trade port and for almost an entire century it's capital city, Charlotte Amalie, was a known pirate refuge and trade center for plundered goods and pirated booty. After the Dutch King Frederick V declared St. Thomas a free port, trade opened up and made Charlotte Amalie one of the busiest ports in the world.

With the advent of steam ships, the trade routes shortened and the stop over to the Virgin Islands was almost eliminated. But the United States found great use in the islands during WWI. They purchased the islands from the Dutch to keep the German's from setting up a submarine base in the Caribbean. Once WWII was over St. Thomas took it's place as a sought after destination for relaxation and abandon; a cubby-hole in the world where tension had no place in every day life.

That is still the attitude today, perhaps stronger than ever in the wake of Hurricane Marilyn which struck the Virgin Islands in 1995. From hotels to restaurants; hot-spots to beaches. Every aspect of the island's charm lies in it's resolve to remain placid and soothing to the visitors soul.
Shore Excursions

St. Thomas and St. John
St. John Trunk Bay Beach and Snorkel Tour (5 hours)
You'll be taken by ferryboat to St. John, approximately 45 minutes, and then driven to beautiful Trunk Bay. Along the way, soak in the lush surroundings of the island. Once at Trunk Bay, you'll have the option to swim, snorkel or simply relax for approximately 1-1.5 hours. Snorkel equipment is provided.
Price: $48 (ages 10 & up) Child: $34 (ages 5-9)

St. John Island Tour (5 hours)
Enjoy the 45-minute ferry ride from St. Thomas as you come upon the unspoiled beauty of St. John, approximately three quarters of which is designated as National Parks. A safari bus will stop at both the Annaberg ruins and breathtaking views of neighboring islands.
Price: $39 (ages 10 & up) Child: $29

St. John Eco Hike (5.5 hours)
A scenic ferry from St. Thomas lets you off at Cruz Bay, where you'll have 90 minutes to enjoy a 1.2-mile hike, with stops at Lind Lookout and Honeymoon Beach where you will have approximately one hour to swim before continuing your tour to famous Caneel Bay Plantation. Please wear tennis or hiking shoes.
Price: $59 (ages 6 & up) Child: $49

5-Star St. John Snorkel and Beach Adventure (4-4.5 hours)
On this adventure, one of our most requested excursions, you'll board the 115-foot Leylon Sneed, which will transport you from St. Thomas to Trunk Bay in St. John. Once anchored, you'll have time to snorkel, swim and sunbathe. Snorkel equipment is provided, as well as fruit punch and rum punch, after snorkeling.
Price $48 (ages 10 & up) Child: $34 (ages 5-9)

St. John Barefoot Catamaran Sail & Snorkel (4-4.5 hours)
This alluring excursion starts with a a scenic drive to La Vida Marina, where you'll board the Allure to a palm-fringed beach on St. John. While at the beach, there will be time to sunbathe, swim or snorkel (equipment provided).
Price: $75 Child: $55 (ages 3-9)

Certified Scuba Diving Adventure (4 hours)
A certification card is required for all divers to explore the exciting waters of St. Thomas. Certified divers who have completed at least one dive within the past 2 years can explore the waters of St. Thomas with this two-tank dive. Your first dive goes to a vibrant reef, normally to a maximum depth of 60 feet. The second, shallower dive is usually to a shipwreck. Scuba equipment and professional supervision provided, wet suit not included.
Price: $94 (12 & up)

Doubloon Sail & Snorkel Tour (3.5 hours)
Join the excitement! Help raise the sails of Doubloon, a 65-foot classic schooner that will take you to Turtle Cove, near Buck Island. Here, you will anchor and have time to snorkel and swim among a coral garden. Snacks, beverages and snorkel equipment are included.
Price: $49 (ages 10 & up) Child: $32 (ages 5-9)

Buck Island Catamaran Sail & Snorkel (3.5-4 hours)
Learn to harness the wind from a knowledgeable two-person crew as you cruise along on an exclusive six-person yacht. Drop anchor in Turtle Cove at Buck Island and snorkel among the vibrant coral garden. Snacks and open bar are provided after snorkeling.
Price: $49 (ages 10 & up) Child: $34 (ages 5-9)

St. Thomas Island Tour (2.5 hours)
See the sights in an open-air safari bus as you take in the natural beauty of the island Enjoy the spectacular view from Peter's Great House where you will leave a self guided tour and continue your tour to Mountain Top, the highest point of the island.
Price: $35 (ages 10 & up) Child: $24 (ages 3-9)

Coral World & Island Drive (3.5 hours)
Pet a shark or starfish at one of the world's few underwater observatories, Coral World, where you can observe marine life without getting wet! Then, discover some of St. Thomas' most spectacular views on a scenic island drive.
Price: $41 (ages 10 & up) Child: $30 (ages 3-9)

Water Island Mountain Bike Adventure (3.5 hours)
Begin your two-wheeled adventure with a short boat ride to Water Island, then experience the beauty and history of this island as you explore the terrain by mountain bike. This fun-filled excursion also includes a beach stop for some swimming or relaxing after your biking excursion.
Adult Price: $69 (ages 10 & up only)

Kayak Marine Sanctuary Tour (3.5-4 hours)
One of our most interesting excursions! Kayak 45 minutes through the mangroves with a guide who will point out interesting facts along the way. You'll stop for 30 minutes at Bovoni Point, where you can snorkel or walk along the beach.
Price: $60 (ages 10 & up only)

Magen's Bay Beach Break (4.5 - 5 hours)
Head to St. Thomas' finest beach for a day in the Caribbean sun. Along the 25 minute scenic drive, you'll stop at Drake's Seat known for it's incredible views of the bay and Down Island. Next, you arrive at Magen's Bay where you can swim, stroll along the water's edge or simply relax in a beach chair. Water is provided, food is available for purchase. Floats and water toys can be rented.
Price: $44 (ages 10 & up) Child: $33 (ages 3 - 9) Children under age 3 are free

St. John Island Tour (5 - 5.5 hours)
You'll take a scenic boat ride to St. John where your tour of this beautiful island begins. Among the sites you'll visit are the Annaberg Ruins. You'll want your camera ready to capture the incomparable views from this Caribbean gem.
Price: $42 (ages 10 & up) Child: $31 (ages 0 - 9)

Teen Wild Ride (1 - 1.5 hours)
The Screamin' Eagle 700 hp turbo-charged jet boat takes you on an unforgettable ride slicing through the clear Caribbean waters. Teens will love the awesome manuevers as they fishtail, spin, and power brake on this wild ride.
Price: $52 (Ages 13 -17)

Screamin' Eagle Jet Boat (1 - 1.5 hours)
The Screamin' Eagle 700 hp turbo-charged jet boat takes you on an unforgettable ride slicing through the clear Caribbean waters. While on your 40 minute cruise, you'll make exciting 180 degree turns and fishtail in this vessel built for speed.
Price: $55 (ages 10 & up) Child: $44 (ages 5-9) No one under age 5

Cas Cay Nature Walk & Snorkel (4 - 4.5 hours)
After a brief 10 minute boat ride, you arrive at an offshore cay where your adventure begins. You'll visit a wildlife sanctuary where you can explore the delicate ecosystem. Next, you'll head to a Marine sanctuary for snorkeling in it's protected waters. Nature guides accompany you on your incredible journey through this unspoiled land. Participants must be in good physical condition. Children under the age of 8 must be accompanied by a parent or adult guardian.
Price: $59 (ages 10 to 76) Child: $49 (Ages 6 - 9)

Historic Blackbeard's Hill & Walking Tour (3.5 hours)
Enjoy a scenic narrated drive ascending 1000 feet to Skyline Drive overlooking the beautiful bay of Charlotte Amalie. Next you explore the historical highlights with your guide, roam through Haggensen House or Notman's Manor, basking in their 17th century décor, before stopping to shop in the Mecca of the Caribbean, Charlotte Amalie.
Price: $31 (ages 10 & up) Child: $20 (ages 3-9)

Golf at Mahogany Run (5-6 hours)
Enjoy a round of golf at this scenic 18-hole, par 70 course totaling 6,022 yards. Designed by George and Tom Fazio, Mahogany Run's spectacular views make it one of the most-photographed courses in the Caribbean. Includes green fees for 18 holes, a golf cart and transportation. Rental clubs are available at the course for an additional fee.
Price: $164 (ages 10 & up only)

Captain Nautica's St. John Snorkeling Expedition (3.5-4 hours)
Climb aboard the captain's speedboat to be whisked away to a pair of incomparable snorkeling sites. Explore colorful coral formations amid abundant aquatic life - you might even spot stingrays, turtles and spotted eagle rays. Light snacks and beverages provided.
Adult Price: $69 (ages 10 and above) Child Price: $57 (ages 8-9)

Paradise Point Tramway (1 hour)
Drink in the spectacular vistas while enjoying a frozen libation from a moving room with a view! The scenic Paradise Point Tramway takes you to the top of the point, where you can enjoy the shops, nature trail and cafe - and don't miss the tropical bird shows held twice daily.
Adult Price: $15 (ages 10 and above) Child Price: $8 (ages 5-9)
Children under 5 are free

Please note: except where noted, shore excursions are operated by independent contractors. All excursions are subject to cancellation due to weather, itinerary changes and attendance. Excursions are booked on a first come, first served basis and are subject to availability. All prices are subject to change without notice. Children under the age of 18 must be accompanied by an adult.