Eastern Caribbean Ports of Call
St. Maarten | St. Thomas | Castaway Cay
St. Thomas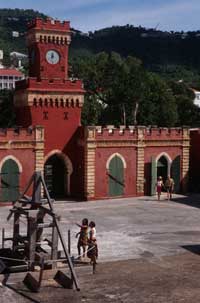 St. Thomas is just one of the many islands that make up Lesser Antilles in the U.S. Virgin Islands. Originally discovered by Christopher Columbus in 1493, the island has flown the flags of Spain, England, France, Holland, The United States and Denmark. The Dutch won out in the end and successfully colonized the island in 1666. It has always been a major trade port and for almost an entire century it's capital city, Charlotte Amalie, was a known pirate refuge and trade center for plundered goods and pirated booty. After the Dutch King Frederick V declared St. Thomas a free port, trade opened up and made Charlotte Amalie one of the busiest ports in the world.

With the advent of steam ships, the trade routes shortened and the stop over to the Virgin Islands was almost eliminated. But the United States found great use in the islands during WWI. They purchased the islands from the Dutch to keep the German's from setting up a submarine base in the Caribbean. Once WWII was over St. Thomas took it's place as a sought after destination for relaxation and abandon; a cubby-hole in the world where tension had no place in every day life.

That is still the attitude today, perhaps stronger than ever in the wake of Hurricane Marilyn which struck the Virgin Islands in 1995. From hotels to restaurants; hot-spots to beaches. Every aspect of the island's charm lies in it's resolve to remain placid and soothing to the visitors soul.
Shore Excursions

St. Thomas and St. John
Abi Beach Full Day Escape (5 - 5.5 hours)
Journey to a former 18th-century plantation, where you can swim, play and soak up the sun in a pristine beach setting.
Enter the crystalline waters of Abi Beach and float above a protected reef that supports a bounty of marine life.
Adult Price: $72 (ages 10 and up)
Child Price: $52 (ages 3 to 9)
Infant Price: $0 (ages 0 to 2)

Caribbean Sea Safari, Snorkeling and Beach Tour (4 - 4.5 hours)
Enjoy several Caribbean dream experiences in one amazing tour!
Sail aboard the Virgin Breeze, snorkel the clear waters of the Caribbean and explore the white sand of Honeymoon Beach.
Adult Price: $63 (ages 10 and up)
Child Price: $37 (ages 5 to 9)

Castaway Catamaran Sail & Snorkel to Shipwreck Cove (3 - 3.5 hours)
Set a course for fun as you sail to Shipwreck Cove on the deserted Buck Island.
Snorkel above a sunken shipwreck amidst tropical fish and turtles, then enjoy included snacks and alcoholic beverages.
Adult Price: $64 (ages 10 and up)
Child Price: $37 (ages 5 to 9)

Catamaran Sail, Snorkel and Private Beach Club (3.5 - 4 hours)
Sail the southern coast of St. Thomas and enjoy some relaxing beach time or snorkel in the Caribbean at a private beach inlet only accessible by boat.
Relax on a pristine private beach or enjoy snorkeling and swimming in the clear, calm water of a protected bay.
Adult Price: $64 (ages 10 and up)
Child Price: $44 (ages 5 to 9)

Coral World Comeback (3.5 - 4 hours)
Relax on the beach after learning about sea turtles, stingrays, sharks, tortoises and more at Coral World Ocean Park.
Take an intimate tour of the Coral World Ocean Park where you'll encounter fantastic fish, spectacular stingrays and magical macaws.
Adult Price: $44 (ages 10 and up)
Child Price: $39 (ages 3 to 9)
Infant Price: $0 (ages 0 to 2)

Coral World Ocean Park by Land and Sea (3.5 - 4 hours)
Get two views of St. Thomas' diverse marine life.
See a coral reef through the viewing windows of a passenger submarine; then look through an ocean park's observatory.
Adult Price: $65 (ages 10 and up)
Child Price: $50 (ages 3 to 9)
Infant Price: $50 (ages 0 to 2)

Discover Scuba Diving (3.5 - 4 hours)
Plunge into the exciting underwater world of scuba diving without taking a certification course!
After a quick and easy instruction, take to shallow waters to observe tropical fish, sea turtles, stingrays and more!
Adult Price: $119 (ages 12 and up)

Doubloon Turtle Cove Sail and Snorkel (3.5 - 4 hours)
Enjoy a scenic sailing voyage to a tropical reef for an incredible snorkeling adventure.
Go snorkeling in crystal clear Caribbean waters to discover a coral reef teeming with marine life.
Adult Price: $64 (ages 10 and up)
Child Price: $39 (ages 5 to 9)

Flyboard & Beach Adventure (3 - 3.5 hours)
Try out an exciting new activity and hover above the water surface like a superhero!
Voted "Best Water Sport" in St. Thomas, flyboarding is a thrilling and unique experience.
Adult Price: $189 (ages 13 and up)
Observer Price: $45 (ages 3 and up)

Full Day Caribbean Sail & Snorkel to Turtle Cove & Honeymoon Beach (6 - 6.5 hours)
Enjoy a leisurely day sailing and snorkeling the waters around St. Thomas.
Get away to unspoiled beaches and coves for a day of sensational snorkeling and sunning.
Adult Price: $118 (ages 10 and up)
Child Price: $74 (ages 5 to 9)

Historic Adventure of St. Thomas (3 - 3.5 hours)
Learn about historic shipwrecks as you visit an interactive museum on this Caribbean adventure.
Bask in the beautiful sights of St. Thomas before plunging into the past at the Pirate Treasure Museum.
Adult Price: $49 (ages 10 and up)
Child Price: $39 (ages 3 to 9)
Infant Price: $0 (ages 0 to 2)

Jeep & Beach Adventure (3.5 - 4 hours)
Go off the beaten path on a scenic Jeep® ride past some of St. Thomas' most appealing features.
Your guide will stay in contact with the convoy through hand-held radios, providing interesting tidbits about the area.
Adult Price: $84 (ages 10 and up)
Child Price: $69 (ages 4 to 9)

Kayak, Hike, and Snorkel of Cas Cay (4 - 4.5 hours)
Paddle the Mangrove Lagoon Wildlife Refuge and Marine Sanctuary, meet its inhabitants and hike its mangrove forest.
Fish, stingrays, hermit crabs and an impressive geologic blowhole are among the highlights of this fun 3-in-1 tour.
Adult Price: $82 (ages 10 to 76)
Child Price: $59 (ages 8 to 9)

Magens Bay Beach Break (4.5 - 5 hours)
Enjoy the sun and the waves on a half-mile stretch of warm, white sands and beautiful coastline.
Ride to Magen's Bay in an open-air taxi and enjoy this iconic stretch of beach and the calm, Caribbean waters.
Adult Price: $55 (ages 10 and up)
Child Price: $44 (ages 3 to 9)
Infant Price: $0 (ages 0 to 2)

Power Catamaran Snorkeling Adventure (3.5 - 4 hours)
Journey to Lanai Beach and the Congo and Lovango Cays on a power catamaran.
Embrace the beautiful Caribbean sea as you cruise around St. Thomas and explore secluded beaches.
Adult Price: $64 (ages 10 and up)
Child Price: $39 (ages 8 to 9)

Secret Sands Beach Getaway (3 - 3.5 hours)
Take an open-air bus to one of the island's prettiest beaches, with white sands, aqua-blue waters and a coconut grove.
Swim in pristine waters, relax in a reserved beach chair and take in the views of the neighboring islands.
Adult Price: $46 (ages 10 and up)
Child Price: $30 (ages 3 to 9)
Infant Price: $0 (ages 0 to 2)

Skyride to Paradise Point (At your leisure)
Experience St. Thomas' best views via this tramway to the top of Flag Hill and enjoy its attractions at your leisure.
Walk from the port, ride to the top, and enjoy a drink or perhaps lunch as well as souvenir shopping.
Adult Price: $21 (ages 13 and up)
Child Price: $10.50 (ages 6 to 12)
Infant Price: $0 (ages o to 5)

SNUBA at Coral World Ocean Park (3.5 - 4 hours)
Feed birds at the Lorikeet Gardens and splash in the sea for an unforgettable SNUBA experience.
Dive into the Caribbean Sea as you explore an underwater wonderland before heading to Coral World to gaze at amazing marine life.
Adult Price: $99 (ages 10 and up)
Child Price: $89 (ages 8 to 9)

St. John Champagne Catamaran Sail & Snorkel (4.5 - 5 hours)
Enjoy breathtaking sights and gourmet bites on this deluxe cruise to a secluded beach on the island of St. John.
Snorkel with local sea life, sun yourself on the beach, and be treated to cheese, fruit and Champagne on the trip home.
Adult Price: $92 (ages 10 and up)
Child Price: $74 (ages 5 to 9)

St. John Eco-Hike (4 - 4.5 hours)
Boat to St. John, hike the national park, choose to relax, snorkel or kayak at Honeymoon Beach.
Journey through the Virgin Islands National Park and discover a tropical paradise at Honeymoon Beach.
Adult Price: $77 (ages 10 and up)
Child Price: $55 (ages 6 to 9)

St. John Island Tour (4 - 4.5 hours)
Cruise by ferry then travel by safari bus to pristine bays throughout the island - two thirds of it covered in forest.
Known as the "Emerald of the Caribbean," St. John is a shining, unspoiled gem with a wealth of panoramic lookout points.
Adult Price: $64 (ages 10 and up)
Child Price: $40 (ages 3 to 9)
Infant Price: $40 (ages 0 to 2)

St. John On Your Own (4 - 4.5 hours)
Spend a couple of memorable hours exploring St. John at your own pace.
Start with a narrated boat trip from the pier and continue with free time in the unspoiled island paradise of St. John.
Adult Price: $37 (ages 10 and up)
Child Price: $27 (ages 3 to 9)
Infant Price: $27 (ages 0 to 2)

St. John Trunk Bay Beach & Snorkel Tour (4 - 4.5 hours)
Journey to a sun-soaked island paradise and lose yourself in this delightful National Park beach and snorkel adventure.
The most beautiful beach on the island and arguably the entire region, Trunk Bay treats visitors to amazing snorkeling.
Adult Price: $68 (ages 10 and up)
Child Price: $40 (ages 5 to 9)

St. Thomas by Private Vehicle - SUV (4 or 8 hours)
See what you want to see at your own pace on this exclusive chauffeured tour for you and up to 6 companions.
Travel to the places that interest you most on this customized trip by private SUV, driven by a knowledgeable guide.
4 Hours Starting at: $849
8 Hours Starting at: $1,679

St. Thomas Certified Scuba (3.5 - 4 hours)
Explore a sunken shipwreck and an underwater reef in this spectacular 2-tank dive for certified divers only.
Drop to new depths and explore the turquoise waters of St. Thomas during an exciting 2-tank dive.
Adult Price: $132 (ages 12 and up)

St. Thomas Island Tour - For Guests with Limited Mobility (2.5 - 3 hours)
Explore the panoramic paradise of St. Thomas, a secluded Caribbean hotspot rooted in colonial history.
Lose yourself in the island's breathtaking beauty - from serene mountain tops to the inviting white-sand beaches.
Adult Price: $64 (ages 10 and up)
Child Price: $54 (ages 3 to 9)
Infant Price: $0 (ages 0 to 2)

St. Thomas Island Tour and Shopping (2 hours)
Visit the highest observation point on St. Thomas, world famous Mountain Top on this sightseeing excursion.
Shopportunities galore are in store at Mountain Top, the scenic lookout, and in downtown Charlotte Amalie.
Adult Price: $37 (ages 10 and up)
Child Price: $24 (ages 3 to 9)
Infant Price: $0 (ages 0 to 2)

Sugar and Ice (3.5 - 4 hours)
Chill out on the island of St. Thomas.
Take a tour of St. Thomas and stop off at Magic Ice.
Adult Price: $84 (ages 10 and up)
Child Price: $64 (ages 3 to 9)
Infant Price: $0 (ages 0 to 2)

The Kon Tiki Sightseeing, Fun and Beach Tour (3.5 - 4 hours)
Embark on a fun-filled cruise that includes a steel drum band, onboard games and dancing, and a look at ocean life below.
Music, drinks, local sights, sea exploration, beach time and socializing—what more could you ask for?
Adult Price: $59 (ages 10 and up)
Child Price: $29 (ages 3 to 9)
Infant Price: $29 (ages 0 to 2)

Tortola Dolphin Encounter (8 - 8.5 hours)
Travel to the nearby island of Tortola to Dolphin Discovery, where you'll come "face to fin" with a lovable dolphin.
Learn all about these amazing creatures from expert trainers before interacting with one in the water.
Adult Price: $192 (ages 10 and up)
Child Price: $165 (ages 3 to 9)
Adult Observer: $132 (ages 10 and up)
Child Observer: $104 (ages 3 to 9)
Infant Observer: $0 (ages 0 to 2)

Tree Limin' Extreme Zipline Adventure (3.5 - 4 hours)
Soar high over a lush rainforest canopy atop St. Peter Mountain and see Magen's Bay, Tortola and more beyond.
Cross 2 sky bridges and 6 ziplines, including the one-of-a-kind "yo-yo" zipline, which lets riders move in 2 directions.
Adult Price: $142 (ages 10 and up)
Child Price: $129 (ages 8 to 9)

Ultimate Island Experience (4 - 4.5 hours)
Have fun in the sun on the gorgeous island of St. Thomas in the Caribbean.
Take in the sights of the scenic Skyline Drive and Magen's Bay before shopping in historic downtown Charlotte Amalie.
Adult Price: $44 (ages 10 and up)
Child Price: $29 (ages 4 to 9)