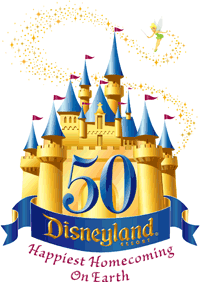 "The Happiest Celebration on Earth"

For 18-months "The Happiest Celebration on Earth" will pay tribute to Walt Disney's original dream of Disneyland, the park that launched an entirely different genre of family entertainment that now spans the globe, attracting 100 million visitors on three continents every year—and still growing.

At
Disneyland
, "The Happiest Celebration on Earth" becomes "The Happiest Homecoming on Earth," a unique opportunity for new and returning guests to be part of an unforgettable once-in-a-lifetime milestone event and the Park's biggest party ever. It's also a chance for the generations of guests who have been touched by the magic of Disneyland to return and relive and share their fondest memories of past visits with family and friends.
In addition to announcing the plans for "The Happiest Homecoming on Earth," Disney officials also introduced the Honorary Ambassador of the Disneyland 50th anniversary celebration, legendary Broadway and film star Julie Andrews. "I'm delighted to be associated with this momentous occasion," said Andrews. "One memory I'll cherish forever is the thrill of seeing Disneyland for the first time with Walt Disney himself. I have been here many times since with my children but nothing will ever top that moment. Disneyland was Walt's gift to people the world over and I look forward to celebrating this unique national treasure with everyone who has ever been touched by its magic."
"The Happiest Homecoming on Earth" celebration will take different forms throughout the Disneyland Resort:
Disneyland® Park
| | |
| --- | --- |
| | Sleeping Beauty Castle - Transformed into a breathtaking focal-point for "The Happiest Homecoming on Earth" gowned in swaths of richly colored finery, royal banners, bejeweled with precious stones, decorated in gold and topped by five regal turret "crowns," this world famous Disney icon glows with Disney enchantment as never before. |
| | |
| --- | --- |
| "Walt Disney's Parade of Dreams" – Enjoy the musical grandeur and visual spectacle of this all-new parade, featuring one of the largest casts of Disney Characters and performers ever assembled. | |
| | |
| --- | --- |
| | "Remember . . . Dreams Come True" – An all-new fireworks spectacular, the most elaborate in the history of Disneyland. Highlighted by an incredible musical score, dramatic close proximity pyrotechnics, lighting effects and a whole new generation of never-before-seen fireworks. |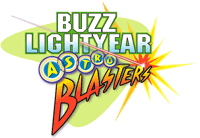 "Buzz Lightyear Astro Blasters" – In this all-new Tomorrowland attraction opening in 2005 guests will pilot their very own Star Cruiser through a comical interactive space mission where they will twist, turn and fire personal laser cannons for points that will help to protect outer space from the forces of the evil Emperor Zurg!


"Space Mountain" – This Disneyland favorite re-opens in 2005 as a re-"Imagineered" 21st century thrill attraction, featuring an all-new queue and Space Port, redesigned rockets, an all-new exhilarating on-board audio soundtrack and "out of this world" new effects, plus a few new surprises.




| | |
| --- | --- |
| | "Disneyland—The First 50 Years" – This remarkable new exhibit showcases 50 years of Disneyland memories through never-before-seen artwork, models and designs. A highlight of the attraction is a new film featuring recently discovered film footage, most of which has not been seen in over 45 years, highlighting the amazing evolution of Disneyland from concept to reality. |
---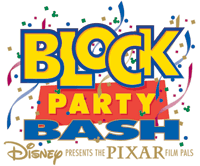 "Block Party Bash" – Guests suddenly find themselves surrounded by the rollicking music, excitement and fun of one of five instant celebrations starring Mickey, Minnie, the Muppets, the crew from "Monsters, Inc." Lilo and Stitch, and Flik and Princess Atta from "A Bug's Life." Featuring cool surf tunes, pulsating 70s disco, 50s rock and roll and 80s retro, each unique party is a celebratory free-for-all with wacky entertainment, irresistible music and over-the-top surprises!
Beloved by families around the world, Disneyland has welcomed over 500 million guests since its introduction. Guests hail from all 50 states and virtually every country on the globe. The Disneyland guest roster over the past five decades includes a host of dignitaries and celebrities—from seven US Presidents, countless heads of state, major athletes and stars of film, television, stage and music.
Art Linkletter, renowned TV personality and host of the live Disneyland opening day TV broadcast on July 17, 1955, joined in the announcement today and recalled his first impression of Disneyland. "Walt brought me down here to Anaheim when Disneyland was under construction and it was nothing but dirt roads and orange groves, the Santa Ana Freeway wasn't even completed," said Linkletter. "I didn't want to spoil Walts enthusiasm but I thought Geez! Who's gonna come down here? Shows you how much I know!"

Disneyland is synonymous with Disney quality, creativity and magic and its incredible success through the years has led to the creation of Walt Disney World Resort in Florida (the number one vacation destination in the world), Tokyo Disney Resort (Tokyo Disneyland is the most attended Disney theme park in the world), Disneyland Resort Paris (Disneyland Paris is the most popular tourist attraction in Europe) and soon Hong Kong.