Great deals and discounts on Orlando hotels near Walt Disney World
In order to ensure that only the highest quality of hotels are offered on our site, our team routinely inspects these properties. While we look at many factors when considering what hotels to feature, ultimately we use a very simple but effective measuring stick in evaluating our hotel partners: would we let our families stay there? If we can honestly answer 'YES' to that question, then the hotel is worthy of being represented here.
Book your hotel reservation with us and we'll make your dinner reservations!
That's right! You tell us where and when you want to eat, and we'll take care of the rest!


ORLANDO HOTELS NEAR DISNEY WORLD
We look for hotels that offer excellent guest service, clean and comfortable accommodations, close proximity to major attractions, and of course, a competitive price. You can stay at any of these hotels and be sure that seasoned professionals have reviewed and researched them first.
Caribe Royale Orlando Suites and Villas
If you are looking for a comfortable, clean, friendly resort (like you'd expect on Disney property) then consider the Caribbean-inspired, Caribe Royale Orlando Resort. The 1335 room resort is just minutes away from Walt Disney World and offers all the amenities and comforts you would expect from a top tier resort.  From fine dining, to excellent quick service meals, spa treatments, grotto pool and transportation to and from the theme parks, the Caribe Royale is an excellent alternative for your next Disney visit.
Click Here For Booking Info
Buena Vista Suites - Lake Buena Vista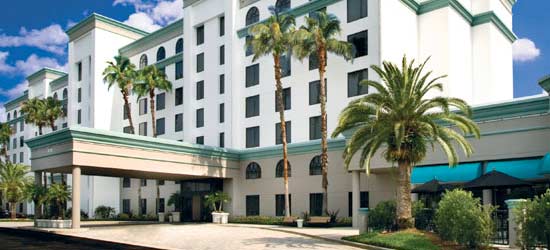 -

Lake Buena Vista



When you stay at Buena Vista Suites you also get two room suites with complimentary full American breakfast buffet and scheduled shuttle to Walt Disney World Theme Parks and an evening shuttle to Disney Springs. Call 800-537-7737 and mention Rate Code DREAMRES
Dreams Villas of Orlando
4-bedroom/3 bathroom villas sleeps up to 10 people. Fully equipped and beautifully appointed each villa includes FREE Wireless High Speed Internet, televisions in each bedroom, over 50 Disney DVD's, crib/pack-n-play, complimentary membership to Sam's Discount Shopping Club plus much, much, more!!
CLICK HERE TO SEE WHAT PAST GUESTS HAVE SAID ABOUT OUR VILLAS
*7 night minimum required. 4-Bedroom Villas from $99/night (plus tax). 1-877-VILLA-01 (877-845-5201)