England and France Vacation

Cities of Knights and Lights
8 Days / 7 Nights
London, Paris and the English Countryside
The England and France family vacation from Adventures by Disney begins in jolly old England with a visit to Buckingham Palace and Disney's theatrical production of The Lion King. It then crosses the English Channel to Paris for scavenger hunts in the Louvre, wanders through wondrous Versailles and includes a family lunch in the Eiffel Tower. Oh la la!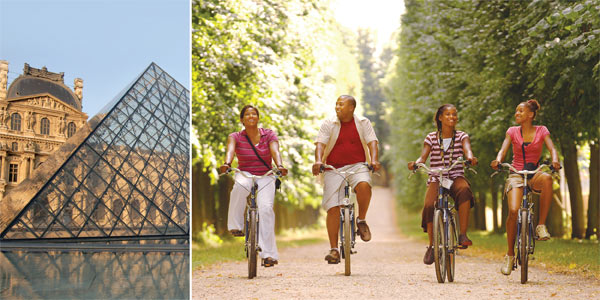 Trip Highlights Include:
Double-Decker Bus Tour

Climb aboard an iconic double-decker bus for a private tour and see London from a rooftop view. You'll stop at Westminster Abbey and Buckingham Palace—where you'll witness the famous changing of the guards.


Nôtre Dame Cathedral and the Eiffel Tower

Embark on a privately guided visit to 2 famous Parisian landmarks. Journey up into the sky inside the Eiffel Tower and marvel at the flying buttresses, soaring spires and grimacing gargoyles of Nôtre Dame Cathedral.


Exclusive Art Detective Game at the Louvre Museum

As the adults follow a local expert on a privately guided tour of some of the world's greatest masterpieces, Junior Adventurers discover famous art works on an interactive scavenger hunt through the museum.


Mysterious Stonehenge

Walk among towering stone blocks that have stood for millennia. Your visit will explore the mysteries and legends surrounding the construction of this timeless monument.


Explore Castles and Palaces

Encounter dozens of royal abodes, including a biking excursion at Château de Versailles and a privately guided tour of Windsor Castle—home to the British royal family.

Adventure Dates
2014

Mar 31-Apr 7, 2014
Apr 7-Apr 14, 2014
Apr 18-Apr 25, 2014
May 30-June 6, 2014
June 6-June 13, 2014
June 13-June 20, 2014
June 16-June 23, 2014
June 20-June 27, 2014
June 23-June 30, 2014
June 27-July 4, 2014
June 30-July 7, 2014
July 4-July 11, 2014
July 7-July 14, 2014
July 18-July 25, 2014
July 21-July 28, 2014
July 25-Aug 1, 2014
July 27-Aug 3, 2014
Aug 1-Aug 8, 2014
Aug 11-Aug 18, 2014
Aug 15-Aug 22, 2014
Aug 18-Aug 25, 2014
Aug 22-Aug 29, 2014
Sep 19-Sep 26, 2014
Dec 26, 2014-Jan 2, 2015
Adventure Daily Itinerary
Day One

Arrive in London
After you pick up your luggage and pass through customs, an Adventures by Disney representative will meet you in the customs/exit area and will direct you to your transportation to the Renaissance Chancery Court London. Relax as a driver assists with your luggage and whisks your family away to the hotel.
Chancery Court Hotel
Unwind from your flight as your Adventure Guides handle your hotel check-in. Just relax and take it all in! This glamorous, award-winning hotel with regal décor is your home in the heart of the city.
Welcome Reception
Meet the other families that will share the adventure. After a festive cocktail reception, gather for an authentic British feast that kicks off a week touring two truly magical cities!
Meal Included: Dinner
---
Day Two
Double-Decker Bus Tour
Climb aboard an iconic double-decker bus and see the city from a rooftop view.
Westminster Abbey
Visit the beautiful cathedral that has been the site of coronations, royal weddings and countless historical events.
Buckingham Palace Changing of the Guards
Witness the splendid tradition of the changing of the guards, whose stoic demeanor, crisp red coats and towering fur hats are a hallmark of this historic residence of England's royal family.
Lunch at Harrods
Feast on an elaborate lunch at Harrods, a world-famous department store like no other. Then you'll have the afternoon to explore this extraordinary historic city on your own, with its sensational sights and intriguing museums. With so many wonderful things to see and do, ask your Adventure Guide to suggest the best activities for you and your family.
A London Evening on Your Own
Your Adventure Guides can suggest a restaurant for dinner, or you can find your own adventurous dining options—from traditional pub food to fabulous international cuisines. Then, spend the rest of the evening acquainting yourself with London!

Meals Included: Breakfast and Lunch

---
Day Three
London Walking Tour
After breakfast, start your day with a guided walking tour of London! Follow your Adventure Guide from the steps of St. Paul's Cathedral and then venture over the Thames River on the London Millennium Footbridge and continue to the Tower of London.
Tower of London Tour
Discover the checkered past of this foreboding fortress! Over the ages, this Tower has been guardian of the Crown Jewels, home to ravens and beasts, prison to the famous and infamous, and an execution stage for fallen leaders.
Ride the London Eye
See London far below you as you soar 443 feet in the air. The London Eye is the tallest Ferris wheel in Europe and one of the most popular tourist attractions in England.
Journey to the English Countryside
Leave behind the lights of London for the grandeur of the English countryside. Your hotel, Foxhills, is a converted 19th-century manor house surrounded by a sprawling 440-acre estate. Complete with a spa, pools and championship golf, Foxhills offers both the luxury of modern living and the romance of England's pastoral history.
Meal Included: Breakfast and Dinner
---
Day Four
Stonehenge
Walk among towering stone blocks that have stood for millennia. Your privately guided visit will explore the mysteries and legends surrounding the construction of this timeless monument.
Windsor Castle
See how kings and queens live on a privately guided tour of Windsor Castle—home to the British royal family since the 11th century. Still used as a royal residence, Windsor Castle is the largest inhabited castle in the world.
Kids-Only Dinner and Disney Movie Night
While adults enjoy an outdoor barbecue dinner at the hotel, Junior Adventurers dig into their own private dinner—complete with lawn games. Afterwards, all Guests are invited to a private Disney movie presentation with a special snack!
Meals Included: Breakfast, Lunch and Dinner
---
Day Five
First-Class Eurostar Train Ride from London to Paris
Country-hop on a speedy modern train that shoots under the English Channel through the Chunnel! A mere three hours later, your family will emerge in the magnificent City of Light. Bienvenue!
Guided Tour of the Louvre
It would take more than a lifetime to experience the Louvre Museum! Follow a local expert on a privately guided tour as he or she illuminates the world's greatest masterpieces—including the enigmatic Mona Lisa.
Art Detective Game
While adults tour the museum, Junior Adventurers will participate in a unique interactive scavenger hunt where they will uncover clues leading to secrets—and some of the Louvre's most famous works of art!
Welcome Dinner in Paris
There's a reason that the French are so famous for their delectable cuisine! Tonight, gather together with your fellow adventurers for a gourmet meal.
Meals Included: Breakfast and Dinner
---
Day Six
A Day at the Sun King's Château
Spend a day in the lap of luxury. Travel to Versailles to see how the notorious royals, Louis XIV and Marie Antoinette, lived in grandeur!
Privately Guided Tour of Château de Versailles
This fairy tale palace dazzles your senses with its gilt ceilings, crystal chandeliers, ornate furniture and the famous Hall of Mirrors.
Lunch at La Flotille
This casual restaurant lies in the heart of the dramatic Formal Gardens. Enjoy a leisurely lunch and explore the Garden's famous fountains of Neptune and Apollo.
The Grand Gardens of Versailles
Hop on your bicyclette to explore the winding paths of the palace's immense estate and discover sweeping vistas, twinkling fountains, elaborate hedges, and trees pruned into immaculate sculptures. For non-cyclists, enjoy the beauty and learn about the fascinating history of the Versailles gardens.
Dinner on Your Own in Paris
Now is your chance to venture out and experience the grand French ritual of le dîner! Your Adventure Guides will help you find the perfect restaurant for an extraordinary family meal as only the French can create.
Meals Included: Breakfast and Lunch
---
Day Seven
Nôtre Dame Cathedral
Tour this cathedral with flying buttresses, soaring spires and grimacing gargoyles. As you climb the bell tower, hear about the hidden stories of this architectural masterpiece including the tale of the legendary hunchback, Quasimodo!
The Eiffel Tower
Board a water taxi for a trip along the scenic Seine river to one of the most recognizable landmarks in the world, the Eiffel Tower. Once there, you'll experience a privately guided visit of the 1,063-foot-tall structure. The observation platform on the top of the tower features one of the most magnificent views in Paris—or anywhere in the world.
Farewell Dinner at Ladurée
Dine in the height of elegance at the Ladurée restaurant. Relive the magnifique memories of your trip with your fellow adventurers as you enjoy a surprise after dinner!
Meal Included: Breakfast and Dinner
---
Day Eight
Breakfast at the Hotel
Bid your fellow adventurers a bon voyage as you enjoy one last meal in Paris.
Transfer to Airport
Board pre-arranged transportation to the airport and say au revoir until you return again!
Meal Included: Breakfast
---