France
(8 Days/7 Nights)
Paris, Giverny, Versailles, Normandy & the Loire Valley
The Esprit de France family vacation from Adventures by Disney begins in regal Versailles with a tour of the magnificent royal palace. Next, journey to the home of Claude Monet in the Giverny gardens to unleash your inner artist. Continue to the charming seaside village of Honfleur before exploring the stunning tidal island of Mont Saint-Michel. Revel in the misty beauty of Normandy as it spreads from poignant Omaha Beach through all 224 feet (68 m) of the incredible Bayeux Tapestry. Explore the opulent chateaux of the Loire Valley and bike through royal gardens. Finally, discover the genius of Leonardo da Vinci at Clos Luce before your trip triumphantly concludes in the City of Light. Experience the mystery and majesty of la belle France on this vacation of a lifetime!
Trip Highlights Include:
Monet's House and Garden in Giverny

After a guided tour of Claude Monet's home in picturesque Giverny, unleash your inner artist in the gardens by creating your own impressionistic work of art.


Magnificent Mont Saint-Michel

Visit the medieval monastery that sits atop this breathtaking tidal island. Explore the fascinating corridors and hallways of its ossuary, abbey, scriptorium and much more!


Biking and Wine Tasting at Châteaux in the Loire Valley

Bike through the royal gardens of the exquisite Chateau de Chambord and taste the wines that make this scenic region famous at your home of 2 nights, The Chateau Hotel Domaine de la Tortiniere.


Paris Museum Pass and Dining at the Louvre

Get front-of-the-line access to over 60 Paris museums and attractions with a provided museum pass. Then say "au revoir" to your adventuring friends at a private farewell dinner inside the famed Louvre museum.


Omaha Beach and Privately Guided Tour of American Cemetery

Visit the renowned beach where the United States 1st Division landed on D-Day to secure victory in World War II. Learn the story of the invasion and its costs on a privately guided visit to the Normandy American Cemetery.
Esprit de France - Adventure Dates
2016
May 21-May 28, 2016: Adult Exclusive (18 and older)
June 2-June 9, 2016
June 11-June 18, 2016
June 25-July 2, 2016*
July 2-July 9, 2016
July 23-July 30, 2016
Aug 4-Aug 11, 2016
Aug 20-Aug 27, 2016: Adult Exclusive (18 and older)
*= Guaranteed departures
Esprit de France - Adventure Daily Itinerary
Day 1
Arrive in Paris
Bienvenue! Welcome to Charles de Gaulle International Airport. Your Adventure Guide is there to greet you and help you with your luggage before you are transferred by car to your hotel in regal Versailles.
Trianon Palace
After your Adventure Guide checks you in, settle in at this woodland retreat nestled at the edge of tranquil Royal Domain of Versailles, less than a mile from Louis XIV's world-famous chateau. Steeped in tradition yet thoroughly contemporary, this hotel features a sumptuous décor and well-appointed accommodations.
Lunch On Your Own
If you arrive in the morning, feel free to indulge in one of the hotel restaurants for déjeuner or ask your Adventure Guides for lunch recommendations.
Welcome Reception
Gather with your fellow Adventurers for a welcome reception and dinner at the hotel. Sate your appetite with a delicious buffet of local and regional French cuisine as you sip that world-famous wine.
Meal included: Dinner
---
Day 2
Château de Versailles
Our local expert leads you on a privately guided tour of the opulent Palace of Versailles. Be dazzled by the extravagant décor of this historic home to the Kings and Queens of France, including the legendary Marie-Antoinette. Admire the extravagant vaulted ceilings canopy ornate rooms with gilded royal portraits and sculptures. Peer through windows that look out over sophisticated gardens with immaculate topiaries. As you stroll through the dazzling Hall of Mirrors, reflect on the bygone glories of French royalty.

Lunch at Le Grand Café d'Orléans
After basking in the grandeur of the Palace of Versailles, adjourn to its South Wing for lunch at the quaint Le Grand Café d' Orléans.

Claude Monet's Home and Gardens
Visit the home of this great Impressionist painter and discover its tranquil gardens bursting with vibrant blossoms and luxurious, leafy trees.

Royal Barrière Hotel
Take the coach to your home away from home for the next 3 nights: the Royal Barrière Hotel. This majestic gem crowns the prestigious beach of Deauville, a refined getaway that offers a hushed ambience for discerning travelers.

Dinner on Your Own
For dinner, select from some of Normandy's exquisite cuisine. Indulge in fantastically fresh seafood and salads, as well as creamy cheeses, mouthwatering apple desserts, hard cider and the celebrated apple brandy, Calvados. Feel free to ask your Adventure Guides for restaurant recommendations.
Meals Included: Breakfast and Lunch
---
Day 3

Breakfast and Coach Trip
Fuel up on a satisfying breakfast at the hotel before boarding the coach for 2 hours on a trip to awe-inspiring, unforgettable Mont St-Michel.
Mont St-Michel
The silhouette of this formidable island fortress looms on the horizon as your coach approaches. Surrounded by a venerable town, this medieval Benedictine abbey was built in honor of the Archangel Michael who, according to medieval legend, will slay the dragon at the Apocalypse. With a local guide, explore rooms such as the ancient scriptorium, ossuary, chapel and crypt. Feel the island's enchantment as you wander down winding cobblestone streets on your own trek through town.
Lunch at La Mère Poulard
The rhythmical beating of eggs in copper mixing bowls can be heard down the street, beckoning hungry visitors to try one of their world-famous omelets! Feast on an enormous, fluffy omelet with a hot camembert starter and dessert at this quaint yet historic restaurant.
Mont St-Michel On Your Own
Spend time wandering the rambling cobblestone streets to discover shops and curiosities galore. Climb the winding Lace Staircase for the gorgeous gallery on the abbey roof. Or visit the cloisters for their vertiginous views.
Cider and Calvados Tasting
Climb aboard the coach for a ride to Les Vergers de Ducy orchard, where you will tour the orchard and cider production areas. After sampling a traditional pudding dish native to Normandy, taste delicious cider and the simmering sweetness of Calvados.
Deauville and Dinner On Your Own
Known as the "lady of the French coast," Deauville awaits with its stylish restaurants and bustling nightlife. Return to your hotel from the orchard and explore this upscale resort town before enjoying le diner. If you need restaurant recommendations, your Adventure Guides can help find the perfect meal for you.
Meals Included: Breakfast and Lunch
---
Day 4
The Bayeux Tapestry
Travel to Bayeux to see the astonishing Bayeux Tapestry—a 224-foot (68-meter) embroidered cloth that tells the story of the Norman conquest of England in 1066.

Omaha Beach Private Tour
Ride the coach to Omaha Beach where the United States 1st Division landed on D-Day to secure victory in World War II. The story of the invasion and its costs come to life on a privately guided tour of the area, including the Normandy American Cemetery.

Arromanches les Bains and Lunch on Your Own
This quiet waterfront hamlet nearby Omaha Beach played an important role in the Allied invasion during WWII. Have lunch at your leisure in this delightful seaside village. If you've not yet had a traditional French crèpe, here's your chance to visit an authentic French crèperie.

Bike Ride Along the Boardwalk
After lunch, return to Deauville, where you'll bicycle along the famous seaside boardwalk. You'll also have time on your own to shop or enjoy other beachside activities of your choosing.

Deauville Dinner
Unwind and enjoy dinner with your fellow Adventurers at the Royal Barrière Hotel while Junior Adventurers attend a private dinner of their own.
Disney Movie Night
End the day curled up with your petits as you are treated to a private showing of a Disney movie.
Meals Included: Breakfast and Dinner
---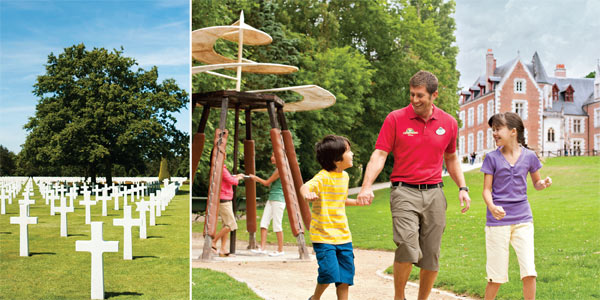 Day 5
Morning and Lunch on Your Own in Honfleur
Travel by coach to Honfleur, a picturesque port town painted by Impressionist greats like Monet and Boudin many a time. Create your own impressions as you wander the scenic Normandy commune at your leisure and stop for lunch.

Coach Tour of Paris
After lunch, reconvene for a panoramic tour of The City of Light, with a photo stop at the Trocadéro, directly across the Seine from the Eiffel Tower.

Arrive at Hotel Napoleon
Steps away from the Champs Elyseés, the Hotel Napoleon features an Old World décor with modern amenities. Relax as we check you in at these elegant accommodations, where you'll stay for the next 3 nights.

Dinner at Ladurée
Dine on elegant French fare at your leisure at this world-renowned Champs-Elysées restaurant and bakery. Ladurée is legendary for its delectable macarons in a multitude of flavors. Delicieux!
Meals Included: Breakfast and Dinner
---
Day 6
The Eiffel Tower
Soar toward the stars for a sky-high experience you and your family will never forget! Embark on a walking tour of the top 2 levels of this Parisian icon and discover the "heights" of art.

Paris Comme Vous Voulez!*
Soak up the splendor of the City of Light with some "on your own" time. See the Seine River on the Batobus boat, sight-see via L'Open Air double-decker bus or take to the streets on foot. Be sure to ask your Adventure Guides for recommendations regarding lunch and "don't miss" destinations of over 60 museums and attractions — including Disneyland Paris.*

Dinner on Your Own in Paris
Now's your chance to venture out and experience the grand French ritual of le dîner! Your Adventure Guides will help you find the perfect restaurant for an extraordinary family meal as only the French can create.

*Activities for this day, including the Batobus boat, L'Open Air double-decker bus, and Disneyland Paris, are not included and are available at an additional cost.
Meals Included: Breakfast
---
Day 7
Open Air Market Shopping
Experience life like a true Parisian as you peruse the aisles surrounded by the freshest ingredients and amazing aromas. But this shopping trip isn't just for looks — you're shopping for items that you'll be using in your private French cooking class!

French Cooking Class and Lunch
What better way to celebrate French culture than by learning how to prepare classic French dishes yourself? In a private cooking class, you'll do exactly that! Afterward, sit down and enjoythe fruits of your labor for lunch with your fellow Adventurers.

Paris, Part Deux
Continue your exploration of Paris as you spend the entire afternoon as you wish, shopping, sightseeing or simply watching passersby at a charming sidewalk café.

Farewell Dinner at the Louvre
Dine in the height of elegance in a private room at the Louvre overlooking the famed glass pyramid entrance in the Cour Napoléon.
Meals Included: Breakfast, Lunch and Dinner
---
Day 8
Breakfast at the Hotel
Bid your fellow adventurers a bon voyage as you enjoy one last meal in Paris.
Transfer to Airport
Board pre-arranged transportation to the airport and say au revoir until you return!
Meals Included: Breakfast
---