Ireland Vacation

The Emerald Isle - 8 Days / 7 Nights
Dublin, Cashel, Killarney & Newmarket-on-Fergus


Family travel to Ireland with Adventures by Disney begins in Dublin before it crosses the Emerald Isle with stops in Killarney and Shannon. Experience the mirth and magic along the sweeping coastal cliffs, over the verdant rolling hills and among the ruins of ancient castles. Come create some family legends of your own!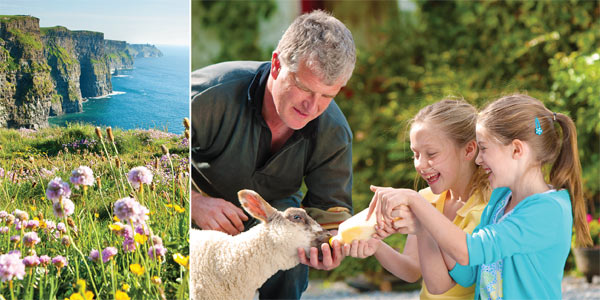 Trip Highlights Include:
Cliffs of Moher

The dramatic Cliffs of Moher drop over 700 feet straight into the ocean. Hear the sound of crashing waves and marvel at one of Ireland's most magnificent views.


Muckross House and Killarney National Park

Travel by horse-drawn cart through the lush, green countryside to the Victorian estate of Muckross House, where you'll enjoy a privately guided tour. Hike or bike through the picturesque gardens and waterfalls of Killarney National Park, a UNESCO World Heritage Site.


Sleep Like Royalty in Dromoland Castle

Both an historic castle and a modern 5-star hotel, Dromoland Castle lets you live like the kings and queens of yore. Hike or bike the castle grounds as you enjoy spectacular views of the shimmering lake, lush forests and championship golf course.


Explore the Rock of Cashel

Explore the ruins of the Rock of Cashel—the ancient seat of Celtic kings and a spectacular example of Celtic stonework and medieval architecture.


Discover Dublin

Enjoy a guided tour of the famed Guinness Storehouse®, where you'll be treated to lunch in a private dining room. During your stay in Dublin, you'll also visit the Trinity College Library to view the ancient Book of Kells, a breathtakingly beautiful illuminated manuscript created by Celtic monks around the 9th century. Explore historic Blarney Castle where you'll kiss the Blarney Stone. It is said that he or she who kisses the Blarney Stone will forever be granted the "gift of gab," the ability to speak with a clever and flattering tongue.

Adventure Dates
2014

May 25-June 1, 2014
May 31-June 7, 2014
June 10-June 17, 2014
June 21-June 28, 2014
July 1-July 8, 2014
July 12-July 19, 2014
Aug 2-Aug 9, 2014
Aug 12-Aug 19, 2014
Sept 13-Sep 20, 2014 (Adults Only)
Adventure Daily Itinerary
Day One

Arrive in Dublin
After clearing customs, meet an Adventures by Disney representative. Relax as a driver assists with your luggage and whisks you away to the hotel!
The Westin Dublin*
Unwind from your journey and explore the area that will be your home for the next few days. Learn about some of the nearby sights at the Adventures by Disney hospitality desk.
Welcome Reception and Dinner
Tonight, meet the other families that will share the adventure. Dine in a private room at the hotel and get ready for your quest across the Emerald Isle!
Meal Included: Dinner
*Some departures will stay at the Westbury Hotel in Dublin
---
Day Two
Dublin City Tour
Enjoy a privately guided tour as you discover the city's dynamic history, experience times of yore at Dublin Castle and taste the good life at the Guinness Storehouse®!
Lunch at Source Bar in the Guinness Storehouse®
Enjoy a leisurely lunch at the Guinness Storehouse and marvel at this seven story building that once housed a fermentation plant.
Afternoon in Dublin
Spend the afternoon with the family exploring historic Dublin—relax, shop or visit the amazing museums. Join our local expert for a peek at the ancient illuminated Book of Kells at Trinity College or take an independent walking tour of the Temple Bar neighborhood's cobblestone streets. Ask your Adventure Guides for more suggestions.
Dinner in Dublin
Gather together for a family dinner on your own at one of Dublin's world-class restaurants. Your Adventure Guides will be happy to help you find the perfect meal!
Meals Included: Breakfast and Lunch
---
Day Three
Journey to Cashel
Travel across the emerald Irish countryside to the land of kings. Enjoy the scenic views as you journey to a picturesque town full of royal lore.
Explore the Rock of Cashel
Explore the royal seat of the Kings of Munster and walk among the collection of medieval buildings that crown the hilltop of Tipperary's Golden Vale. Learn about the imposing fortifications, the spectacularly-preserved guard tower and the majestic Chapel of King Cormac.
Welcome to Killarney
Journey to Killarney where your family will be warmly welcomed by The Killarney Town Crier. Then partake in traditional Irish dance lessons and tasting of authentic Irish cheeses! Later, settle into your lovely room at the Killarney Plaza Hotel and Spa. Enjoy a family dinner on your own and be sure to ask your Adventure Guides for ideas.
Meals Included: Breakfast and Dinner
---
Day Four
Journey to Muckross House
Travel by horse-drawn cart through green fields to Muckross House, an historic Victorian estate that borders the picturesque lake in Killarney National Park.
Lunch at Muckross House
Explore the meticulously restored manor's 65 rooms with a local expert and following lunch enjoy a bike ride or stroll along the scenic lake shore with the family.
An Evening in Killarney
Share an evening with your family as you experience the music, shops, food and fun in the picturesque Irish town of Killarney. Who knows what treasures will be yours–you might just find the pot of gold at the end of a rainbow! Visit the Adventures by Disney hospitality desk for recommendations.
Meals Included: Breakfast and Lunch
---
Day Five
Blarney Castle
As you travel to County Clare you will make a stop along the way to explore Blarney Castle. Here you will have an opportunity to kiss the Blarney Stone and visit the gardens at this historic castle.
Lunch on Your Own in Adare
Snuggled in a wooded setting among farmlands along the River Maigue is the quaint village of Adare. On your journey to Dromoland Castle we will stop in this charming town for lunch and a brief visit before heading to Newmarket-on-Fergus.
Arrive at Dromoland Castle
Familiarize yourselves with your royal home for the next three nights. Dromoland Castle truly is fit for a king or queen – or a president. Presidents, dignitaries, and heads of state frequently stay here. The bayside resort is bustling with exciting activities featuring tennis, golf, boating, putting greens, croquet, archery and spa services.*
Dinner at Dromoland and Disney Movie Night
This evening, adult travelers dine at the hotel's Fig Tree Restaurant located in the Golf and Country Club, while the Adventure Guides treat the kids to a night of food and fun and a classic Disney movie.
Meals Included: Breakfast and Dinner
*These activities are available at an additional cost.
---
Day Six
A Day at Dromoland
Join your fellow adventurers for a late morning tour of the castle grounds and then spend a leisurely day at Dromoland Castle enjoying one of several optional activities the hotel has to offer.
A Night in County Clare
Revel like a true Irishman (or woman!) at a dinner filled with dancing, singing and general merriment. A variety of authentic dishes are served in a unique and evocative setting throughout the evening.
Meals Included: Breakfast and Dinner
*These activities are available at an additional cost.
---
Day Seven
Irish Farm Tour and Lunch
Enjoy a taste of the simple life and spend the morning with your family on a working Irish farm. Learn the secrets of scone making and sheep herding, or try your hand at bottle-feeding a baby lamb or piglet. Then savor a home style lunch complete with freshly baked soda bread served piping hot right out the oven.
The Cliffs of Moher
The dramatic Cliffs of Moher drop over 700 feet straight into the ocean. Hear the sound of crashing waves and marvel at one of Ireland's most magnificent views.
Farewell Dinner
Celebrate with your fellow Adventurers at a private feast while enjoying the singing of a traditional Irish balladeer. This extravagant dinner party caps off a week of extraordinary experiences!
Meals Included: Breakfast, Lunch and Dinner
---
Day Eight
Breakfast at the Hotel
Bid goodbye to all your fellow adventurers, wish them the luck of the Irish, and enjoy one last breakfast in your castle home!
Transfers to Airport
Relax and enjoy your final moments in Ireland, as we handle your luggage and arrange for transportation to the Shannon airport.
Meal Included: Breakfast
---