Wyoming and Yellowstone Vacation
Quest for the West - 7 Days / 6 Nights
Jackson, Yellowstone National Park and
Grand Teton National Park
Wyoming family vacations from Adventures by Disney journey though Jackson, Yellowstone National Park and Grand Teton National Park. Discover the spirit of the Wild West while galloping on horseback, shooting down roaring rapids and bonding around campfires under the stars. Travel across mountain ranges and vast unspoiled wilderness on this vacation to remember.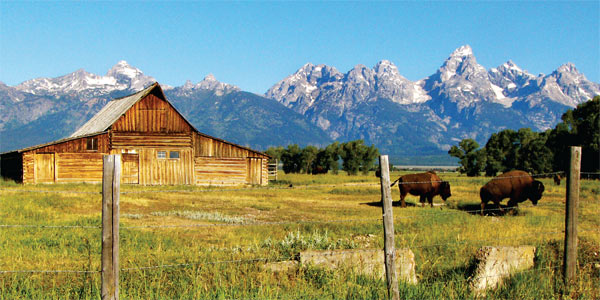 Trip Highlights Include:
Snake River Whitewater Rafting
Shoot down the rollicking Snake River and feel the thrill of whitewater rafting (Class II-III rapids). As you float along, watch for eagles, herons and osprey!


Yellowstone National Park Tour
Experience the explosive power of Old Faithful on a privately guided Yellowstone tour and learn about the mysteries of this geological spectacle.


Horseback Riding at Brooks Lake Lodge
Saddle up and explore the mountains on horseback. Then learn to rope, ride, hoot and holler from a real cowboy!


West Thumb Geyser Basin
On a guided walk, discover amazing natural wonders using heat-seeking laser thermometers. Explore geysers, mudpots and bizarre thermal phenomena.


Stay On a Dude Ranch
Enjoy authentic accommodations at hotels such as the historic Brooks Lake Lodge, an elegant retreat secluded in the stunning wilderness of Wyoming.



Adventure Dates
2014

June 15-June 21, 2014
June 18-June 24, 2014
June 25-July 1, 2014
June 29-July 5, 2014
July 6-July 12, 2014
July 9-July 15, 2014
July 13-July 19, 2014
July 16-July 22, 2014
July 23-July 29, 2014
July 27-Aug 2, 2014
July 30-Aug 5, 2014
Aug 3-Aug 9, 2014
Aug 6-Aug 12, 2014
Aug 10-Aug 16, 2014
Adventure Daily Itinerary
Day 1:
Arrive in Jackson, Wyoming
Upon landing at the Jackson Airport, meet your Adventure Guide. Relax as a "cowboy" driver "wrangles" your luggage and takes you to your hotel!
Arrive at the Wort Hotel
Unwind from your journey as your Adventure Guides check you into this hotel. This hotel will be home for the next few days.
Welcome Dinner
Tonight, meet the other families that will share the adventure. Chow down on some cowboy grub and get ready for your quest!
Meal Included: Dinner

---
Day 2:
Morning On Your Own
Spend a morning relaxing at the hotel or you may choose to explore the scenic town of Jackson. This "gateway to Yellowstone and Grand Teton National Parks" has many interesting shops and activities for everyone in your family.
Lunch at Jackson Hole Playhouse
Enjoy a family lunch at a real, rowdy, old-fashioned theater. Your western-themed meal is capped off with some rootin' tootin' entertainment celebrating the 50th anniversary of this historic landmark.
Snake River Whitewater Rafting Trip*
Discover the spirit of the wilderness and shoot down the rollicking Snake River. As you float along, look up into the sky—there may be eagles, herons or osprey watching from above!
Afternoon Dinner On Your Own in Historic Jackson
Spend the afternoon on your own with the family shopping in Jackson for some authentic cowboy gear. Whether you're craving cowboy grub, comfort food or some down-home country cooking, Jackson's has a superb assortment of restaurants. Your Adventure Guide can help you find the perfect family meal to enjoy on your own.
Meals Included: Breakfast and Lunch
*Minimum age 6 years and 45 lbs. for this excursion.
---
Day 3:
Hike to Hidden Falls and Inspiration Point
Bid farewell to Jackson and journey to legendary Yellowstone National Park. Cruise across glassy waters on the Jenny Lake Ferry. Then, hike to an awesome 80-foot waterfall.
Picnic Lunch at String Lake
Unwind with the family under clear blue skies and enjoy lunch in a storybook setting. This picturesque lake is the perfect spot for a picnic to remember.
West Thumb Geyser Basin
Discover amazing natural wonders using heat-seeking laser thermometers! Explore geysers, mudpots and the bizarre thermal phenomena that make Yellowstone so smokin'.
Arrive Old Faithful Snow Lodge*
Located near the famed geyser, this contemporary hotel reflects its natural surroundings, with timber and log construction and authentic western furnishings.
Yellowstone Welcome Dinner
Bring the family together, break bread and swap stories over a plentiful cowboy feast.
ScavINNger Hunt
After dinner, kids can whoop it up on an interactive scavenger hunt around the Old Faithful Snow Lodge.
Meals Included: Breakfast, Lunch and Dinner
* Some departure dates at Old Faithful Inn
---
Day 4:
Old Faithful Tour
There are over 1,000 thermal features in Yellowstone, but Old Faithful is the most famous. Take a privately-guided walk and uncover the mystery of this strange geological spectacle. And watch in wonder when this gushing geyser bursts!

Picnic Lunch at Old Faithful
This is your chance to gather 'round and grab some grub before heading off to your afternoon adventures.

Fountain Paint Pot Trail
Discover the strange beauty of fumaroles (steam vents), blue pools, pink mud pots and mini-geysers on a privately-guided exploration though Yellowstone's thermal phenomena. Who knew that Mother Nature had such a wild side?
Dinner in Yellowstone
Take some time with your family to spin tales about the day's adventures over dinner. Adventure Guides can make suggestions and arrangements for an unforgettable meal.
Meals Included: Breakfast and Lunch
---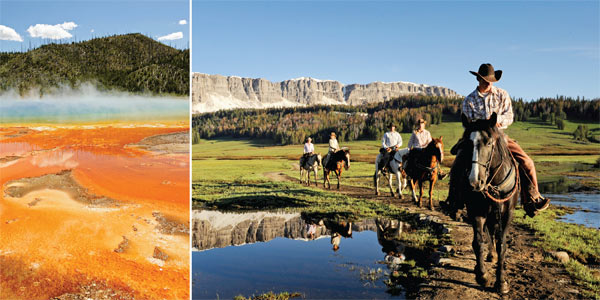 Day 5:
Grand Loop Tour
Quest through glorious Yellowstone National Park and visit the awe-inspiring landmarks that have captured the imagination of artists and adventurers alike. Discover magical places like Hayden Valley, Artist's Point, the Upper and Lower Waterfalls, and Lake Yellowstone.

Grand Canyon of Yellowstone Hike
This phenomenon has to be seen to be believed! Hike around the canyon and marvel at the majesty of this magical place. And keep your eyes open for an abundance of animals!
Lunch in Yellowstone
Unwind with the family at a civilized lunch in the untamed wilderness. Enjoy your meal before you journey deep into the heart of the West.
Arrive at Brooks Lake Lodge
This celebrated lodge features modern spa facilities, a central lodge and individual cabins with western-style furniture. Welcome home!
Dinner and Campfire
Enjoy a home-cooked meal and trade stories about your adventures on the range. Regale your family with terrific tales around a roaring campfire!
Disney Movie
Cuddle up and catch a classic Disney film in a real storybook setting. This is a movie night you will never forget!
Meals Included: Breakfast, Lunch and Dinner
---
Day 6:
Horseback Trail Ride with Cowboys*
Walk in the boots of a real cowboy! Learn to rope, ride, hoot and holler from someone who lives the adventure everyday. Saddle up and explore the mountains on horseback—there's excitement around every bend
Ranch Lunch
Mosey on back to the ranch, dig into a real cowboy lunch, and plan the rest of your day in the Wild West
Afternoon Trail Ride, Fishing or Canoeing
Bring the family together and explore everything the wilderness has to offer. The fish are bitin' in the lake, horses are ready for ridin' and miles of unspoiled nature is just waitin' to be discovered. Yee-haw!
Mountain Hike
Follow a naturalist guide through the forests and learn about the wild flora, fauna and wildlife that call this place home. You won't believe how rowdy it is out there!
Farewell Dinner at the Ranch
Toast to the adventure of the past week, and chow down on one last cowboy meal. Relive your time together and share the memories that your family will cherish for a lifetime!
Meals Included: Breakfast, Lunch and Dinner
* To go horseback riding, you must be at least 7 years old and weigh less than 260 pounds. Children under 7 can still ride but only on BLL property.
---
Day 7:
Breakfast at the Lodge
Bid goodbye to all your fellow adventurers, and enjoy one last breakfast in the Wild West.
Transfers to Airport
Board pre-arranged transportation to the airport and wish your newfound friends "happy trails" until you meet again!
Meal Included: Breakfast
---