Italy and Switzerland
8 Days / 7 Nights
Stresa, Lake Como, Zermatt & Lake Lucerne
The Swiss Alps family vacation from Adventures by Disney begins in Stresa, Italy with a tour of breathtaking Isola Bella Island. Next, be swept up to the astounding heights of Zermatt, Switzerland near the Matterhorn Mountain and follow in the footsteps of the ancient Celts as you approach Lake Lucerne. It's a vacation that will leave you yodeling!
Trip Highlights Include:
Ropes Course & Zip Lining in The Alps

Harness up and navigate over the crisp pines over creeks and paths on Forest Fun Park's ropes course and zip lines with the Matterhorn in view. It's an afternoon of fun and adrenaline for the whole family!


Lake Como Cooking Class

Study pasta making with a professional chef in this private cooking class at the famous Villa Mirabella on the banks of Lake Como. Get access to the mind of a culinary master during this hands-on instruction.


Bike Ride Along Lake Lucerne

Gear up for a trek along the wide waters of Lake Lucerne. Ride along the trails and paths that meander along the edge of the lake's royal blue waters.


Cruise to the island of Isola Bella

Mini Boat Cruise and Tour of Isola Bella Island. A local expert brings you through the exquisite gardens to discover the overlapping terraces, statues, fragrant camellias, bright blooms and fountains.
Adventure Dates
2019

June 10-June 17, 2019
June 21-June 28, 2019
June 28-July 5, 2019
July 5-July 12, 2019
July 11-July 18, 2019
July 26-August 2, 2019
August 2-August 9, 2019
August 15-August 22, 2019
September 6-September 13, 2019: Adult Exclusive (18 and older)
*= Guaranteed departures
Adventure Daily Itinerary
Day One

Arrive in Stresa
Upon arrival at the Milan Airport, an Adventures by Disney representative meets you and escorts you to your transfer vehicle. Relax as the driver assists with your luggage and brings you to the Regina Palace Hotel in Stresa, Italy.
Regina Palace Hotel
Benvenuti! Your Adventure Guides welcome you to bellissimo Stresa. The elegant, turn-of-the-century Regina Palace Hotel rises before you on its immaculately manicured grounds. The hotel overlooks whimsical Lake Maggiore, whose northern tip nudges the nexus of Italy and Switzerland.
Welcome Reception and Dinner
Gather with your fellow adventurers for a private reception and a buffet dinner as your Adventure Guides set the stage and orient you to your multinational surroundings.
Meal Included: Dinner
---
Day Two
Mini Boat Cruise and Tour of Isola Bella Island
After a full American-style buffet breakfast at the hotel, ferry forth to the baroque beauty of Isola Bella Island. A local expert brings you through the exquisite gardens to discover the overlapping terraces, statues, fragrant camellias, bright blooms and fountains. Within the palazzo a wealth of royal artistry awaits in everything from the Flemmish tapestries to the ornate furnishings.
Wine Tasting in Stresa
Upon your return to Stresa, your Adventure Guides escort you to the La Cambusa Wine Shop for an exclusive wine tasting with a sommelier. Sip up to four different local wines as you snack on tasty tidbits. Meanwhile Junior Adventurers enjoy grape juice with cookies.
Afternoon On Your Own
Rest at the hotel and take advantage of its many amenities or venture into town. Stroll the pathways that follow the glistening lake shore, or wander the streets and listen to the lyrical language of Italy. The afternoon is yours to enjoy as you wish!
Welcome Dinner at Monterosso Farm
Say buonasera to your fellow adventurers at an exclusive family-style dinner. The Monterosso is a rustic restaurant nestled on a grand estate surrounded by the verdant Verbano pastures. Relish the fresh fruits and vegetables grown right there on the farm as they make your meal even more delectable.
Pony Rides*
Junior Adventurers saddle up for a pony ride while adults sit back with a glass of wine as they continue to experience the taste of true amore.
*Pony rides are restricted to ages 12 and younger.
Meals Included: Breakfast and Dinner
---
Day Three
Depart for Como
Eat a hearty buffet breakfast before you board the motor coach to romantic Como with its 400-year-old buildings and Romanesque basilicas.
Private Italian Cooking Class
Study pasta making with a professional chef in this private cooking class at the beautiful Villa Mirabella on the banks of Lake Como. Your Adventure Guides will help you connect with the mind of a culinary master during the hands-on instruction.
Lunch at Villa Mirabella
Refresh yourself after the class with a 4-course classic Italian meal.
Lake Como Boat Cruise
Breathe in the poetic scenery that inspired Rossini and Verdi to compose musical masterpieces as you enjoy this exclusive boat tour of one of Italy's most famous lakes. Beneath the silhouette of the Alps, sit back and revel in the passing Baroque villas, fanciful gardens and blossoms bursting with ravishing hues.
Dinner On Your Own in Stresa
Pizza, pasta, rich risotto and succulent seafood—Stresa offers something for everyone and every size appetite. Your Adventure Guides are happy to make suggestions for a family meal to remember.
Meals Included: Breakfast and Lunch
---
Day Four
Depart Stresa for Zermatt, Switzerland
Board a motor coach after a last buffet breakfast at the Regina Palace and head over the formidable Simplon Pass. Wind down this path of antiquity and experience the thrill of the black peaks rising around you like titans standing against the sky.
Cheese Fondue Lunch at Le Mazot
Dip into the steaming melted cheeses of the Alps during this exclusive lunch at the charming Le Mazot Restaurant, perched near the famous Matterhorn mountain. Fondue is a heavenly specialty of Alpine cuisine, so indulge in this creamy feast!
Check in to Grand Hotel Zermatteroff
Relax as your Adventure Guides check you into this cozy hotel in Zermatt, nestled at the base of the alpine slopes with a view of the mighty Matterhorn!
Dinner On Your Own in Zermatt
Ask your Adventure Guides to make arrangements for a memorable meal for you and your family. After dinner try a scrumptious strudel, a cinnamon crepe or even a sip of génépy, the Alpine liqueur.
Meals Included: Breakfast and Lunch
---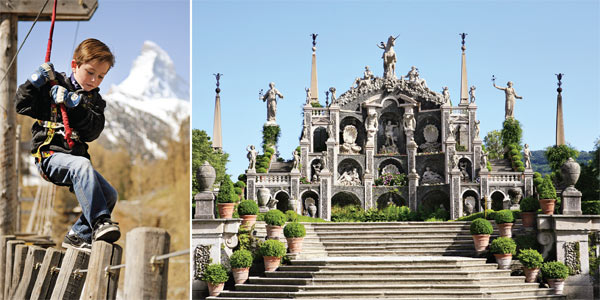 Day Five
Zip-Lining and Ropes Course at Forest Fun Park
Get ready for a morning of fun and adrenaline for the whole family! Ride in a mini electric car to the Forest Fun Park — no regular cars allowed — then harness up and soar through crisp pines over babbling creeks and scenic paths. If you still have the energy, challenge yourself on the park's extensive ropes course. Experience up to 25 bridges and 12 zip lines!

Lunch in Zermatt on Your Own
Exchange tales of your trip thus far at a restaurant of your choice. Be sure to tap your Adventure Guides for eating tips. They're happy to help you plan the perfect family meal

Gornergrat Train Ride
Climb high into the mountains aboard the Gornergrat Cogwheel Train for stunning views of the Matterhorn and lake-dotted vistas below.

Dinner and Disney Movie Night at the Hotel
Feast on regional specialties with your fellow Adventurers at hotel's main eatery. Youngsters convene for a kid-friendly meal in a separate section of the restaurant and then enjoy a Disney movie. Join in the fun with your little ones if you wish or admire the sunset over the Matterhorn if the weather allows.
Meals Included: Breakfast and Dinner
---
Day Six
Journey to Lake Lucerne
Convene for a final breakfast at the hotel then take a train to Taesch, where you and your fellow Adventurers will then ride by motor coach to Andermatt.

Lunch in Andermatt
Take a midday break from your travels and sit down to a satisfying lunch at a traditional Swiss restaurant.

Bike Ride Around Lake Lucerne
Pedal the trails meandering along Switzerland's fourth-largest lake while admiring its expansive royal-blue waters.

Reception at the Hotel Luzeren Schweizerhof
Unwind from the day's events at a private reception overlooking Lake Lucerne as your Adventure Guides handle your luggage and check you in to this elegant hotel.

Dinner at the Hotel
Tonight, dine with your family at the hotel's Restaurant Galerie. Enjoy your meal at a time of your choosing and order from a select menu of local Swiss specialties and delicious seasonal fare from around the globe.
Meals Included: Breakfast, Lunch and Dinner
---
Day Seven
Morning Boat Cruise
Savor bracing Alpine breezes on an exhilarating boat cruise to the far shore of the charming town of Vitznau, nestled in between Lake Lucerne and Mount Rigi, the "Queen of the Mountains."

Lakeside Lunch in Vitznau
Help yourself to a selection of freshly prepared salads and delicious barbecue meats and sausages on a restaurant terrace with majestic views of Lake Lucerne.

Alpine Trail Hike
After lunch, join your Adventure Guides for a scenic hike along the Vitznau Circular Walk. On this loop, see Vitznau from another perspective as you encounter local flora and get an awe-inspiring view of the lake and its surrounding mountains.

Afternoon on Your Own
The choice is yours: Explore the Vitznau area or Lucerne! Since Vitznau straddles the isthmus between Lake Lucerne and Mount Rigi, you're in prime position for either. Feel free to ask your Adventure Guides for suggestions.

Farewell Dinner at the Old Swiss House in Lucerne
Step back in time to 1859, when this landmark restaurant was constructed, and be served by wait staff wearing traditional Lucerne garb! Near Lion Mountain in the very center of the city, the Old Swiss House restaurant serves such authentic Alpine specialties as pig roast and Wienerschnitzel. Reminisce with your fellow travelers about your amazing adventure as you await one final surprise.
Meals Included: Breakfast, Lunch and Dinner
---
Day Eight
Breakfast at the Hotel
Say goodbye to your newfound friends and enjoy one last meal in Switzerland.
Transfer to Airport
Board pre-arranged transportation to the airport and say "auf wiedersehen" until you return again!
Meals Included: Breakfast
---