Ecuador and Galapagos Islands: Quito & Otavalo Valley
9 Days/8 Nights
Quito, Otavalo Valley & Galapagos Islands
The Ecuador and Galapagos Islands family vacation from Adventures by Disney offers a land tour package that begins at the "Middle of the Earth" in Quito. The journey continues to the Andean Highlands with the silvery waterfalls of Peguche and the charming Hacienda Cusín of Otavalo Valley before you set sail through Darwin's paradise—the Islands of Galapagos.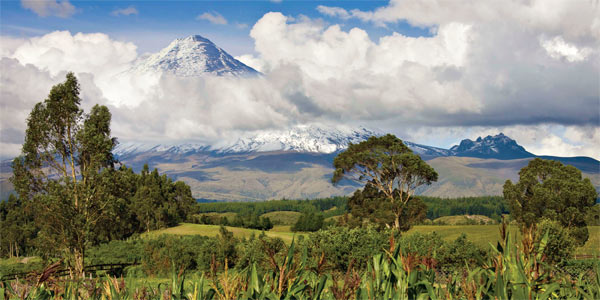 Trip Highlights Include:
Experience the Andean Way of Life

Be entranced by whirling folk dancers at a festive welcome dinner. Immerse yourself in the region's rich culture with a private performance by a local flute maker. And learn weaving techniques from local experts at a renowned cultural center. It's all part of the amazing Andean lifestyle!


4-night Cruise Aboard the Galapagos Explorer II Ship

Board this elegant vessel for an expedition to the islands of Santa Cruz, Santiago, Genovesa and North Seymour. On board the ship, you'll be treated to a private, story-filled stargazing session that gives you the rare opportunity to view the constellations from both the Northern and Southern hemispheres.


Hiking and Snorkeling in the Galapagos Islands

Hike across the islands of the Archipelago and submerge yourself in exotic underwater worlds. Encounter unique animal life - like pink flamingos, blue-footed boobies, sea turtles, giant tortoises, red frigate birds, iguanas, penguins, sea lions and other incredible creatures.


Visit the "center of the Earth" - Quitsato Equator Sundial

Stand at the center of the world as you visit this enormous sundial. Sitting precisely on the equator, the sundial marks not just the location but the cultural identity of Ecuador.


Cooking Lessons in Ecuador

Discover how delicious Ecuadorian treats like ice cream, empanadas and fried bananas are made at the Hacienda Cusin, the 17th-century Andean estate where you will be staying for 3 nights.
Ecuador and Galapagos Islands - Adventure Dates
None
*= Guaranteed departures
---
Adventure Daily Itinerary
Day One

Arrive in Quito
Upon arrival at the Quito Airport, an Adventures by Disney representative meets you and escorts you to your transfer vehicle. Relax as the driver assists with your luggage and brings you to the JW Marriott Hotel.
JW Marriott Hotel
Welcome to Quito, also known as "The Middle of the Earth"! This luxury hotel in the capital of Ecuador is surrounded by spellbinding views of the magnificent, snow-capped mountains and volcanoes outside of the city. Sit back and stretch your legs while your Adventure Guides check you in. If your flight arrives earlier in the day, opt to have a family dinner in the hotel.
Meals Included: None
---
Day Two
Welcome Breakfast
Meet your fellow Adventurers and Adventure Guides at an exclusive breakfast at the hotel. Say Buenos días! as you get ready for a day of excitement.
Quitsato Equator Sundial
On a privately guided tour, visit this giant sundial with a diameter of 177.64 ft. (54 m.). Placed precisely on the equator, it tells time by the shadows its gnomon casts. A local expert introduces you to the monument, its history and that of Quito, the city standing at the "Center of the World".
Rose Plantation Tour
Visit this fragrant plantation that grows colorful roses in greenhouses that stretch for many miles. With the perfect climate and humidity for growing roses—and with fertile soil in the highlands region—Ecuador now counts on roses as a major export.
Lunch at a Local Restaurant
Savor a traditional lunch in a delightful, local restaurant.
Flute-Making and Music Demonstration
Make a wooden Andean flute with a famous musical family—and take it home with you! Then enjoy a musical demonstration. Learn about the variety of pan flutes and other instruments that create the joyful music of Ecuador
Exclusive Weaving Demonstration
Discover the art behind the woven handicrafts of Ecuador, world-famous for their bold colors and dazzling craftsmanship. Learn from expert artisans how diverse dyes are created and other age-old secrets of weaving.
Welcome Greeting at the Puertolago Country Inn
Be greeted by the inn's friendly staff. As your Adventure Guides check you into this stunning resort overlooking the Imbabura volcano on the shore of San Pablo Lake, learn about the fascinating history of the Andean Highlands.
On Your Own Time at the Puertolago Country Inn
Explore the beautiful gardens in this lakeside setting, surrounded by the striking landscape of Imbabura Volcano.
Folk Dance Show
Thrill to traditional Ecuadorian dancers in their brilliantly hued costumes as they entertain you with vibrant dancing—and then draw you into the joyous swirl!
Welcome Dinner at the Inn
Welcome to the charming restaurant at the Puertolago Country Inn. Spend time with your fellow Adventurers as you dine on a meal featuring. Ecuador's robust cuisine!
Exclusive Disney Movie Night
Junior Adventurers can enjoy a Disney movie with snacks and soft drinks. Grown-ups are welcome to join in the fun. If you prefer, visit the games room or read a book by the fire.
Meals Included: Breakfast, Lunch, and Dinner
---
Day Three
Breakfast at the Inn
Have a leisurely breakfast at the inn before you board the motor coach heading to Parque Condor.
Parque Condor and Kite Flying
Learn about the history and important work-in-progress at Parque Condor, a refuge devoted to saving the Andean condor from the threat of extinction. Afterwards, if weather permits, join your Adventure Guides as you take a kite and fly it above the lush grasses that blanket the hillsides of Otavalo.
Lunch at a Hacienda
Share stories about your morning's travels with your fellow Adventurers as you delight in a traditional lunch at a historic hacienda in Otavalo.
Otavalo Market
Lose yourself in this magnificent market filled with vivid art and colorful woven textiles. Practice your bartering skills as you interact with the sellers—and unearth great finds!
On Your Own Time at the Puertolago Country Inn
Rent a boat and either row, pedal or motor across the lake. Enjoy the tennis and volleyball courts and the games room with its pool table, card table and indoor football. Or relax in the reading room that contains daily papers and magazines. For the kids, there's a fun play area.
Exclusive Wood Painting Activity
Brush up on your creative skills. Follow the lead of local artists and paint on wood using the traditional, vibrant colors of the area.
Cooking Lesson at the Inn
Attend an exclusive culinary demonstration and create a rich, homemade ice cream as well as empanadas!
Dinner at the Inn
Relax with the other Adventurers while you share a meal as well as stories from the day.
Evening Activities at the Inn
Play pool and other games in the game room. If you prefer, relax by the fire at this comfortable retreat.
Meals Included: Breakfast, Lunch, and Dinner
---
Day Four
Fly to the Galápagos Islands
Eat an early breakfast at the inn before your Adventure Guides take you to Quito International Airport for your flight to Baltra.
Arrive at Baltra Airport
Welcome to the Galapagos Islands! After arriving at Baltra Airport on the island of Baltra, take a motor coach to the Itabaca Channel and then board a small ferry that takes you to the north shore of Santa Cruz Island. Upon arrival, board a bus to the forested highlands of Santa Cruz Island to learn about the geology and biodiverse ecosystem of this mountainous region.
Lunch at a Local Restaurant
Taste the flavors of Santa Cruz at a local restaurant.
Santa Cruz Island – Las Bachas
Take a privately guided tour of this glorious white beach on the north shore of Santa Cruz Island—with several brackish lagoons only a few steps away from the sea. These lagoons are the feeding grounds of various wading birds, from stilts to flamingos. Take this opportunity to get acquainted with snorkeling gear and techniques for an afternoon of fun in the sun!
Welcome Cocktail & Dinner Aboard the Santa Cruz II Ship
Take a bus ride to Puerto Ayora and board Santa Cruz II. After a warm welcome and introductory briefing, enjoy a cocktail with your fellow Adventurers prepared just for you. Swap stories in the dining room while enjoying a delicious meal.
Stargazing
See the night sky like never before. Identify the stars that are often obscured by city lights from the deck of this exclusive ship anchored in the waters of the Galápagos Islands.
Meals Included: Breakfast, Lunch, and Dinner
---
Day Five
Breakfast Onboard the Ship
Begin the day with a hearty breakfast and get ready for a day of adventure.
Guided Tour of Buccaneer Cove
After breakfast onboard, explore the coastline along the impressive cliffs of Buccaneer Cove and learn about the area's distant and recent history. The cove is home to a large number of marine birds, sea lions and intertidal organisms. Enjoy fantastic natural formations such as the "Elephant Rock", "The Bishop" and an impressive nature cave. This is a great site for snorkeling or a panga ride.
Lunch Onboard the Ship
Gather together onboard to dine on a delicious buffet lunch.
Guided Tour of Puerto Egas on Santiago Island
Once we disembark at the beach, enjoy a swim or snorkel amid a rocky shoreline—usually in the company of marine turtles! From here, head for a fascinating walk, which provides a great opportunity to see land and marine birds amid landscape of tuff-stone layers and lava flows. At low tide, you might see marine iguanas graze upon the algae beds and a colony of fur-sea lions. Non-snorkelers can enjoy a longer walk.
Dinner Onboard the Ship
Join your fellow Adventurers for a fantastic family meal in the ship's dining room.
Ship Activity
Enjoy the game rooms and movie rooms on the ship.
Meals Included: Breakfast, Lunch, and Dinner
---
Day Six
Breakfast Onboard the Ship
Fuel up for the adventure-filled day ahead.
Guided Tour of Rábida Island
Land on Rábida Island, with its red-colored beach caused by an unusually high content of iron in the volcanic material that forms it. As you walk along the beach, be on the lookout for sea lions, marine iguanas, mockingbirds, yellow warblers and several species of Darwin's finches. Also, visit a nearby salt pond that hosts migrating greater flamingos at certain times of the year. Enjoy snorkeling from this beach—a great place both for beginners and experienced snorkelers to see underwater species and submarine landscapes. Non-snorkelers can enjoy a ride on the glass bottom boat or a panga ride. And keep your eyes open when we navigate to the next island—dolphins are often spotted along the way!
Lunch Onboard the Ship
Take a break with your fellow Adventurers and enjoy lunch onboard.
Guided Tour of Bartolomé Island
Begin with a wet landing on the golden beach of this famous island, dominated by the imposing Pinnacle Rock. Enjoy great snorkeling and swimming near the beach and take a wonderful ride in a glass bottom boat if you want. After returning to the Santa Cruz II ship, split into 2 groups. The first group takes a hike to this diminutive island's summit that boasts fantastic views of the archipelago. The climb is moderately steep but it's made easier with the help of a wooden staircase, resting platforms and handrails—and the view from the top is worth the effort! The second group jumps on pangas to explore the rugged and volcanic shoreline. After you've finished your activity, change groups and experience how the other half lives!
Dinner Aboard the Ship
After the day's adventures come to a close, adults can enjoy a private dinner with other Adventurers while their kids participate in their own dining experience. This is a great chance to share not only a meal but also stories about your day's experiences.
Junior Adventurer Pizza Party
Junior Adventurers can get acquainted as they devour pizza at a private party designed just for them.
Disney Movie Night
Relax on the ship while Junior Adventurers have fun watching a Disney movie with snacks and soft drinks. Grownups can always join in the fun if they wish!
Meals Included: Breakfast, Lunch and Dinner
---
Day Seven - 2017
Breakfast Onboard the Ship
Enjoy an early breakfast on the ship before your day of exploration begins.
Guided Tour of Genovesa Island – Prince Philip's Steps
Disembark the Santa Cruz II at Prince Philip's Steps for a guided tour of this dramatic island. Panga-ride along the cliff paths and perhaps catch a glimpse of great frigate birds, Nazca boobies, red-footed boobies, storm petrels and more. Walk along a trail of volcanic rock and climb 90 feet (27.4 meters) on a series of steep steps along the rocky path carved directly into the island's volcanic walls for a magnificent view. Swim or snorkel in the bay as you like, with a chance to spot lots of fish, including hammerhead sharks.
Lunch Onboard the Ship
Relax with your fellow Adventurers over lunch and share stories of your adventure.
Guided Tour of Darwin Bay
Enjoy a privately guided tour of Genovesa Island. One of the best bird watching areas in the archipelago, it is home to thousands of birds including red-footed and Nazca boobies, swallow-tailed gulls, herons, finches, Galápagos doves, great frigate birds and Galápagos mockingbirds. In addition to birds, there are California sea lions, fiddler crabs and an occasional waved albatross or shark. Hike along the uneven lava terrain to get spectacular views. Swim and snorkel in the cool waters—or else take a stroll along the beach or enjoy a panga ride.
Dinner Onboard the Ship
Savor this dinner prepared by the ship's chefs and served to you and your fellow Adventurers in the dining room.
Exclusive Farewell to the Galápagos Islands Drink & Dessert
Gather with your fellow Adventurers for an exclusive farewell drink and a scrumptious dessert. Toast the times you've shared on this unforgettable journey into Darwin's paradise.
Meals Included: Breakfast, Lunch, and Dinner
---
Day Eight
Disembark the Santa Cruz II
After breakfast, say goodbye to the Santa Cruz II.
Guided Tour of San Cristóbal Island and Tortoise Breeding Center
If you like, after your last breakfast on the Santa Cruz II, you can enjoy a guided tour of San Cristóbal Island, which includes the capital of Galápagos Province, Puerto Baquerizo Moreno. Head over to Cerro Colorado and visit the forested breeding ground of of giant tortoises. Learn about this endangered species and the programs in place that facilitate its promising recovery.
On Your Own Lunch on San Cristóbal Island
Enjoy a delicious Ecuadoran lunch at one of the fine restaurants on this island. Ask your Adventure Guides to recommend one that would best fit your family's tastes.
Journey Back to Guayaquil
Take a plane from Baltra Airport to the vibrant city of Guayaquil on the mainland, the most populous city in Ecuador. Enjoy a bag lunch on the plane.
Hilton Colon Guayaquil Hotel
Your Adventure Guides check you in so you can freshen up before dinner in your room.
Farewell Dinner in Guayaquil
Dine with your fellow Adventurers at this final feast in Ecuador. Relive together the highlights of your trip.
Exclusive – Traditional Ecuadorian Musical Entertainment
Sway with the rhythms that rock the Andean mountains at this exclusive musical show featuring Ecuadorian musicians who give music lessons to all wanting to play the pipes!
Meals Included: Breakfast and Dinner
---
Day Nine
BREAKFAST AT Hilton Colon Guayaquil Hotel
Enjoy one final breakfast in Ecuador before your departure.
Transfer to Guayaquil International Airport
Board your pre-arranged transportation to Guayaquil International Airport and say adiós to Ecuador—until you return again!
Meals Included: Breakfast
---