Germany Vacation
9 Days / 8 Nights


Heidelberg, Waldeck, Rothenburg and Munich
---
Germany family vacations from Adventures by Disney trace a route from Heidelburg to Waldeck to Rothenburg and come to a close in Munich. Storybooks come alive in the romantic towns and dramatic castles of southern Germany. Write your own family legends when you travel fairy tale roads and the narrow streets of medieval towns.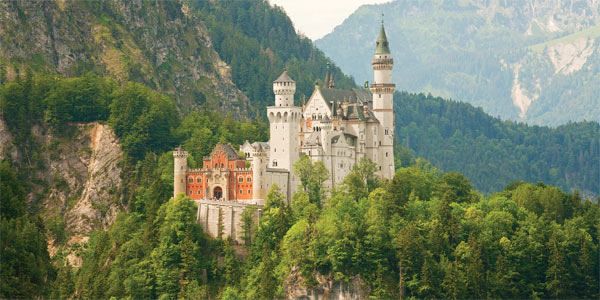 Trip Highlights Include:
Neuschwanstein Castle

Visit the magical snowy-white castle of King Ludwig II—one of the inspirations for Sleeping Beauty Castle at Disneyland Park.


Biking and Ferry Ride in Waldeck

Pedal on a winding trail along a dazzling Alpine lake and through the local countryside, followed by a ferry ride on Lake Edersee.


Stay in a Fairy-Tale Castle

Spend 2 fairy-tale nights at Hotel Schloss Waldeck, an 11th-century castle perched high above the Edersee.


The Steiff Bear Museum

Take a magical interactive tour of the famous Steiff Bear Museum. The company's founder, Margaret Steiff, invented the teddy bear. The tour is followed by a hands-on activity.


Celebration at Hofbrauhaus

Gather with your fellow adventurers in one of the oldest beer halls in Germany for a grand farewell feast. Savor a superb dinner with entertainment including rousing accordionist and lively German dancers.
Adventure Dates
2017

May 26-June 3, 2017
June 9-June 17, 2017*
June 23-July 1, 2017*
July 7-July 15, 2017
July 21-July 29, 2017
August 4-August 12, 2017
September 22-September 30, 2017*: Adult Exclusive (18 and older)
*= Guaranteed departures
Adventure Daily Itinerary
Day One
Arrive at Frankfurt Airport
Willkommen! Upon exiting customs, you will be met by an Adventures by Disney representative who will escort you to your transfer vehicle. Relax as the driver assists with your luggage and escorts you to the Crowne Plaza Hotel in Heidelberg.
The Heidelberg Marriott Hotel
Unwind from the flight in this comfortable hotel situated in the heart of the storybook city of Heidelberg as an Adventure Guide checks you in.
Welcome Reception and Dinner
Meet your fellow adventurers and say "Guten tag!" at this reception in the hotel as you participate in an entertaining orientation and dinner with your Adventure Guides.
Meal Included: Dinner
---
Day Two
Heidelberg Castle Tour
Explore majestic ruins as you walk up ancient stairways and down the cobblestone walkways of this incredible red-stone castle, once a fortress and the home of royalty. Tour the castle with your Adventure Guides and meet some surprise guest characters from the castle's past!

Lunch on Your Own in Heidelberg
Discover the specialties of the German southwest. Your Adventure Guides will be happy to offer recommendations for lunch on your own.

Explore Heidelberg on Your Own
In the afternoon, while on your own, you may choose to wander the cobblestone streets and admire the Baroque architecture of charming Heidelberg. Or, wind your way up the Philosopher's Path for special views of Old Town and the castle and treat yourself to the mile-long shopping street. Don't miss the magnificent cakes and pastries from this region!

Dinner at Zum Güldenen Schaf
Come together with the other Adventurers and celebrate the beginning of your vacation at this renowned local restaurant filled with historic artifacts and featuring an authentic German biergarten.
Meals Included: Breakfast and Dinner
---
Day Three
Journey to Alsfeld
Following breakfast at the hotel, take a motor coach to the charming city of Alsfeld. Upon arriving in this medieval town, meet the Brothers Grimm, who lived in this region. Tour the city with the brothers as they talk about their lives and the stories they wrote in this picturesque place.
Picnic Lunch and Storytelling at Alsfeld Museum
Enjoy a picnic in the courtyard of the delightful Alsfed Museum. Like a gingerbread house from a fairytale, this timber-frame museum is classic old German architecture. Before lunch, Little Red Riding Hood will tell you her own story.
Journey to Waldeck
Travel through the romantic countryside to the charming town of Waldeck. There you'll discover, perched over the forests and surrounded by mountains, your very own fairytale castle hotel appointed with a host of modern amenities.
Welcome Reception at Hotel
Upon arrival, medieval characters will greet you and orient you to the Hotel Schloss Waldeck. Gather for a special view of the Edersee as they welcome you to your royal retreat for the next two nights.
Dinner at Hotel
Enjoy incredible views of Lake Edersee as you dine within your hotel's 800 year old walls.
Disney Movie Night
While adults take a break at the hotel from the day's activities, Junior Adventurers enjoy a Disney movie with snacks and soft drinks.
Meals Included: Breakfast, Lunch and Dinner
---
Day Four
Lake Edersee Bike Excursion and Ferry Ride
Start the day with a privately guided bike ride through the charming German countryside. A local expert will take you on a smooth path through the leafy grounds. Afterward, enjoy a relaxing boat ride on Lake Edersee.

Cookout Lunch at Restaurant Strandhaus No. 12
After an energetic morning, relax lakeside and enjoy a hearty barbeque meal at Restaurant Strandhaus No. 12.

Archery in the Countryside
Learn the ancient art of archery from a local expert and spend some time on your own strolling the verdant countryside around the hotel.

Beer Tasting
Raise a stein as you participate in a beer tasting session featuring beers from a local brewery. Choose your favorite to drink!

Dinner on Your Own
Relax in one of the splendid sitting rooms or stroll the magical countryside surrounding the hotel as you enjoy free time to explore this evening. Your Adventure Guides are happy to suggest a wonderful place for dinner.
Meals Included: Breakfast and Lunch
---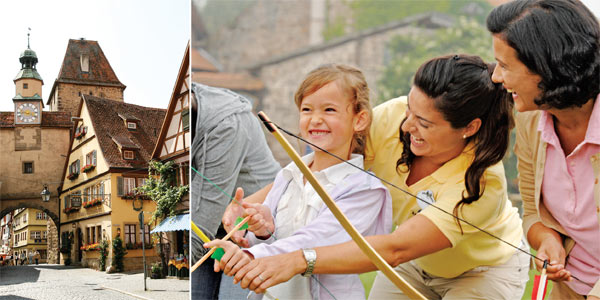 Day Five
Journey to Löwenburg Castle
Travel by coach to the amazing Löwenburg Castle created by Landgrave Wilhelm IX, known as the Walt Disney of his era!
Löwenburg Castle Tour
Enjoy a "royal" welcome when a German princess rolls out the red carpet and greets you at the castle. Follow the princess on a tour of the castle complex and its grounds. Discover the lavishly decorated medieval, Renaissance and baroque rooms, the weapons room with its famous Black Knight suit of armor, and the opulent Gothic-style chapel.
Lunch at Gutshof Kassel Restaurant
Dine in the lordly ambiance of this beautiful manor house that once fed the sovereigns at the nearby castle.
Journey to Rothenburg
All aboard the coach as it takes you to historic Rothenburg. When you arrive, your Adventure Guides will check you into the esteemed Hotel Eisenhut, which was once home to Rothenburg's wealthiest families.
Dinner On Your Own in Rothenburg
Once you arrive, take your pick of casual and fine dining establishments. Be sure to ask your Adventure Guide for recommendations for dining on your own to ensure you have a meal you and your family will never forget!
Night Walk with the Night Watchman
On this twilight tour, follow the lively Night Watchman as he leads you by lamp light down the town's lanes and regales you with legends. View Rothenburg's impressive scenery and sagas in a whole new light.
Meals Included: Breakfast and Lunch
---
Day Six
Make Pretzels
For fun with a twist, learn to make pretzels from the chef at the Striffler Bakery—the city's oldest bakery! Enjoy this hands-on experience as you create a favorite German snack at a location famous for making pretzels since 1644.

Lunch on Your Own in Rothenburg
Enjoy a tasty lunch at one of the town's many cafés and restaurants. Revel in the storybook beauty of this renowned German city as you wander through its quaint roads past colorful shops with half-timbered gables. Your Adventure Guide can recommend a variety of activities and must-see sights for a wunderbar afternoon!

Medieval Knight and Princess Costume Dress-Up
Try on costumes and pose for pictures in this local medieval shop that is actually a historic location.

Dinner at the Hotel Eisenhut
Dine behind historic walls as you enjoy a fine dinner of authentic German cuisine at one of the oldest hotels in the town.
Meals Included: Breakfast and Dinner
---
Day Seven
Unique hands-on activity at the Steiff Bear Museum
Travel by motor coach to the wonderful countryside of Giegen for a magical interactive tour of the famous Steiff Bear Museum. The company's founder, Margaret Steiff, was the inventor of the teddy bear. The tour is followed by a hands-on bear activity.
Romantic Road to Munich
Travel south along the scenic "Romantic Road to Munich" by motor coach until you arrive at the Kempinski Hotel. Sit back and admire the old-world lobby as your Adventure Guides check you into this historic hotel.
Walking Tour of Munich
Explore the beautiful, cosmopolitan capital of Bavaria with a local expert. Learn about the wealth of architecture, art and history in Munich's palaces, gardens and museums.
Dinner On Your Own in Munich
Choose from an array of delicious local options when you dine on your own. Whether you're looking for a unique experience or more traditional fare, you are sure to find an unforgettable meal for your entire family.
Included Meals: Breakfast and Lunch
---
Day Eight
Neuschwanstein Castle
Enjoy this excursion to the magical snowy-white castle of King Ludwig II, a tremendous inspiration to Walt Disney as he designed the Sleeping Beauty Castle. Known as the Fairytale King, Ludwig II built a fantasy world of great beauty and elegance in this castle where he lived and died, combining the architectural marvels of a storybook palace with the latest technological conveniences. Lose yourself in the dreams of this poetic king of Bavaria as you are guided through the exquisite halls and rooms born of his imagination.
Horse-Drawn Carriage Ride and Lunch
Take a relaxing horse-drawn carriage ride through the German countryside to the historic Hotel Muller Hohenschwangau. As you dine, you're treated to a stunning view of Neuschwanstein Castle.
Journey to Munich
Enjoy a scenic trip from Hohenschwangau to the capital of Bavaria, Munich.
Farewell Dinner at Hofbrauhaus
Gather with your fellow adventurers in one of the oldest beer halls in Germany for a grand farewell feast. Enjoy a superb dinner with entertainment of rousing oompa music and lively German dancers.
Meals Included: Breakfast, Lunch and Dinner
---
Day Nine
Breakfast at the Kempinski Hotel
Say goodbye to your newfound friends and enjoy one last meal in Munich.
Transfer to Airport
Board pre-arranged transportation to the airport and say "auf wiedersehen" until you return again!
Meals Included: Breakfast
---