San Francisco and Napa Valley
4 Days / 3 Nights
San Francisco & Napa
NORTH AMERICA | Fisherman's Wharf, Napa Valley, Muir Woods, Sausalito, The Presidio


Discover the dazzling city of San Francisco, with a myriad of cultures that gives it an identity all its own. Explore the acclaimed sites of this bustling metropolis known as the "City by the Bay" and learn its storied history. Visit the neighboring wine country and redwood forests. And be swept away by the sights, flavors and overall ambiance of Northern California on this amazing long weekend vacation!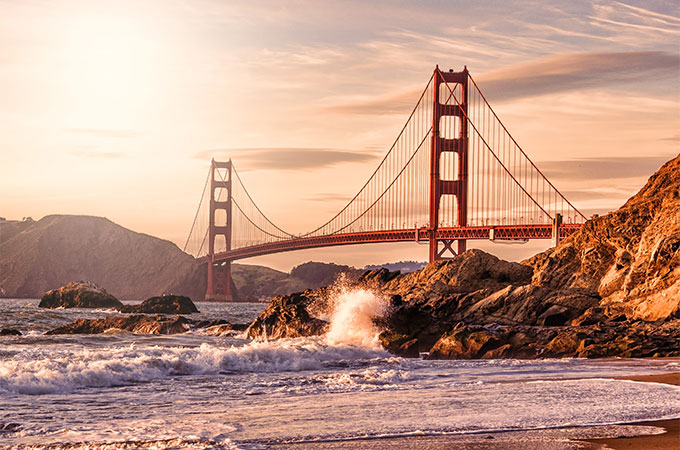 Trip Highlights Include:
San Francisco Bay Bike Tour
Pedal along the edge of the Bay and into the Golden Gate National Park Recreation Area.
Muir Woods National Monument
Walk amongst giants as you walk along the trails that weave through the redwood trees.
Walt Disney Family Museum
Revel in a private tour of this museum dedicated to the man and his magic—Walt Disney.
Silverado Vineyards
Explore the fertile soil and try your hand at grape stomping as you tour this renowned vineyard.
Yoda Fountain Photo Op at Lucasfilm
Pose, you will—at this statue of one of Star Wars' most beloved characters.
Kayaking in Sausalito
Paddle the calm waters of Sausalito's Model Bay and see the area's famed floating houses.
Adventure Dates
NO ADVENTURES SCHEDULED
*= Guaranteed departure
Adventure Daily Itinerary
Day One
WELCOME BREAKFAST AT HOTEL
Meet your Adventure Guides and fellow Adventurers in the hotel lobby by 7:30 AM for a tasty breakfast before setting out on your first day in San Francisco.
PANORAMIC CITY TOUR
Hop aboard an air conditioned motor coach for a privately-guided tour of the scenic city of San Francisco.
GUIDED BIKE TOUR OF THE BAY
Enjoy a bike tour along the edge of the San Francisco Bay and into the Golden Gate National Recreation Area. On the way, stop at the Palace of Fine Arts and then continue on to Fort Point.
LUNCH AT BISTRO BOUDIN
Celebrate local history and enjoy spectacular views as you dine at this unique waterfront restaurant located at the famed Fisherman's Wharf.
DINNER AT M.Y. CHINA
Enjoy the very best in modern Chinese cuisine with a delicious multi-course, family style dinner at M.Y. China—along with a noodle-pulling demonstration by a M.Y. China chef!
---
Day Two
BREAKFAST AT THE HOTEL
Enjoy a nice breakfast at the hotel before setting out for your day in Napa Valley.
MUIR WOODS NATIONAL MONUMENT
Take a stroll along a boardwalk at the serene Muir Woods National Monument and marvel at the natural beauty of the giant redwoods.
VISIT SILVERADO VINEYARDS
Spend time in a beautiful vineyard in one of the Bay Area's fertile valleys that delivers some of the world's finest wines! Adventurers get to play "winemaker" as they take a feet-first foray into the fine – and fun – art of grape stomping.
LUNCH AT SILVERADO VINEYARDS
Sit down for a mouthwatering catered lunch while overlooking the picture-perfect vineyards.
DINNER ON YOUR OWN
With San Francisco being a world-famous gastronomic destination, choose where you want to dine from a vast array of restaurants representing diverse cultures and traditions. Please be aware that many of the most popular restaurants book weeks—sometimes even months—in advance. So if you have a specific restaurant in mind, book it yourself in advance. Dinner reservations should be for any time after 7:30 PM. If you would like a recommendation for an ideal restaurant for your family, just ask your Adventure Guides!
---
Day Three
BREAKFAST AT HOTEL
Enjoy a nice breakfast at the hotel before setting out for your day in Napa Valley.
KAYAKING IN SAUSALITO
Enjoy a leisurely 90-minute kayaking activity with your family in Model Bay in Sausalito, where you may have the opportunity to see the Harbor Seals and floating homes. 
ON YOUR OWN LUNCH IN SAUSALITO
Find a delicious lunch spot while taking in the outstanding views of the San Francisco skyline and exploring the quaint town of Sausalito. Follow up lunch with some leisurely stroll in the stores and galleries along the main thoroughfare, Bridgeway, and the charming waterfront area.
FERRY FROM SAUSALITO TO SAN FRANCISCO
Relax and enjoy the scenic 30-minute trip across San Francisco Bay featuring spectacular views of Alcatraz and the Golden Gate Bridge.
PHOTO STOP AT LUCASFILM CAMPUS IN THE HISTORIC PRESIDIO DISTRICT
Take photos in front of the iconic Yoda fountain on the Lucasfilm campus in the historic Presidio District of San Francisco.
WALT DISNEY FAMILY MUSEUM PRIVATELY GUIDED TOUR
Cherish a privately guided tour of the Walt Disney Family Museum and discover what's behind the magic of Disney creations. Enjoy interactive exhibits about the life and genius of the man-behind-the-mouse, Walt Disney. After the tour, explore the exhibits on your own—and shop in the Museum's store for some one-of-a-kind Disney merchandise!
FAREWELL DINNER AT LOCAL RESTAURANT
Relive your adventures over dinner and drinks at one of San Francisco's award-winning restaurants.
---
Day Four
BREAKFAST AT HOTEL
Enjoy a light breakfast at the hotel before transferring to the airport to begin your journey home.
TRANSFER TO SAN FRANCISCO INTERNATIONAL AIRPORT (SFO) OR OAKLAND INTERNATIONAL AIRPORT (OAK)
Board pre-arranged transportation and depart for San Francisco International Airport (SFO) or Oakland International Airport (OAK).