Winter in Wyoming Long Weekend
5 Days / 4 Nights
Jackson Hole and Yellowstone National Park
Wyoming family vacations from Adventures by Disney journey though Jackson Hole and Yellowstone National Park. See the Wyoming Wilderness from a whole new point of view - dog sled! Relax in hot springs, discover Yellowstone's natural beauty and witness the eruption of Old Faithful on this vacation to remember.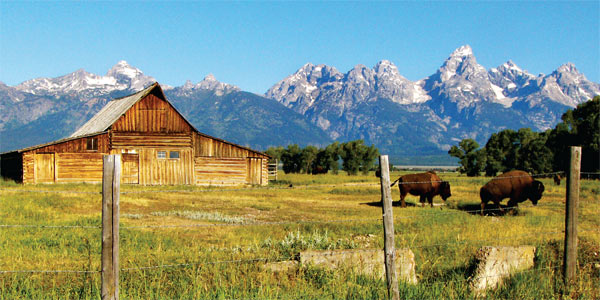 Trip Highlights Include:
Yellowstone's Winter Wonderland
Discover the glory of winter in Wyoming, with its majestic, snow-covered mountains, steaming geysers and roaming wildlife.


Iditarod Dog Sledding
Learn the art of "mushing" against a backdrop of powdery white snow while a team of enthusiastic sled dogs guides you through the Wyoming wilderness.


Relaxing in Granite Hot Springs
After sledding through the frosty terrain, soak in the invigorating waters of this scenic spring and take in the magnificent views of the mountain.


Tour the Lower Loop of Yellowstone
Explore the Lower Loop with a naturalist guide as you ride a snowcoach to such extraordinary sights as Black Sand Basin, Fountain Paint Pots, the Grand Canyon of the Yellowstone and much more!


Old Faithful
Witness the spectacular plumes of steam unfurling above the snowy landscape as this famous geyser erupts in the winter months.


Evening Sleigh Ride
Savor a picturesque sunset among the Tetons as you bundle up for a cozy sleigh ride and stop for hot beverages and appetizers 'round a crackling campfire.


Adventure Dates
2020
December 19-December 23, 2020
December 26-December 30, 2020
December 31, 2020-January 4, 2021
2021
January 6-January 10, 2021: Adult Exclusive (18 and older)
February 13-February 17, 2021: Adult Exclusive (18 and older)

Adventure Daily Itinerary
Day 1
Welcome Breakfast
Your adventure begins with a morning meet and greet with your fellow travelers in the lobby of the Wort Hotel along with a welcoming breakfast. Then board a motor coach for the first leg of your journey to Yellowstone National Park.

Lunch at Flagg Ranch
Stop at this picturesque ranch where you will enjoy a delicious boxed lunch before continuing your journey to Yellowstone National Park.

Journey to Yellowstone National Park via West Thumb Geyser Basin
Board a vintage snow vehicle and set off on a 4-hour trek to Yellowstone National Park and your first hotel—Old Faithful Snow Lodge. Keep your camera handy as the coach makes stops along the way at both flowing and frozen waterfalls, steaming geysers and a one-hour interpretive walk around West Thumb Geyser Basin.

Arrive at Old Faithful Snow Lodge
Located near the famed geyser, this contemporary hotel complements the natural surroundings with timber construction and authentic western furnishings. Enjoy these cozy accommodations nestled in a snowy haven—they will be your home away from home for the next 2 nights.

Dinner at Old Faithful Snow Lodge
Settle into your snowy haven with a private dinner at the hotel. Have a hearty meal, share some laughs and get ready for your quest.
S'mores and More!
After dinner, settle down for s'mores and storytelling as your Adventure Guides spin a yarn or two about the lore of the land.
Meals Included: Breakfast, Lunch and Dinner
---
Day 2
Morning Wildlife Excursion to Madison Junction
Board a vintage snow vehicle as you begin your excursion through glorious Yellowstone National Park. Join a naturalist guide for an easy hike to the Black Sand Pools. Be alert and on the lookout for local residents like bison, elk, bald eagles, coyotes, swans, otters and moose!

Indoor Picnic at the Old Faithful Snow Lodge
Gather 'round to share stories and grab some grub before continuing on your amazing adventure.

Snowshoe adventure around Old Faithful
Get the chance to see Old Faithful erupt during an afternoon Snowshoe excursion around the area led by a naturalist guide.

Dinner at Old Faithful Snow Lodge
Gather in the main dining room for a leisurely dinner at a time of your choosing. Dinner tonight is on us!
Meals Included: Breakfast, Lunch and Dinner
---
Day 3
Depart Yellowstone National Park
Say farewell to Old Faithful as you begin your journey to Jackson Hole! The snow-capped peaks of the awe-inspiring Teton Mountain Range provide your western welcome to Jackson and the historic Wort Hotel.

Lunch at Flagg Ranch
Enjoy a brief stop where you can stretch your legs and enjoy a bountiful boxed lunch before continuing on your journey.

Arrive at the Wort Hotel
Unwind and enjoy the wintry scene that surrounds you as your Adventure Guides check you into the historic Wort Hotel—your home for the next 2 nights!

Evening Sleigh Ride and Dinner in a Tipi
Bundle up for a sleigh ride and watch the sun dip behind the Teton Mountains. Once at camp, sit back and enjoy hot beverages and appetizers around a roaring fire along the banks of the Snake River. And—as if that weren't cozy enough—venture inside a heated tipi for tonight's wilderness dinner.
Meals Included: Breakfast, Lunch and Dinner
---


Day 4
Jackson Hole Iditarod Sled Dog Tour
Fuel up on breakfast at the hotel before you embark on a howling good time! Learn the art of "mushing" on a modern sled with a musher-guide. Take turns guiding these beautiful dogs or riding the sled as it dashes over the powdery white snow through majestic scenery.

Granite Hot Springs
After sledding through frosty terrain, relax in the steaming, rejuvenating waters of these natural hot springs. Nestled in the Gros Ventre Mountains, this getaway sits beneath the snow-kissed branches of towering fir trees. Float, swim and soak as you marvel at the magnificent view.

Lunch at Granite Hot Springs
Refreshed and invigorated by the spring waters, sit down for a hearty hot stew lunch, surrounded by the springs and sled dog teams. Afterward, mush back to the Husky camp before returning to your hotel for tonight's Farewell festivities.

Farewell Dinner at The Wort Hotel
Gather at the hotel with your fellow Adventurers for a festive farewell dinner. Toast your newfound friendships and the extraordinary beauty you've shared over the past few days—all to the soundtrack of live cowboy music.
Meals Included: Breakfast, Lunch and Dinner
---
Day 5
Breakfast at the Hotel
Bid goodbye to your fellow Adventurers and enjoy one last breakfast in the wintery Wild West. Wish your newfound friends "happy trails" while we handle your transportation to Jackson Hole Airport (JAC).
Meals Included: Breakfast
---