Ecuador - Amazon and Galapagos Islands [2020 only]
12 Days / 11 Nights
Ecuador: Amazon and Galapagos Islands
Quito, Napo River, Galapagos Islands, Guayaquil


For 2021, this becomes a 11 day, 10 night adventure with three options. Click for details.
Journey to a country that sits exactly on the equator! Officially known as the "Republic of the Equator," Ecuador boasts extraordinary geographic areas—many listed as UNESCO World Heritage Sites. Experience guided tours with a natural historian. And be awestruck by Amazon rainforests and the astonishing Galápagos Islands where you can encounter animal and plant species found nowhere else on earth.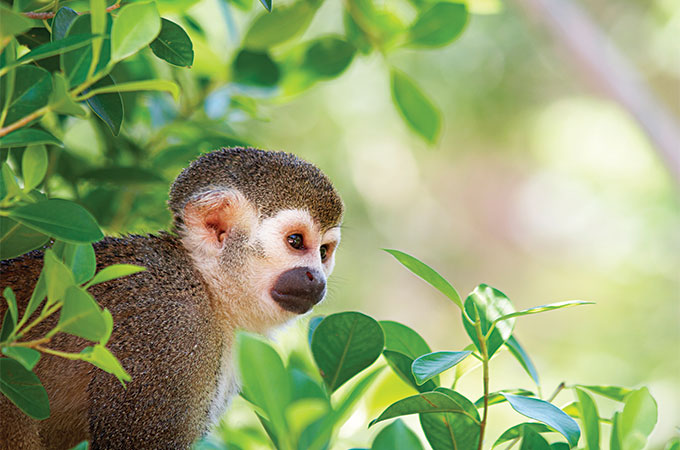 Early Morning Rainforest Trek
Take a guided journey into the rainforest just after sunrise. Encounter animals, birds and exotic insects as they begin their day. And feel inspired by the diverse sights and sounds the rainforest reveals in the early morning.
Canoe Excursion Along the Napo River
Paddle into the habitat of the pink river dolphin! Fill your senses with the ambiance of this tropical environment as you keep alert for animal sightings, such as black caimans, river turtles and sloth.
Jungle Canopy Tower Walk
Walk through the upper layer of the Amazon rainforest and you just might encounter wildlife you've never seen before living in this lush habitat that contains half of all plant species.
Visit to Limoncocha Biological Reserve
Discover a tropical paradise, rich with unique trees and a large variety of bird, fish and mammal species. Be awestruck by the beauty surrounding you as you learn about the reserve's history and culture as well as the role it plays in protecting wildlife.
Cooking Class in Quito
Learn how to make Andean specialties like ceviche using fresh ingredients while Junior Adventurers prepare dessert at Zazu, a favorite local restaurant.
Adventure Dates
2020
December 22, 2020-January 2, 2021
December 29, 2020-January 9, 2021
2021
January 5-January 16, 2021: Adult Exclusive (18 and older)
March 23-April 3, 2021
May 29-June 8, 2021: Adult Exclusive (18 and older)
June 8-June 18, 2021
June 12-June 22, 2021
June 29-July 9, 2021
July 13-July 23, 2021
July 20-July 30, 2021
August 3-August 13, 2021
August 17-August 27, 2021
August 21-August 31, 2021
October 5-October 15, 2021: Adult Exclusive (18 and older)
December 21-Decmeber 31, 2021
December 25, 2021-January 4, 2022
December 28, 2021-January 7, 2022
Adventure Daily Itinerary
Day One
Arrive in Quito
¡Bienvenidos! An Adventures by Disney representative will greet you, assist with your luggage and ensure smooth transport to the JW Marriott Hotel.
JW Marriott Hotel Quito
Welcome to Quito, also known as "The Middle of the Earth"! This grand hotel in Ecuador's capital is surrounded by mesmerizing views of the distant snow-capped mountains and volcanoes. Sit back and stretch your legs while your Adventure Guides check you in. If your flight arrives earlier in the day, you may opt to have a family dinner on your own at the hotel.
Meals Included: None
---
Day Two
Welcome Breakfast
¡Buenos Días! Enjoy an early morning welcome breakfast with your fellow Adventurers as you prepare for the adventure of a lifetime.
Travel into the Amazon Basin
Hop aboard a private motor coach to the airport for a short flight to the city of Coca. Here you will be introduced to water travel local-style—a motorized canoe. Now you're closing in on your destination—and your home for the next four nights—the Anakonda, a refined riverboat.
Settle into the Anakonda
Explore this finely appointed vessel—reserved privately for Adventures by Disney—with three levels, observation deck, multiple sitting areas, outdoor whirlpool spa and an al fresco lounge.
Nature Observation
Stroll the decks or find a nook to view the surroundings and relax with fellow Adventurers. As the Anakonda navigates the river, there are plenty of rewards for those with a keen eye.
Welcome Dinner
Share your excitement and get to know your fellow Adventurers as you dine on delightful fare and toast your first night in the Amazon region.
Nocturnal Rainforest Walk
Venture into the rainforest for a guided experience like no other. You may possibly witness animals that would go unseen during daylight including night tree frogs, kinkajous and exotic insects. Go for it! You only live once.
Meals Included: Breakfast, Lunch and Dinner
---
Day Three
Breakfast Onboard the Anakonda
Wake up to a delicious breakfast and get ready for a day of adventures.
Early Morning Rainforest Trek
At the break of dawn, take a tour into the rainforest guided by a local naturalist who has called the Amazon home for his entire life. Witness and learn about the forest and its inhabitants as this rich ecosystem shifts from night to daylight activity.
Lunch at a Amazon Dolphin Lodge
Taste the flavors of the Amazon region as you and your fellow Adventurers enjoy a tasty cooked lunch.
Canoe Excursion Along the Napo River
Let your senses take in the sights, sounds and scents of this lush environment on an afternoon canoe trip. Paddle through a habitat of the pink river dolphin. Keep your eyes open—you might see black caimans, toucans, monkeys, bats, river turtles and the rare sloth.
Dinner Onboard the Anakonda
Relax with the other Adventurers while you share a meal as well as stories from the day.
Disney Movie Night
Adults can relax while Junior Adventurers enjoy a Disney movie with snacks and soft drinks. Grown-ups can always join in if they wish!
Meals Included: Breakfast, Lunch, and Dinner
---
Day Four
Visit a Local Community
After breakfast aboard the Anakonda, visit a small village to meet local artisans and watch them at work. Here you'll have the opportunity to meet the locals, make crafts and acquire genuine craft work to commemorate your Amazon adventure.
Lunch Aboard the Anakonda
Gather together in the main dining room and enjoy a tasty lunch with your fellow Adventurers.
Canopy Tower Walk
Ascend into the jungle canopy and see nature from a whole new angle, learning all about this unique habitat and the plant life that makes it possible.