It's never too late to book a trip to Walt Disney World! Attend an annual event abloom with brilliant gardens, fresh flavors, rockin' entertainment and more! The Epcot® International Flower & Garden Festival returns from March 4 – June 1, 2020!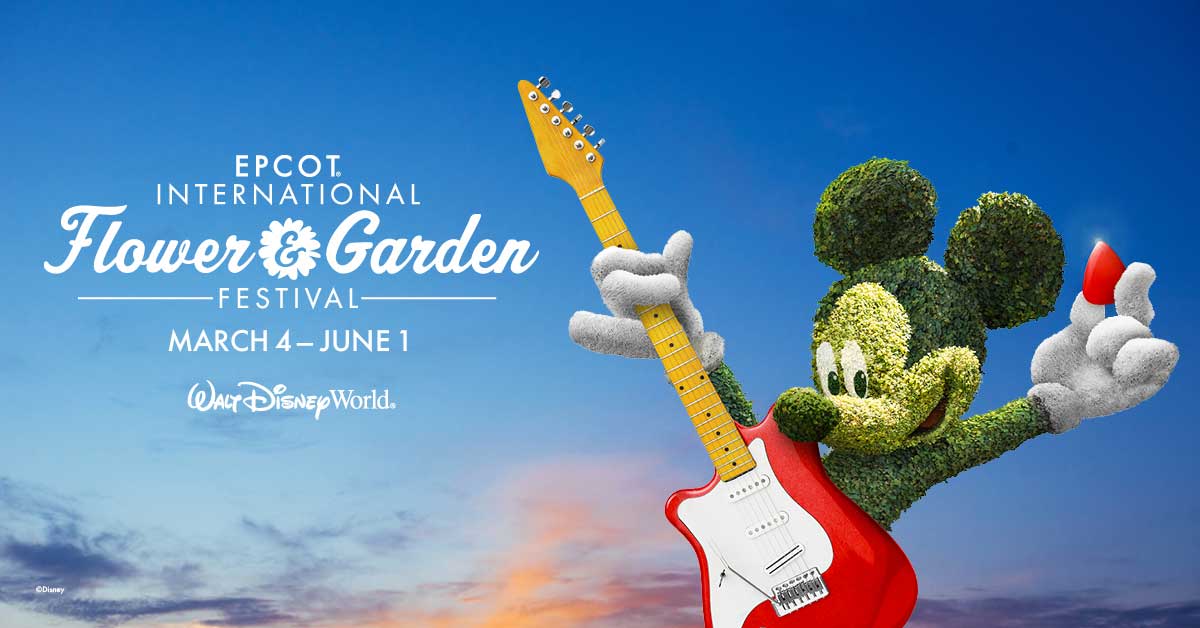 March 2020 Weekend Getaway Pricing
We've compiled a list of sample pricing at the Walt Disney World Resort for various options and dates in March 2020.
These prices should only be considered as a sample and are not guaranteed to new requests.

Pricing provided by Dreams Unlimited Travel agents Karen Adamakis and Elaine Edwards
Disney's Coronado Springs Resort - Preferred Room
2 Adults - $968 (Room Only) / $1729 (Package w/3-Day Base Tickets)
2 Adults, 2 Children under 9 - $968 (Room Only) / $2460 (Package w/3-Day Base Tickets)


Disney's Animal Kingdom Lodge - Pool View Room
2 Adults - $1521 (Room Only) / $2282 (Package w/3-Day Base Tickets)
2 Adults, 2 Children under 9 - $1521 (Room Only) / $3013 (Package w/3-Day Base Tickets)
---
All-Star Music - Standard Room
2 Adults - $823 (Room Only) / $1584 (Package w/3-Day Base Tickets)
2 Adults, 2 Children under 9 - $823 (Room Only) / $2315 (Package w/3-Day Base Tickets)


Disney's Port Orleans Resort - Riverside - Standard View 5th Sleeper
2 Adults - $1175 (Room Only) / $1936 (Package w/3-Day Base Tickets)
2 Adults, 2 Children under 9 - $1175 (Room Only) / $2667 (Package w/3-Day Base Tickets)


Disney's Animal Kingdom Lodge - Standard View Room
2 Adults - $16831 (Room Only) / $2444 (Package w/3-Day Base Tickets)
2 Adults, 2 Children under 9 - $1683 (Room Only) / $3175 (Package w/3-Day Base Tickets)
---
All-Star Music - Preferred Room
2 Adults - $688 (Room Only) / $1457 (Package w/3-Day Base Tickets)
2 Adults, 2 Children under 9 - $688 (Room Only) / $2197 (Package w/3-Day Base Tickets)


Disney's Port Orleans Resort - French Quarter - Garden View Room
2 Adults - $909 (Room Only) / $1678 (Package w/3-Day Base Tickets)
2 Adults, 2 Children under 9 - $909 (Room Only) / $2417 (Package w/3-Day Base Tickets)


Disney's Animal Kingdom Lodge - Standard View Room
2 Adults - $1363 (Room Only) / $2132 (Package w/3-Day Base Tickets)
2 Adults, 2 Children under 9 - $363 (Room Only) / $2871 (Package w/3-Day Base Tickets)
---
All-Star Music - Standard Room
2 Adults - $744 (Room Only) / $1522 (Package w/3-Day Base Tickets)
2 Adults, 2 Children under 9 - $744 (Room Only) / $2269 (Package w/3-Day Base Tickets)


Disney's Port Orleans Resort - French Quarter - Garden View Room
2 Adults - $1216 (Room Only) / $1994 (Package w/3-Day Base Tickets)
2 Adults, 2 Children under 9 - $1216 (Room Only) / $2742 (Package w/3-Day Base Tickets)


Disney's Animal Kingdom Lodge - Standard View Room
2 Adults - $1831 (Room Only) / $2608 (Package w/3-Day Base Tickets)
2 Adults, 2 Children under 9 - $1831 (Room Only) / $3556 (Package w/3-Day Base Tickets)
---
Disney's Pop Century Resort - Preferred Room
2 Adults - $815 (Room Only) / $1592 (Package w/3-Day Base Tickets)
2 Adults, 2 Children under 9 - $815 (Room Only) / $2340 (Package w/3-Day Base Tickets)


Disney's Port Orleans Resort - Riverside - Garden View 5th Sleeper
2 Adults - $975 (Room Only) / $1752 (Package w/3-Day Base Tickets)
2 Adults, 2 Children under 9 - $975 (Room Only) / $2500 (Package w/3-Day Base Tickets)


Disney's Animal Kingdom Lodge - Standard View Room
2 Adults - $1401 (Room Only) / $2101 (Package w/3-Day Base Tickets)
2 Adults, 2 Children under 9 - $1401 (Room Only) / $2926 (Package w/3-Day Base Tickets)
---
Disney's Art of Animation Resort - Little Mermaid Room
2 Adults - $1101 (Room Only) / $1870 (Package w/3-Day Base Tickets)
2 Adults, 2 Children under 9 - $1101 (Room Only) / $2627 (Package w/3-Day Base Tickets)


Disney's Coronado Springs Resort - Preferred Room
2 Adults - $1303 (Room Only) / $2080 (Package w/3-Day Base Tickets)
2 Adults, 2 Children under 9 - $1303 (Room Only) / $2828 (Package w/3-Day Base Tickets)


Disney's Animal Kingdom Lodge - Standard View King
2 Adults - $1885 (Room Only) / $2662 (Package w/3-Day Base Tickets)
Disney's Contemporary Resort - Garden Wind Garden View
2 Adults, 2 Children under 9 - $2454 (Room Only) / $3978 (Package w/3-Day Base Tickets)


---
All-Star Music or All-Star Sports - Standard Room
2 Adults - $580 (Room Only) / $1358 (Package w/3-Day Base Tickets)
2 Adults, 2 Children under 9 - $580 (Room Only) / $2106 (Package w/3-Day Base Tickets)


2 Adults - $929 (Room Only) / $1706 (Package w/3-Day Base Tickets)
2 Adults, 2 Children under 9 - $929 (Room Only) / $2454 (Package w/3-Day Base Tickets)


Disney's Animal Kingdom Lodge - Standard View Room
2 Adults - $1401 (Room Only) / $2178 (Package w/3-Day Base Tickets)
2 Adults, 2 Children under 9 - $1401 (Room Only) / $2926 (Package w/3-Day Base Tickets)
---
All-Star Music or All-Star Sports - Standard Room
2 Adults - $691 (Room Only) / $1468 (Package w/3-Day Base Tickets)
2 Adults, 2 Children under 9 - $691 (Room Only) / $2216 (Package w/3-Day Base Tickets)


Disney's Coronado Springs Resort - Water View Room

2 Adults - $1088 (Room Only) / $1865 (Package w/3-Day Base Tickets)
2 Adults, 2 Children under 9 -$1088 (Room Only) / $2213 (Package w/3-Day Base Tickets)


Disney's Animal Kingdom Lodge - Standard View Room
2 Adults - $1750 (Room Only) / $2528 (Package w/3-Day Base Tickets)
2 Adults, 2 Children under 9 - $1750 (Room Only) / $3275 (Package w/3-Day Base Tickets)


---
All-Star Music or All-Star Sports - Standard Room
2 Adults - $513 (Room Only) / $1282 (Package w/3-Day Base Tickets)
2 Adults, 2 Children under 9 - $513 (Room Only) / $2202 (Package w/3-Day Base Tickets)


Disney's Coronado Springs Resort - Standard View Room
2 Adults - $738 (Room Only) / $1507 (Package w/3-Day Base Tickets)
2 Adults, 2 Children under 9 - $738 (Room Only) / $2246 (Package w/3-Day Base Tickets)


Disney's Animal Kingdom Lodge - Standard View Room
2 Adults - $1296 (Room Only) / $2166 (Package w/3-Day Base Tickets)
2 Adults, 2 Children under 9 - $1296 (Room Only) / $2805 (Package w/3-Day Base Tickets)



---
All-Star Music or All-Star Sports - Standard
2 Adults - $703 (Room Only) / $1472 (Package w/3-Day Base Tickets)
2 Adults, 2 Children under 9 - $703 (Room Only) / $2212 (Package w/3-Day Base Tickets)


Disney's Port Orleans Resort - French Quarter - Garden View

2 Adults - $1198 (Room Only) / $1967 (Package w/3-Day Base Tickets)
2 Adults, 2 Children under 9 - $1198 (Room Only) / $2607 (Package w/3-Day Base Tickets)


Disney's Animal Kingdom Lodge - Standard View
2 Adults - $1764 (Room Only) / $2534(Package w/3-Day Base Tickets)

2 Adults, 2 Children under 9 - $1764 (Room Only) / $3273 (Package w/3-Day Base Tickets)


Pricing provided by Dreams Unlimited Travel agents Karen Adamakis and Elaine Edwards