St. Maarten Island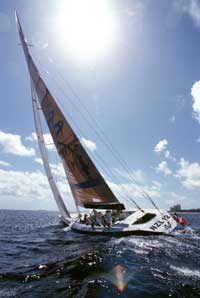 The exotic island of St. Maarten is 37 square miles and has a population of 77,000 people. St. Maarten is Dutch (16 square miles) and that part of the island's capital is called Philips burg, while St. Martin is French (21 square miles) and that part of the island's capital is Marigot (St. Maarten and St. Martin are different names for the same island). There is a diverse culture with over 77 different nationalities represented on this small island where everyone speaks English (you can also find people who speak Spanish, Papiamentu, Italian, Hindi and Chinese). Some noticeable differences though: there are casinos on the Dutch side (not allowed in the French) and topless beaches on the French side (not allowed in the Dutch).

The island has a rich history which is present in the people that you will encounter. The island was originally settled by the Dutch and French in 1630 and after a few skirmishes the two decided to split the island. St. Maarten has only recently become a vacation destination and prior to 1950 it was driven mostly by a trade based economy who's primary export was not surprisingly: salt.

Now the island is visited by over one and a half million people a year because of the relaxing environment, sun, beautiful beaches and to get a taste of what the colonial Caribbean has to offer.

Culture abounds in everything. On the French side you can find homes still standing and occupied in fantastic condition from the colonial French architectural style: complete with the fretwork that wealthy land owners adorned their homes in to show off their stature. And there is no lack of cultural history bearing the Dutch stamp either. Homes built in the colonial "Gingerbread style" utilize the same fretwork but for a more utilitarian purpose. It looks beautiful, provides shade and lets air circulate at the same time.
The flora and fauna of the island is amazing. As you wind the hills the narrow, steep roads are lined with cashew nut, banana, and mango trees. Pelicans (the national bird), egrets, goats, sheep, cows and horses are common sites as well. If wildlife interests you and you have the time you may wish to stop in to the St. Maarten Zoological and Botanical Garden.
The overall feeling of the island is one of relaxation. There is no hurry, and it can be quite an adjustment getting used to the laid-back attitude of the island and it's people. Just take your time and soak in everything that the island has to offer.
Shore Excursions

St. Maarten
The following applies to all Port Adventures:
-Guests are encouraged to bring local currency to purchase optional extras such as souvenirs and snacks.
-You should never feel that gratuities are expected, but it is customary to leave a tip in recognition of exceptional service in restaurants, taxis and for excursion guides and drivers. It is always up to you to determine the amount.

Aerial Explorer and 360 View Points (4.5 - 5 hours)
Discover a 360-degree view of St. Maarten.
Learn about the history of St. Maarten as you climb to new heights.
Adult Price: $69 (age 10 and up)
Child Price: $49 (ages 3 to 9)

Aerial Explorer and Flying Dutch Man (5 - 5.5 hours)
Fly down the world's steepest zip line on St. Maarten.
Take a ride on The Flying Dutchman on the island of St. Maarten.
Adult Price: $114 (ages 10 and up)
Child Price: $79 (age 9)

Aerial Explorer and Schooner Ride (4.5 - 5 hours)
Take in the sights of St. Maarten on the Soualiga Sky Explorer.
Adult Price: $89 (ages 10 and up)
Child Price: $64 (age 9)

Aerial Explorer and Sentry Hill Zip Line (6 - 6.5 hours)
Explore St. Maarten like never before.
Take the Soualiga Sky Explorer for an unforgettable journey of St. Maarten.
Adult Price: $124 (ages 10 and up)
Child Price: $89 (age 9)

Aerial Explorer, Flying Dutch Man, Schooner Ride and Sentry Hill Zip Lines (6 - 6.5 hours)
Fly down the mountain in a variety of exciting ways.
Enjoy some exciting new ways of getting around on St. Maarten.
Adult Price: $149 (ages 10 and up)
Child Price: $104 (age 9)

Afternoon Beach Bash (3 - 3.5 hours)
Spend the afternoon relaxing, swimming or competing in the well organized activities such as Sand Castle Building, Water Balloon Tossing or Sharp Shooter with Bean Bags on St. Maarten.
Swim, sunbathe, sip rum or sit and chill at El Zafiro Beach Bar and Restaurant.
Adult Price: $54 (ages 10 and up)
Child Price: $44 (ages 3 to 9)
Infant Price: $0 (ages 0 to 2)

Beach Rendezvous (4.5 - 5 hours)
Fun in the sun awaits as you at this relaxing resort in the Caribbean.
Soak up the sun, feast on a lunch and splash in the Caribbean Sea at El Zafiro on Simpson Bay.
Adult Price: $69 (ages 10 and up)
Child Price: $54 (ages 3 to 9)
Infant Price: $0 (ages 0 to 2)

Caribbean Beach Day (4 - 4.5 hours)
Soak up the sun or splash in the sea on this beautiful St. Maarten beach.
Dine on delicious food and choose between swimming, sunbathing, shopping or sightseeing on this Caribbean adventure.
Adult Price: $49 (ages 10 and up)
Child Price: $34 (ages 3 to 9)
Infant Price: $0 (ages 0 to 2)

Create Your Own Perfume/Cologne (3.5 - 4 hours)
Learn about the history of perfume while creating your one-of-a-kind perfume from over 300 different scents.
Don a lab-coat and find your defining fragrance before taking free time to explore the marina culture in St. Maarten.
Adult Price: $132 (ages 10 and up)
Child Price: $117 (ages 6 to 9)

Discover Scuba (3 - 3.5 hours)
Learn from a PADI dive instructor off the coast of St. Maarten.
Marvel at tropical fish, crustaceans and coral after you learn the basics of scuba diving.
Adult Price: $129 (ages 12 and up)

Distillery Tour, Rum Tasting and Beach Adventure (3 - 3.5 hours)
Learn about rum-making in the Caribbean before soaking up some sun or splashing in the waters off the coast of St. Maarten.
Sample some tasty rum cakes and enjoy a drink or 2 at Topper's Rum Distillery while you learn about the rum making process.
Adult Price: $74 (ages 21 and up)

Explore Old Town Philipsburg by Trolley Train (2 - 2.5 hours)
Combine the exhilaration of a classic trolley ride with warm sea breezes for an ideal Caribbean memory.
Go sightseeing in St. Maarten's Old Town, tracing the footsteps of Dutch settlers along the way.
Adult Price: $40 (ages 10 and up)
Child Price: $30 (ages 3 to 9)
Infant Price: $0 (ages 0 to 2)

Golden Eagle Catamaran (4 - 4.5 hours)
Take a scenic sail to a picturesque cove to enjoy snorkeling, swimming and sunning.
Venture to a secluded coral reef to view incredible marine life up close, then relax on the sands of a nearby beach.
Adult Price: $85 (ages 10 and up)
Child Price: $47 (ages 5 to 9

Historic Philipsburg by Bicycle (3 - 3.5 hours)
Bike along Philipsburg's bustling boardwalk in this St. Maarten adventure.
Explore the bustling waterfront of Philipsburg before learning about the local salt industry and swimming in the wondrous waters of the Caribbean.
Adult Price: $59 (ages 12 and up)

Island Drive & Explorer Cruise (4 - 4.5 hours)
Explore the French capital of Marigot—then enjoy a relaxing cruise of Simpson Bay Lagoon with live music and libations.
Pass several key landmarks, enjoy Marigot on your own—then board a double-decker boat for a scenic bay outing.
Adult Price: $61 (ages 10 and up)
Child Price: $35 (ages 3 to 9)
Infant Price: $0 (ages 0 to 2)

Kayaking and Snorkel Adventure (3.5 - 4 hours)
Canoe your way across Simpson Bay, snorkel at Pelican Rock and enjoy a cold drink on the beach afterward.
Get an eyeful of colorful, local marine life and several neighboring islands on this fully guided excursion.
Adult Price: $84 (ages 10 and up)

Learn the Steel Pan (2 - 2.5 hours)
Master the humble musical instrument that lends Caribbean music its bright and distinctive sound.
Discover the fascinating history and origins of the steel pan while learning to play the sounds of the Caribbean.
Adult Price: $79 (ages 10 and up)
Child Price: $59 (ages 3 to 9)
Infant Price: $0 (ages 0 to 2)

Mountain Bike Adventure (3.5 - 4 hours)
Pedal across this island paradise as you take in beautiful coastal scenery, and views of a rustic fishing village.
Hop on a bicycle and head off on a bike ride to the secluded cove of Friars Bay for swimming and refreshment.
Adult Price: $80 (ages 12 and up)

Rhino Rider & Snorkeling Adventure (3.5 - 4 hours)
Pilot your own Rhino Rider 2-person boat on a high-speed ride to a scenic lagoon where you'll swim and snorkel.
Travel by sturdy, inflatable boat to Happy Bay for snorkeling, beach time and a complimentary cocktail!
Adult Price: $90 (ages 10 and up)

Rib Boat Adventure (4 - 4.5 hours)
Let your captain take you on a high-speed ride to the island's best snorkeling spot and then for a relaxing beach break.
Jet along St Maarten's southern coast and stop in Creole Rock for snorkeling and Grand Case for sightseeing.
Adult Price: $82 (ages 10 to 70)
Child Price: $55 (ages 8 to 9)

Sailing Ship Eldorado - Schooner Sail Away and Swim (3.5 - 4 hours)
Stare skyward at the massive masts of a tall ship as it carries you through the ocean.
Climb aboard the Eldorado for an unforgettable experience off the coast of St. Maarten.
Adult Price: $89 (ages 10 and up)
Child Price: $59 (ages 3 to 9)
Infant Price: $59 (ages 0 to 2)

Sailing Ship Mercedes - Tall Ship Experience (3.5 - 4 hours)
Behold the massive masts of a tall ship as it carries you through the ocean breeze.
Hoist the sails, take the helm or just relax as you set sail in one of the newest tall ships in the international fleet.
Adult Price: $89 (ages 10 and up)
Child Price: $59 (ages 3 to 9)
Infant Price: $59 (ages 0 to 2)

Sea Trek Helmet Dive (2 - 2.5 hours)
Follow a guide rail and clearly view colorful fish, coral and more, with time to relax on the beach afterward.
All kinds of sunken treasures are waiting to be discovered on this thrilling yet whimsical walk beneath the waves.
Adult Price: $102 (ages 10 and up)
Child Price: $99 (ages 8 to 9)

Seaworld Explorer - Coral Reef Exploration Tour (2.5 - 3 hours)
Board a semi-submarine for clear views below the waves, where the warm waters swim with all kinds of colorful creatures.
Behold coral formations, tropical fish, sea turtles and more, all without getting wet!
Adult Price: $47 (ages 10 and up)
Child Price: $29 (ages 3 to 9)
Infant Price: $29 (ages 0 to 2)

See & Sea Island Tour (3.5 - 4 hours)
Get an eyeful of colorful sea life as it swims by the windows of your semi-submarine, then explore Marigot afterward.
See the undersea world while staying dry and then spend an hour soaking up the capital's delightfully French atmosphere.
Adult Price: $59 (ages 10 and up)
Child Price: $36 (ages 3 to 9)
Infant Price: $36 (ages 0 to 2)

St. Maarten by Private Vehicle - Van with Driver/Guide (4 or 8 hours)
Starting at $610 (4 hours)

The Ultimate Charter Choice (4 - 4.5 hours)
Charter a 65-foot catamaran and experience beautiful beaches, clear waters and superb snorkeling in St. Maarten.
Choose your route and relax as your catamaran crew takes you to the most splendid Caribbean scenery in St. Maarten.
For up to 9 Guests: $1,995

Two Nations Vacation (6 - 6.5 hours)
Dine on French and Dutch cuisine as you sail the seas in this Caribbean adventure.
Feel the gentle island breeze blow across your skin as you sail the Caribbean to visit the French and Dutch sides of the island of St. Maarten.
Adult Price: $114 (ages 10 and up)
Child Price: $99 (ages 3 to 9)
Infant Price: $99 (ages 0 to 2)

Two Tank Scuba Diving (3 - 3.5 hours)
Take the plunge into adventure with this scuba diving excursion in the Caribbean.
Marvel at marine life off the coast of St. Maarten.
Adult Price: $179 (ages 12 and up)

Under 2 Flags Island Tour (3.5 - 4 hours)
Experience both sides of this unique island with visits to Hope Hill, Marigot, the Carousel Gelateria Bar and Cole Bay.
Cross the Dutch–French border for photo stops, a merry-go-round ride and a seaside capital awash in Gallic charm.
Adult Price: $28 (ages 10 and up) [Adult only departure available]
Child Price: $19 (ages 3 to 9)
Infant Price: $0 (ages 0 to 2)