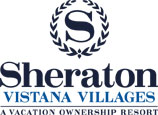 12401 International Drive
Orlando, FL 32821

Hotel Info | Rooms | Amenities | Transportation | Photos
This is your chance to spread out and enjoy a fully furnished villa equipped with separate living room, dining and bedroom areas, a fully equipped kitchen or kitchenette, and a washer and dryer. This is a true 'home away from home experience. The 2 Bedroom Villa sleeps up to 8 guests!
Complimentary High Speed Internet Access in all villas!

Book this hotel reservation with us and we'll make your dinner reservations! That's right! You tell us where and when you want to eat, and we'll take care of the rest! Just email us with your official confirmation number and the name the reservation is make under to take advantage of this special perk.



Dreams Unlimited Travel is pleased to offer a special 'no housekeeping' rate for Sheraton Vistana Villages. These rates represent a substantial savings over the published rates for this hotel. Housekeeping can be added at any time during your stay for an additional charge of $45 per cleaning.

This discount requires a 2-night minimum stay. Based on hotel availability and not all dates are available for these rates.



Call 1-888-847-8262 and mention
or



Season With NO Housekeeping

1-Bedroom Villa
(Rack Rate $369)

2-Bedroom Villa
(Rack Rate $469)

8/18/2013 - 10/5/2013

$95

$135

10/6/2013 - 10/26/2013

$115

$155

10/27/2013 - 12/21/2013

$95

$135

12/22/2013 - 12/31/2013

$169

$229



These are the standard rates for Sheraton Vistana thru Dreams Unlimited Travel. These rates INCLUDE housekeeping. All rates are subject to availability and must be booked thru the link below or by calling 1-888-847-8262 and using rate code "DRUNL".

Call 1-888-847-8262 and mention
or
Book online via this link

Season With Housekeeping

1-Bedroom Villa
(Rack Rate $369)

2-Bedroom Villa
(Rack Rate $469)

8/18/2013 - 10/5/2013

$109

$149

10/6/2013 - 10/26/2013

$125

$168

10/27/2013 - 12/21/2013

$109

$155

12/22/2013 - 12/31/2013

$189

$249